Football Summit 2020: Broadcasting live football behind closed doors
SVG Europe is in the thick of the action as football leagues around Europe return to TV screens. Our online Football Summit 2020 on Thursday 18 June provided unique insight from leagues, host broadcasters and rights holders behind coverage of the German Bundesliga, Poland's Ekstraklasa, Spain's LaLiga, the English Premier League and Italy's Serie A.
A record 668 professionals registered to 'attend' the 90-minute event live yesterday afternoon – and taking into account both the live viewers and those that watched it on 'catch up' between 6pm and midnight (UK time), the total number of people who watched Football Summit 2020 was 707.
The main event was presented on a vMix/Singular Live platform kindly provided by Sky Sport Germany, and SVG Europe also hosted a Zoom 'watch together' running concurrently with the event, to allow participants to chat together and discuss some of the issues raised during half time and at full time.
With the re-start of leagues around Europe, the event allowed the broadcast community to come together online to share what they have learnt, discuss the situation, and formulate plans to achieve their joint goal; getting great coverage of matches to air without fans in the stadium while maintaining the safety and health of staff and crew — and avoiding any potential bottlenecks.
---
Watch the First Half of Football Summit
---
Speakers who joined the event included Tim Achberger, Sportcast, head of innovation and technology management; Jamie Hindhaugh, BT Sport, chief operating officer; Laurence Cawsey, Sky Sports UK, senior director; Dante De Iulio, Sky Italia, sport production and channel management director; Jena Mihalovic, Sky Sports UK, technical operations project lead; Seamus Neary, Sportcast, executive assistant; Emili Planas, Mediapro, chief technology officer and operations manager; Kevin Ramsey, director of studios at Sky Production Services UK; Marcin Serafin, Ekstraklasa Live Park, chief operating officer; and John Turnbull, NEP UK, deputy managing director.
Football Summit 2020 was hosted by Sky Sport News HD and Handball Bundesliga Konferenz presenter Katharina Kleinfeldt, who began by introducing Serge Van Herck, the CEO of Title Sponsor EVS, to make the opening remarks. There were also Case Study presentations by Pixellot and TVU Networks, plus Session Sponsorship introductions by Signiant and VIDI.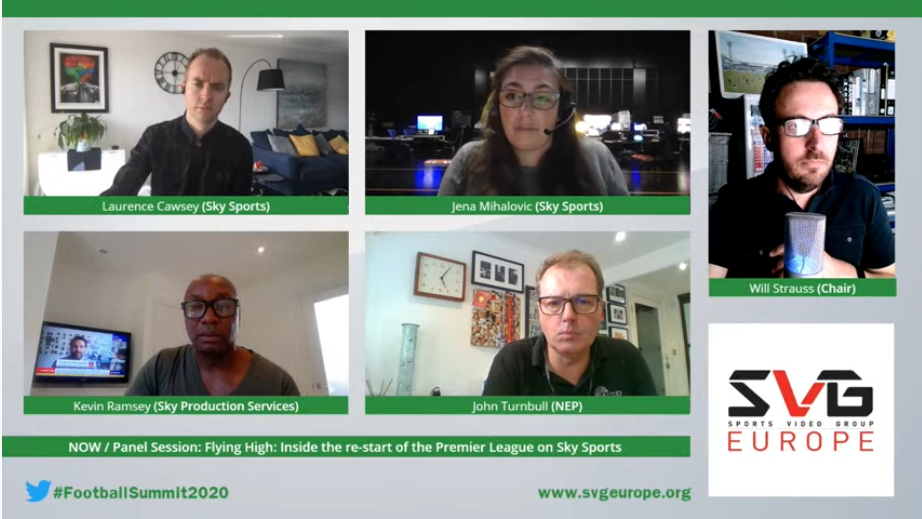 The first session was titled 'It's all gone quiet over there' – Covering live football matches behind closed doors', chaired by Katharina Kleinfeldt and featuring Tim Achberger and Jamie Hindhaugh. Unfortunately, Dante de Iulio's home internet failed shortly after he joined the session and he was unable to participate.
The next session was 'You'll Always Walk Alone? – Football Production in the 'New Normal'. With social distancing restrictions set to stay in place for some time, how will the stadium operation and OB compound look and operate during football matches now and in the near future? Participating on this session, which was chaired by SVG Europe editorial director Fergal Ringrose, were Seamus Neary, Emili Planas and Marcin Serafin.
---
Watch the Second Half of Football Summit
---
Our final session (below) was titled 'Flying High' – Inside the re-start of the Premier League on Sky Sports'. Marking the return of the Premier League season, three speakers from Sky Sports – Laurence Cawsey, Jena Mihalovic and Kevin Ramsey – were joined by NEP's John Turnbull to provide a comprehensive overview of how Sky Sports has worked to get football back on air, covering remote production, crewing and staff protocols, social distancing and health and safety, and what life is now like when working on live football coverage. The session was chaired by SVG Europe editor Will Strauss.
---
Watch Extra Time
---
Following the fulltime whistle, the conversation continued on the Zoom 'watch together'.