France Summit 2023: 5G at the Olympics plus remote production on the agenda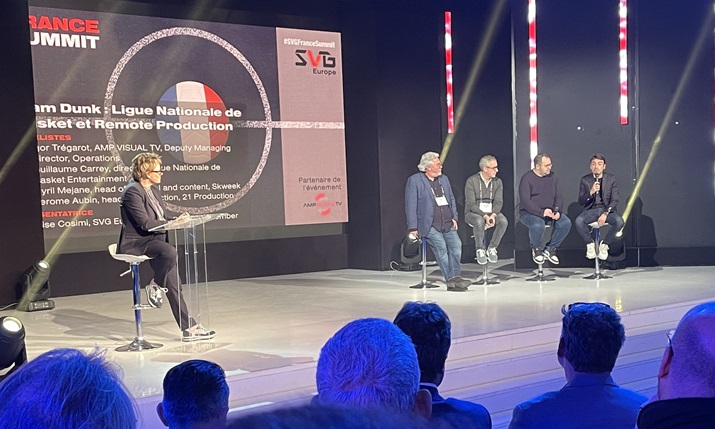 The SVG Europe France Summit took place on 9 November, once again at the iconic Studio Gabriel, off the Champs Elysées in Paris.
Hosted with event partners AMP VISUAL TV, the French-language event featured discussion and debate as well as networking and drinks that was enjoyed by the bumper crowd.
"Viewers are going to be able to enjoy more immersive and interactive experiences"
The possibilities and opportunities presented by remote production and 5G were the subjects discussed during two panels, hosted by SVG board member Lise Cosimi.
League Nationale de Basket and its production and broadcasting partners recently introduced a full remote production setup for coverage of the Betclic Elite French basketball championship's 300-plus games.
Watch: France Summit 2023 – Video highlights from the Studio Gabriel event
In June this year, LNB changed broadcasting partners in France, signing an agreement with free-to-air digital terrestrial channel L'Equipe TV and with one-year-old basketball SVoD platform, Skweek TV, which already streams the EuroLeague, Euroleague Women, and EuroCup basketball competitions.
LNB director Guillaume Carrey explained that the aim was to improve exposure of the League, with L'Equipe TV a Sunday providing access to a primetime, nationwide audience.
The agreement was signed for seven years – much longer than usual. Carrey explained: "We were looking to establish a long term partnership. This is what enabled us to develop this quite unique set up. We were also looking to improve standards."
"For us it was really important to produce all the games in broadcast quality," added Skweek's head of editorial and content Cyril Mejane.
He explained that such a move was demanded by the fans, and that premium quality is what drives the desire to subscribe.
The set up also includes a first time multiplex for Skweek, the streamer having developed as well more content, such as a weekly show hosted by French basketball star Tony Parker.
"[For basketball], this is a first both in terms of production and content," Mejane said.
L'Equipe subsidiary 21 Productions was entrusted with the production. "The ecosystem was tight so we looked for new ways to produce this championship which includes eight games per weekend and takes place all year long," said head of production Jerôme Aubin.
"We wondered if remote production could work, asked our technical partners, worked on a set up, L'Equipe and Skweek agreed to take the risk, and now it is eleven days after the start, and all the games are in remote production."
"That was above all a challenge," added Igor Trégarot, deputy MD, operations of AMP VISUAL TV.
He explained that AMP VISUAL TV had experimented with different types of remote production on various occasions over the past few years, more during Covid, and last year during Roland Garros .
"In a way we were waiting for that. We knew it was working, what if it could work for an entire competition?" he said.
The set up involves multiple service companies, he said, with the remote production operation established at AMP Visual Plaine St Denis studios. Matches are categorised, with silver matches covered by five cameras, while bronze games have three and about four people on site (with more on-site crew for the silver games).  Enhanced graphics with scoring are also included, in line with LNB's requirements.
"We tried many new things to offer the viewer something close to what they have with League 1 and 2 in football," said 21 Productions' Aubin.
"This is just the beginning of the story, we're here for seven years."
For its part, private, standalone 5G networks will be used multiple ways during upcoming Paris 2024 Olympic Games. First and foremost, to avoid possible network saturation because of the large crowds that will be using the public networks.
"We expect there will be many people in the audience, we'll have many cameras, and we want to make sure that for certain locations, the images arrive," said Olympic Broadcasting Services' director of telecommunications, Mario Reis.
"We like very much private 5G network to secure production and also be sure we have quality images for 5G-connected cameras in as well as the 4K ones that we connected via fibres".
"We have a press service obligation, and we are going to share with OBS the private 5G network for photo uploading," added Paris 2024' senior project manager Laurent Zwahlen.
"We can not deliver via the public network unfortunately, because it's not yet a real stand-alone 5G public network".
About five Olympic games locations are to use private 5G "including probably two of which that we will handle, Paris' Bercy and Marseilles," said AMP VISUAL TV managing director, Stéphane Alessandri.
About Marseilles, he said: "There is an interesting case study there, as we are going to use private 5G on the water.
"We are going to capture images from the competition boats with up to 12 smartphones, how to transport 12 images simultaneously from the water was the challenge."
Panellists also pointed other new possibilities that 5G will bring.
"We are going to be able to create more content on a lower cost," said Christelle Brausch, marketing Europe at TVU Networks.
"We'll be able to access busy broadcast areas, such as around the stadium, or in locker rooms, with wireless cameras, as we did in Germany for the Supercup. Viewers are going to be able to enjoy more immersive and interactive experiences."
"5G is going to bring flexibility to the events we cover," added France Télévisions' Techlab director, Romuald Rat.
"Capture via smartphone is a major step forward and for the viewer this is something important.  According to studies, TV viewing is down, except for live sports, with young people coming back to linear viewing for sports, and they want to see more."
However, still, when Lise Cosimi asked what is required to implement a 5G network, the answer from Mario Reis was "a lot of patience!"
"But that's also the interesting part, and we work a lot with Orange and its partners, because it's really a new technology," said Reis.
"There is still progress to make to get this more 'plug and play', Alessandri continued. "But I have good hope that after Olympic Games we as an industry will come up with more tools that work and that we know how to use."
"A plug and play solution means fewer people and cost, for us,  and can enable us to low down the level of the events that France Télévisions can cover, I'm thinking of local sports, we were talking about basketball earlier on, also are for instance handball, volleyball," added France Télévisions' Rat.