FutureSport 2017: 5G, OTT and the Future of Sports on the Move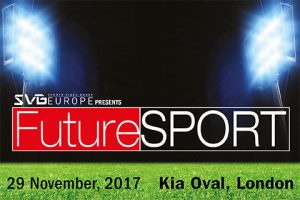 SVG Europe completes our programme line-up for FutureSport 2017 at the Kia Oval in London November 29 with the announcement of the session '5G, OTT and the Future of Sports on the Move'. SVG Europe Contributing Editor Heather McLean will helm this panel discussion which includes Chris Alner, Arqiva, Business Development Director, Satellite & Media; Kjetil Horneland, Sixty, Founder & CEO; Brian Morris, Tata Communications, General Manager Global Media & Entertainment Services; Steve Plunkett, Red Bee/Ericsson Broadcast Media & Services, CTO; and Matthew Stagg, EE, Head of Mobile Video & Content.
As we approach the widespread roll-out of 5G networks – which will offer data rates of 100 megabits per second for metropolitan areas as well as significantly enhanced spectral efficiency in comparison to 4G – it's a timely moment to consider the impact that greatly improved mobile connectivity is having on sports viewing both on the move and in venues.
This session will examine the emerging opportunities for increasing the breadth and viewer traction of sports content, as well as the implications for already hugely complex production workflows.
Delegate places are filling up fast: book your own seat here.