FutureSPORT 2019: 5G adds bandwidth to the transport discussion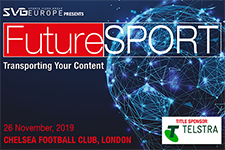 At FutureSPORT 2019, 5G will be at the heart of the conversation during an expert-led panel discussion on how the next mobile network technology is set to change the sports broadcasting industry.
According to the experts, 5G is set to transform sports broadcasting as we know it today. However, 5G coverage and our understanding of the technology is far from universal right now and its use is ultimately going to be dependent on many factors. This is to be the focus of discussion in the session entitled, Adding bandwidth: Sports Broadcasting at the 5G Level, at Stamford Bridge on 26 November.
Confirmed speakers on the panel are Tiana Trumpa, Deutsche Telekom, 5G Product Manager; Matt Stagg, BT Sport, director of mobile strategy; Claire Harvey, UK5G Creative Industries Working Group, chair, and Red Bee Media, account director; and Ian Wagdin, BBC R&D, senior technology transfer manager. The session will be chaired by Heather McLean, SVG Europe, editor.
This panel will discuss the pros, the cons, the challenges and the innovations that 5G for sports broadcasting could, can, might and will bring to this industry, from its limitations to its revolutionary potential.
FutureSPORT 2019 will take place at Chelsea FC's Stamford Bridge stadium in London on Tuesday 26 November. The conference will pay particular attention to contribution and distribution within sports broadcasting.
As with all SVG Europe events, there will be plenty of networking opportunities throughout FutureSPORT 2019 and delegates will also get the chance to take part in a guided tour of Stamford Bridge.
To find out more and to register visit: https://www.svgeurope.org/future-sport-2019/registration/