Glensound Inferno Dante system used by NEP for socially distanced commentary at Wimbledon Championships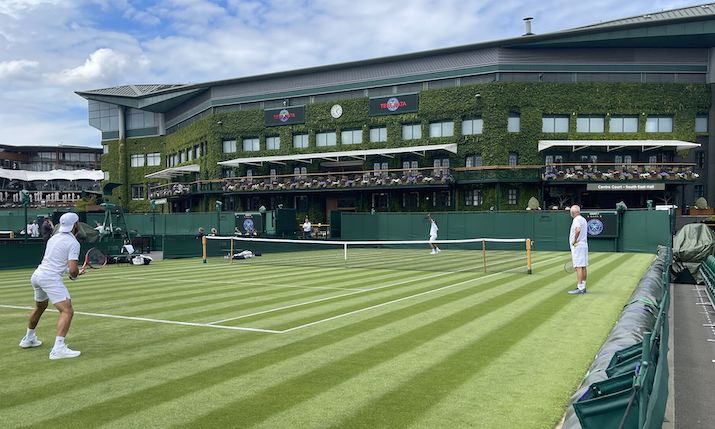 UK OB supplier NEP has utilised Glensound's audio over IP (AoIP)-based technology to  allow commentators to describe the action while at the same time complying with social distancing regulations, with the technology featuring heavily at The Championships, Wimbledon, this year.
The working relationship between NEP and Glensound is long-standing and has involved several of the manufacturer's analogue and digital commentary products. NEP is now using Glensound's AoIP range, based on Audinate's Dante technology, including the single-commentator Inferno unit. The OB company owns more than 40 of these and hires in additional boxes for larger events.
Neville Hooper, deputy head of sound at NEP, says that the Inferno has been used successfully on a variety of high-profile outside broadcasts, including Sky Sports' coverage of Premier League football. It was also part of the host broadcast set-up at Wimbledon, which returned this year after being cancelled in 2020 due to the pandemic. According to Hooper, the stand-alone, single-user box has played a key role in enabling full commentary of all matches to go ahead while maintaining social distancing between the commentators and expert summarisers.
"The Wimbledon commentary booths are quite confined spaces but we've been able to accommodate commentators in different locations, each with their own Inferno unit," he said. "That would have been complicated with an analogue system because of all the cabling, but Inferno is scalable and multiple units can be connected on a Dante-compatible network. This makes for easier and quicker rigging, based on Power over Ethernet and Cat5 connections, as well as making social distancing easy to achieve."
NEP was using Inferno extensively prior to this year and already had units ready to go for the return of Wimbledon. Other Glensound equipment used at the All England Club included the Paradiso, which can accommodate up to three commentators and features both Dante and the AES67 interoperability protocol, and the DARK88 breakout box for producing analogue outputs from the Dante network.
Commenting on NEP's use of the Inferno system, Marc Wilson, managing director of Glensound, said: "We have a long-standing user-vendor partnership with NEP and are pleased that their use of our Inferno commentary system has allowed them to provide a simple way to comply with COVID-19 restrictions for the 2021 Wimbledon broadcasts."
"We would not go back to analogue systems and will carry on with Inferno because it offers a perfect and straightforward way of building a network-based commentary environment," Hooper concluded. "On-site complexity is massively reduced from the days of copper cables and XLR connectors. With Inferno we are using fibre networking and switching, which vastly improves connectivity. The way this year's Wimbledon has worked validates our investment in this technology."