Green is the colour: Spurs vs Chelsea set to become the world's first net-zero elite football match
Sky Sports' production of the game for television viewers will also have a net-zero impact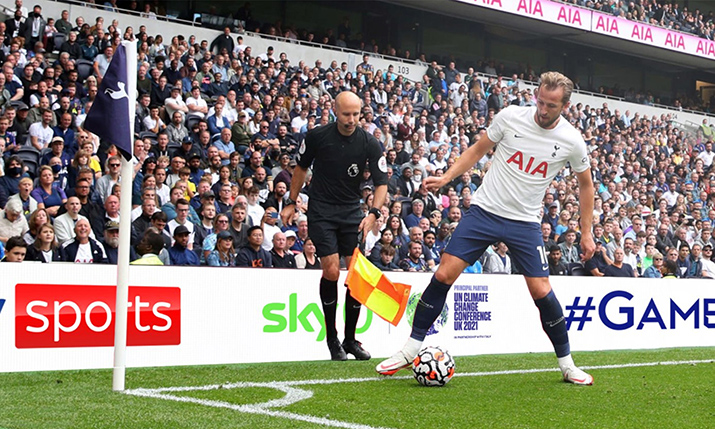 Sunday's Premier League clash between Tottenham Hotspur and Chelsea has been designated as the world's first net-zero carbon elite-level football match.
Thanks to a partnership between Spurs and Sky, #GameZero, as it has been named, will see carbon emissions reduced as much as possible, with the remainder offset through natural projects that remove emissions from the atmosphere.
The initiative includes various changes and interventions affecting energy used to power the game, travel to and from the stadium for both fans and clubs, and dietary choices at the stadium.
But Sky Sports' production of the game for television viewers will also have a net-zero impact, and like every Sky Sports UK host broadcast in 2021 it will be an albert certified production.
In the last year, Sky Sports has introduced remote production workflows on all of its Premier League coverage which reduces the amount of equipment and crew travelling to events. It has also moved all of its UK and Irish OB generators to biofuel.
Sky Sports Studios are powered by 100 per cent renewable electricity and since January 2021 all Sky Sports UK productions have been carbon neutral.
Sky, Tottenham Hotspur and the UK Government want the game to raise awareness of the threat of climate change and inspire football fans to make simple changes that will help reduce their carbon footprint.
Jonathan Licht, the managing director of Sky Sports, said: "We're proud to be working with COP26 and Tottenham Hotspur to make #GameZero the world's first net-zero carbon football match at the elite level. We hope that by using the power of sport, we can inspire and support football fans to make simple changes to reduce their carbon footprint and make more climate-friendly choices."
Sky is a Principal Partner and Media Partner to COP26 and has committed to be net-zero carbon by 2030, cutting its own emissions and those made by customers using its products, by 50 per cent over the next decade.
---
How is #GameZero measured?
At Spurs' 21-22 season-opening fixture, carbon measurement specialists RSK used direct data, including a fan survey to measure regular matchday emissions, including fan journeys; squad journeys; energy and waste at the stadium and matchday employee commutes, to create a baseline of emissions to look to reduce.
For the match to be net-zero, Sky and Tottenham will work to minimise emissions from matchday activity such as energy used to power the game, travel to and from the stadium for both fans and clubs, and dietary choices at the stadium. Hundreds of individuals involved in the game – from Sky Sports' producers to Spurs' chef feeding fans and crew – are working to making #GameZero happen.
---
Earlier this year, Tottenham Hotspur was named the Premier League's greenest club following a study carried out by the UN-backed Sport Positive Summit, with a range of sustainable measures implemented across its operations.
The Club and Sky Sports are also both signatories of the UN Sports for Climate Action Framework and both Sky and Spurs are founding partners of Count Us In – a global movement aimed at mobilising one billion people in the fight against climate change.
#GameZero will be played six weeks ahead of the UN's COP26 Climate Change Conference, hosted by the UK Government in Glasgow, which brings together world leaders to accelerate global action to fight climate change.
It will also form part of the UK Government's 'Together for our Planet' campaign which celebrates what individuals and organisations across the country are doing to go #OneStepGreener to protect the planet ahead of COP26.
Where carbon emissions cannot be removed for #GameZero, Sky will offset by working with Natural Capital Partners to restore natural carbon sinks which remove emissions from the atmosphere. This will be done by supporting a community reforestation in East Africa and creating new UK native woodlands to support the UK's net zero objectives.
Sky and Tottenham will also plant trees locally to the stadium later this year.
Spurs vs Chelsea aka #GameZero will take place on Sunday 19 September at the Tottenham Hotspur Stadium