HD Broadcast UHD 2 begins working life with DFB Pokal and Bundesliga coverage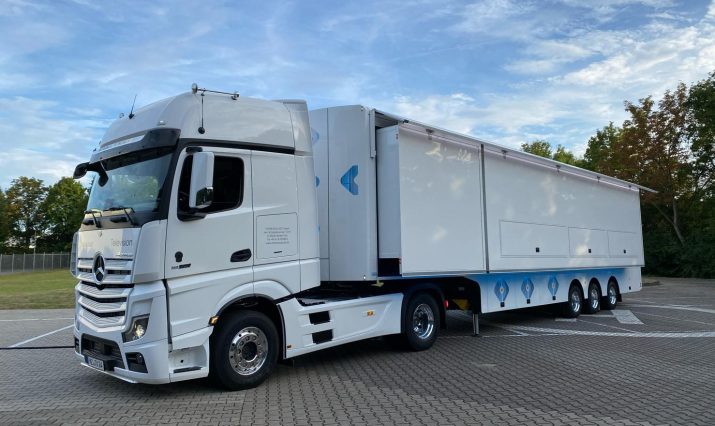 German outside broadcast provider HD Broadcast's new flagship UHD 2 truck has taken to the road this month, covering first-round matches in the DFB Pokal German knockout cup and the start of the new Bundesliga season.
HD Broadcast chief executive and chief technology officer Constantin Novotny told SVG Europe the truck was originally commissioned last September with a view to being on the road earlier this year in time to cover UEFA Euro 2020 matches in Dublin, working alongside fellow German OB provider TVN.
However, when Euro 2020 was postponed until 2021 due to the COVID-19 crisis, HD Broadcast decided to delay the launch of the truck so that it would be ready for the start of the 2020-2021 football season in Germany.
The new truck, designed by HD Broadcast and built by Broadcast Solutions, is one of the largest units available in Germany. It can work with a maximum of 30 UHD/HDR cameras, and with an interior space of around 60 m2 the OB offers up to 28 staff members a spacious working environment.
The vehicle uses a multi-format production system based on 4K/3G-SDI Quad Link/HD/HDR formats. It is designed as a trailer with three extensions covering the complete trailer length, providing two control rooms, numerous engineering and slomo workstations and VIP spaces. A third control room is available with the support van.
"Last weekend we covered Stuttgart versus Freiburg in the Bundesliga on Saturday, and then Heidenheim versus Braunschweig in Bundesliga 2 on Sunday," said Novotny. "The first production for the OB van was not in the Bundesliga, it was the previous weekend for the DFB Pokal German soccer cup. We covered three matches on our first weekend: Augsburg versus Eintracht Celle on Saturday 12 September; Kaiserslautern versus SSV Jahn Regensburg on the Sunday and Würzburg versus Hannover on the Monday.
"It all went very well. The set-up for the DFB Pokal was not as big as for the Bundesliga. But it was very nice to see how the new truck works, and that all of the equipment and programming is working well."
Are there any differences in the coverage plan for the new Bundesliga season?
"We covered the Bundesliga matches like the re-start last season – there are no differences. We still have the pandemic plan from Sportcast from the last nine match days of last season.
"Of course now we have to learn to set up with fans in stadiums. The number of fans depends on the [federal] state; in Stuttgart, we had almost 8,000 fans and the next day between 2,000 and 3,000 fans. The second division is obviously smaller."
It turns out the new truck lends itself well to production during COVID-19 restrictions. But it was designed to be a very spacious working environment long before any of us had heard of coronavirus?
"The design of UHD 2 is based on our first truck, HD 1. We wanted to set up different rooms – production rooms, technical and audio rooms. In the new truck we have a lot more space with new dimensions, but we have seen over the last couple of years [with HD 1] that this is the way we want to work with our customers.
"We decided last September to build the truck. We would have had until April to make the design, build the chassis and make all the equipment installation. That was the original timeframe.
"When the Euros were postponed we slowed down the building of the truck. Because of our contract with Sportcast for HD 1 we have another big OB van in HD, so now there was no need to finish the new truck quickly. We delayed it in all for three months, so that the new truck could be finished during the summer and be ready for the start of the new season.
"We wanted to build a truck that was very comfortable, where all customer operators would have more space than in the older truck. We wanted to make comfortable workspaces, and we also have a tender truck with two separate rooms which can be set up as an edit room or highlight room, or as a third production room. So we have enough space together in both trucks to make each place very comfortable."
We all know there is a big trend now towards remote production, accelerated certainly by the COVID-19 crisis. Do you wonder if this will be the last big truck you build?
"That's a very interesting question. Maybe this is the last decade for big trucks? Maybe.
"But on-site, on big daily sporting events like Bundesliga, Champions League or Europa League, you have to set it up in a big truck. I think for concerts or other productions where you have much more time in one place – maybe days or even weeks – in the future these will be covered by remote production.
"The next step for HD Broadcast is to cover everything in UHD. Maybe UHD and HDR. These are the two next big steps, and now we have prepared our company to be very comfortable for the future. Each investment we have made in the last couple of years has been based on UHD.
"It was great to get the truck on the road. With this size of truck there are small things you have to fix from week to week. This is quite normal, to adjust and refine the programming from production to production in order to get a better set-up for the future," said Novotny.
HD Broadcast's UHD 2 houses 10 EVS VIA servers, located under the desk of control room 1 – fully air-conditioned and soundproofed. It's equipped with a UPS unit, which ensures 15 minutes of autonomous operation of the complete OB in case of a power failure.
The truck carries Sony HDC-4300 cameras with Canon lenses, Sony XVS-9000 and ICP-X700 vision mixers, Grass Valley multiviewers and splitters, sonoVTS displays, Lawo VSM control and a Grass Valley Sirius video matrix. For video recording and editing there are also two SimplyLive MMR-410s, Avid Media Composer Nitris DX and Avid Nexis along with MOG mfxSpeedRail.
A Lawo mc²56 MKIII mixer and Lawo Kick system feature in the audio area along with Genelec 6.1 surround sound speakers, Riedel Artist intercom and Sennheiser microphones. The truck has a fifteen-unit Riedel MediorNet system on board (with eight stage boxes, four frames in the truck and one Metron), and the separate Mercedes tender has two separate working areas with up to six seats and two climate circles.