Heather McLean joins Sports Video Group Europe as Contributing Editor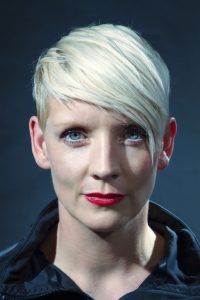 Journalist Heather McLean has joined the SVG Europe team as Contributing Editor, working alongside Executive Editor Fergal Ringrose and Editor David Davies on all aspects of editorial output including Live From reports, Sit-Down interviews, conference programme preparation and session moderation at SVG Europe events.
McLean joins the expanding Sports Video Group team in Europe, in order to meet the growth SVG is achieving in the market. In addition to Davies and Ringrose the European team now comprises Production Editor Dawn Boultwood; Angela Bulley for Credit Control and Business Administraion; European Sponsorship Consultant Chris Cope; Tim Frost in Audience and Digital Development; General Manager Joe Hosken; and European Sponsorship Manager Clare Sturzaker.
"We are delighted that Heather has agreed to join the European team as we continue to grow," said SVG Europe Executive Editor Fergal Ringrose. "Having worked with her on other editorial projects for a number of years I know Heather to be a first-class reporter – always accurate and conscientious – plus a very positive personality and a great team player."
"I'm really happy to join SVG Europe at this time," said Heather McLean. "It is a fast growing organisation within an exciting, dynamic marketplace. I feel that sports broadcast presents loads of opportunities for pushing technology forward; the companies and their customers in this space are trailblazers for broadcast tech industry-wide. I'm looking forward to getting stuck in."
McLean has been a technology, business and education journalist and editor since 2000. As a freelance journalist over the last 17 years McLean has written for The Times, The Guardian and The Independent, as well as publications including Fierce Wireless Europe and Fierce Markets, E-Forex Magazine, The Economist's Executive Briefing, IBC365, IBC Content Everywhere, TVB Europe, Computer Weekly, Total Telecom, the Wireless Broadband Alliance (WBA), and the GSMA.
McLean has worked on the IBC Daily for the last 10 years, as well as working on The IBC Daily Executive Summary, the ISE Daily and BVE Daily. She is editor of Smart Chimps, an online mobile tech publication, and has been editor of Tech&Learning UK and Mobile Business. As a copy writer, press officer and PR consultant, McLean has and does work for a number of clients in tech, from manufacturers and mobile operators to distributors and resellers.
Heather McLean's SVG Europe email address is: [email protected]