IBC 2018: Ross unveils Carbonite Ultra switcher and Ultritouch monitoring panel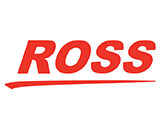 Ross Video (stand 11.C10) has announced the launch of Carbonite Ultra — the next generation of Carbonite midsize switchers. Also, Ross Video has announced the launch of Ultritouch, a customisable system-wide hardware control and monitoring panel designed to help operators easily control and move between products and applications while maintaining the speed and fidelity of the equipment they are controlling.
Ross Redefines Midsize Production Switchers with Carbonite Ultra
Carbonite Ultra is built on an entirely new 1RU hardware platform with 240% more processing power than the original Carbonite. Remarkably affordable, the 24-input, 14-output Carbonite Ultra rack starts at only $10,900 USD. This production switcher can be configured with 1-3 MEs, 2-4 16-window MultiViewers, Frame Syncs, and Format Converters on all inputs and processing & colour correction on all inputs and outputs. Furthermore, Carbonite Ultra follows Ross Video's Software Defined Production philosophy, meaning more features will be introduced via free-of-charge software updates and new software-licensed functions, yet to be announced, will take Carbonite Ultra beyond a production switcher. In fact, Carbonite Ultra's next software release will unlock 12G/UHD support for 2ME & 3ME systems.
Carbonite Ultra replaces the original Carbonite series of switchers which includes Carbonite, Carbonite Plus, and Carbonite MultiMedia.
Commenting on the launch, Nigel Spratling, VP of Production Switchers and Servers, points to Carbonite Ultra as yet another important Ross innovation. "Built on a great tradition of groundbreaking technology, reliability and value for money, the Carbonite Ultra takes midsize production switcher performance into a different orbit. I am incredibly proud of what our Design Team have managed to achieve".
Ross Video Launches Touchscreen Systems Control and Monitoring Panel
Ultritouch is a powerful rack-mountable touchscreen panel combining traditional functionality while adapting the workflows and customization for operators fluent with smartphones. Ultritouch adds a powerful new control option to Ross Video's award-winning Ultrix connectivity platforms. In addition, due to its integration with Ross Video's network and control system DashBoard, Ultritouch controls a host of other Ross Video equipment.
Key benefits include:
Smart touch functionality providing traditional functionality with modern workflows
System wide control across almost the entire Ross Video portfolio from a single hardware-based panel
Open control with DashBoard provides full customization based on user needs
Exclusive approach to common and next-generation workflows through a fully integrated touch UI with multidevice navigation, and button mapping —meaninglesss training, quicker setup, and ease of use for operations staff
Todd Riggs, Ross Video's Marketing Product Manager Infrastructure notes: "We wanted to merge traditional operations with modern workflows and user experience. Ultritouch is the first of its kind to truly address this challenge and introduces fast, simple and intuitive control capabilities to deliver smooth operation of every product within the Ross Video Product portfolio. We anticipate the primary markets to be Broadcast, Cable, OB, Production, and House of Worship markets and are excited to introduce this innovative tool at IBC."