Inside NEP's integrated remote production centre in Manchester
How NEP UK and NEP Connect implemented facility to enable EPL return to air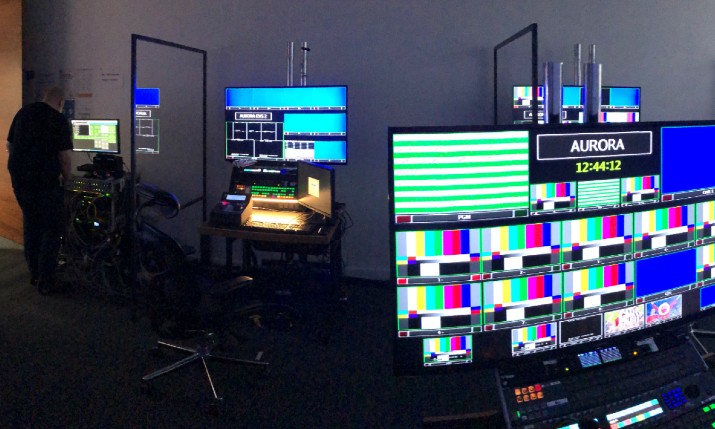 With the re-emergence of sport following the first wave of the COVID-19 pandemic, Sky Sports in the UK was keen to find new ways of working that allowed its teams to produce the highest quality coverage while keeping them in the safest possible working environment.
From the announcement of the return of both the English Premier League (EPL) and English Football League (EFL), Sky had only a few weeks from initially approaching NEP regarding a remote workflow operation to the launch of an integrated new NEP UK and NEP Connect remote production centre at MediaCityUK.
With the ability to place a facility at the Blue Tower in Manchester, Sky could harness talent across two pools: the first for those based in the southern part of the country in Osterley at Sky's own headquarters and the second for those based in the north in MediaCityUK.
Simon Moorhead, managing director of NEP UK Broadcast Services told SVG Europe: "Sky already uses the NEP Connect Anylive Network onsite for its coverage, so by having a Sky production crew based in the same building as the NEP Connect team, access was provided to material and facilities from site. This allowed for an easy augmentation of the new Sky workflows.
""Now we have connectivity present it would be very simple and quick to expand the resource, further leveraging existing assets such as audio surfaces, vision mixer surfaces, edits and GFX control"
"By making use of the Anylive Network, NEP was able to remote facilities out from the OB unit onsite at an EPL stadium to the Blue Tower. Keeping the core intelligence of the OB truck onsite allowed for minimal bandwidth requirements and also a layer of redundancy onsite."
In order to move crew members offsite, it was necessary to extend EVS replays, monitoring and talkback to the Blue Tower. Once there was an agreed location, NEP Connect was able to install fibre from its MCR to another floor where the space was leased. With connectivity in place it was then a matter of installing the furniture, monitoring and control, all in a matter of days.
NEP UK and NEP Connect teams built out the facility in under three weeks to open in time to support Sky Sports' return to live football coverage on 17 June for the EPL opening game, Aston Villa v Sheffield United.
The launch of the integrated facility at MediaCityUK followed a successful test of NEP's centralised production platform to the UK market earlier this year: the filming of an EPL match at Aston Villa, through one of NEP's Data Centre's in Hilversum, with production using NEP's iOB (intelligent outside broadcast) control room in Manchester.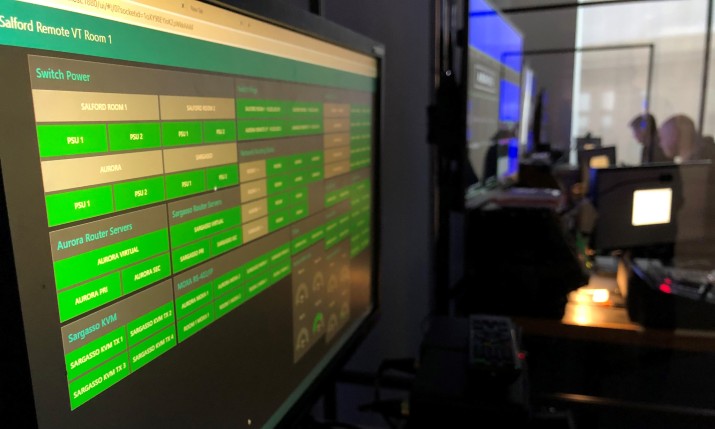 The new facility can be used as part of an end-to-end remote workflow to extend any onsite operation either as a remote broadcast extending one of NEP's OB truck or as a centralised production space using one of NEP's data centres. The AnyLive fibre network moves data, communications and video from the Manchester facility to over 240 venues in the UK, across Europe and beyond with very low latency.
NEP's new production centre was built with numerous safety measures to protect personnel and visitors from COVID-19 and other viruses, designed to enable them to work safely and efficiently. Workstations are positioned with ample distance between them, separated by Perspex screens, and are staggered in their floor layout throughout the facility.
NEP has also implemented stringent health and safety training for its staff and clients, with a 'safety captain' on site for every production. Finally, the teams follow a heightened cleaning protocol at MediaCityUK and in all of NEP's facilities, including cleaning of all shared surfaces and shared equipment before and after each use, and the labeling and sanitisation of individual equipment such as microphones and headsets.
"The MediaCity UK space is being sold as a flexible production area," said Moorhead. "Now we have connectivity present it would be very simple and quick to expand the resource, further leveraging existing assets such as audio surfaces, vision mixer surfaces, edits and GFX control. The only limiting factor for this would be the bandwidth of the connection to the site."
Looking ahead Moorhead said: "Ultimately with a data centre at Gemini House and with others across the NEP Group providing burst capacity, the ability to install PCRs, SCRs, edits or other facilities either permanently or on a short term basis is relatively quick and straightforward, allowing NEP further flexibility and super solutions to current and future clients.
"This is true not only for Blue Tower but also provides the ability to connect to CT UK, client facilities such as Wimbledon and other locations across the country and Group," he said.