Italy's Global Production creates new truck with Imagine Communications technologies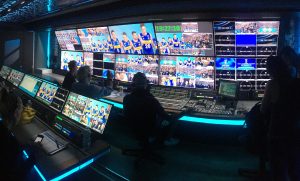 Imagine Communications has worked with Italian systems integrator Chromaline S.r.l. to build a state-of-the-art truck for leading Italian outside broadcast company Global Production. The new truck is a first in terms of the number of true 4K Ultra HD cameras it supports and its comprehensive production capability.
While there are a number of Ultra HD trucks on the road today, most rely on up-conversion of some cameras to provide the number of viewpoints that sports viewers expect. Global Production aimed for maximum quality, and asked Chromaline to investigate the practicalities of an uncompromised vehicle capable of supporting as many as 30 4K cameras.
"The challenge lies in the maximum size and weight of vehicle which can be taken on the roads," said Nicola Dall'Asta, CEO at Chromaline. "It simply would not have been conceivable to fit everything into the truck using conventional technologies and architectures. The only solution was to make everything ourselves, relying upon software solutions as much as possible to maximise space and ensure the best operational environment for the crews."
The new truck is a hybrid production vehicle, using both SDI and IP connectivity. At the heart of the architecture is Imagine Communications' Platinum IP3 router, which integrates mixed-format video and audio routing, multiviewer functionality, mux/demux, frame sync and advanced I/O options such as MADI and fibre — all within a single, space-saving frame ideally suited to Global Productions' application.
Also critical to the success of Chromaline's ergonomic design was Imagine Communications' Selenio Network Processor (SNP) — a next-gen, FPGA-based solution that functions as both an SDI-to-IP gateway and an all-IP-capable signal processing platform in 1RU of rack space. The system design in the truck uses four SNP units for processing and HD/UHD up- and down-conversion, and also as a bridge between uncompressed IP signals in SMPTE ST 2110 and the SDI infrastructure. These compact and high-density devices are central to achieving the space and weight savings that Chromaline needed to deliver the functionality while keeping the vehicle roadworthy. All connectivity, SDI as well as IP, is managed by the Magellan SDN Orchestrator software control system, allowing the production team to switch and interwork seamlessly between HD, Ultra HD and uncompressed real-time SMPTE ST 2110 streams.
"We have Imagine Communications engineers working hard with us to implement this large mobile UHD project," said Dall'Asta. "This is not just a huge outside broadcast truck. It is an entirely new way of approaching production and systems integration, while giving users the multi-camera functionality they are used to — all in full 4K Ultra HD."
Mathias Eckert, SVP & GM EMEA/APAC, Playout and Networking, at Imagine Communications, said, "What Nicola and his dynamic team are achieving with the large Global Production UHD truck is truly remarkable. It is going to change thinking around outside broadcast and what can be accomplished on the road, thanks to the designers' ability to include high-density, software-oriented processing like our Platinum IP3 and SNP solutions. As the vehicle goes into live production, it will attract a lot of attention from around the world."
The truck was handed over to Global Production on 6 September 2018, in time to provide the core coverage of Men's Volleyball World Championships.