"It's like fielding at short leg. You don't want to do it too well because you'll be in there for the rest of your career!"
Sky Sports pundit Nasser Hussain discusses commentating remotely on England vs Sri Lanka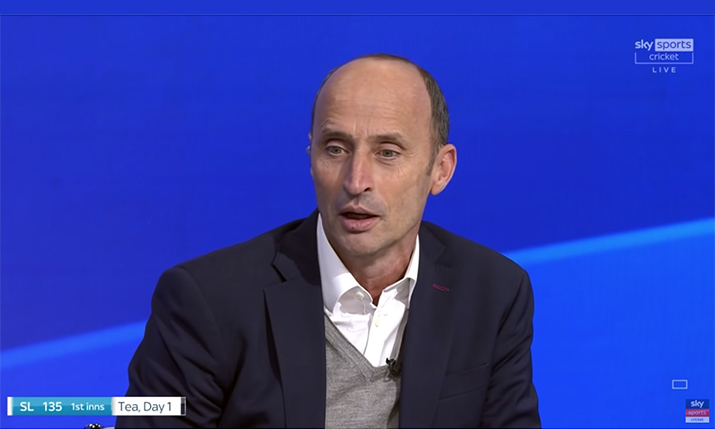 Ahead of England's second Test against Sri Lanka in Galle, Sky Sports commentator and former England captain Nasser Hussain talks to SVG Europe about the ups and downs of doing remote commentary.
None of the Sky Sports commentary team are at the ground for this series because of COVID. How have you found the experience?
You have to pay tribute to the technical guys, to be honest, because it must be a logistical nightmare. It's quite remarkable that you've got Kumar Sangakkara and Mahela Jayawardene in various parts of Sri Lanka. You've got Benedict Bermange, our stats guy, in Bristol. You've got David 'Bumble' Lloyd in Manchester and you've got me, Ian Ward, Mike Atherton and Rob Key in Isleworth. And the tech guys have to put all of that together. I know social media is not the be-all-and-end-all but most people on Twitter etc are saying that they haven't noticed the difference really. So it's an incredible achievement of modern technology.
Does it impact on your ability to call the action?
The basics are still the same. The first rule of commentating is to commentate off the monitor because what you see on the monitor is what viewers see at home. So that doesn't change. But obviously, there are little snippets of information that are impossible to pick up when you are sat in a voiceover booth in Isleworth.
Simple things like being able to look at the pitch before the day's play so that you have an idea of what it is going to do. Or knowing the wind direction for when [Stuart] Broad is bowling and whether that will help or hinder his outswinger. Talking to the players too. They often come up for a chat in the morning when you're rehearsing and prepping and you can get a bit of inside info on team news or what the pitch is doing or what the players actually think is happening out in the middle.
These bits of inside knowledge and gossip are very helpful and make you sound informed as a broadcaster. You don't get these [working remotely].
What is the biggest challenge?
Probably, being able to see the whole field of play. We get a very close shot, quite rightly, of the action on the monitor and then when the ball goes out into the deep you don't know if there's a fielder out there or not. So you just have to wait a millisecond before you call it. I'd say that's probably the most difficult thing.
There is also a slight audio delay. One of the rules of cricket broadcasting is that you don't talk over the bowler as he is coming into bowl. The viewers don't like that, they like to see the action. And an editor cutting highlights or wickets doesn't want a story being told while a wicket falls or a landmark is reached.
So, because of the delay, you have to be careful when you throw a question to one of the other commentators. Bumble is so professional he will try not to talk over a delivery. But what he's seeing, has already happened, if you know what I mean. So on the odd occasion, someone might accidentally talk over an important bit of action
But in the grand scheme of things, [because of COVID] some of the rules of broadcasting slightly go out the window and you just have to remind yourself of what is actually being achieved and everything that's being done and not worry if it is not 100% perfect.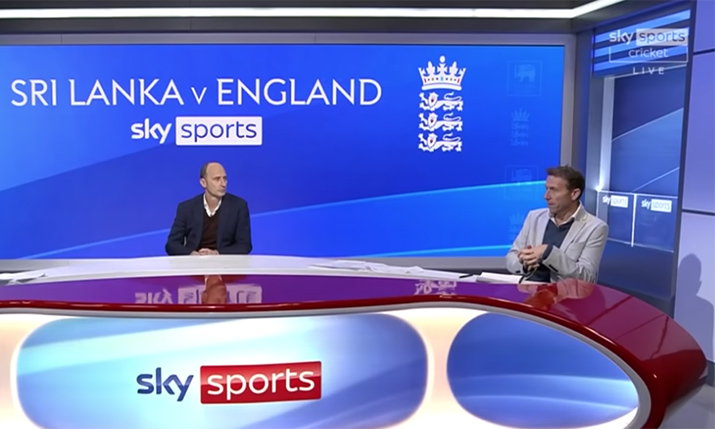 How do the strict COVID restrictions in Isleworth affect the job?
There's a big glass screen between commentators and your microphone and headset need cleaning and changing between commentary stints. You have to be careful about the changeover. You don't want to be changing your microphone over and miss something important.
Are you able to dovetail with your fellow commentators?
Not being able to see each other is tricky. We couldn't see Bumble initially so now we just video call him on our phones. This helps with the commentary protocol of: when your co-commentator picks up the microphone to speak, you put yours down. If you don't know what Bumble is doing, and more importantly Bumble can't see what you're doing, you're working blind.
We have both started sentences off at the same time but I think the viewers, who know we aren't out there in Galle, and know we are in different parts of the country, understand that these little things happen.
What is your overall impression of how it's gone?
The feedback we have received is that it is akin to mates chatting about the game of cricket. We can't really do the technical side. We don't have a touchscreen. We can't ask the director [for specific shots] or spend time in VT putting together packages to analyse. It almost goes back to a little bit of old-school broadcasting really which I think people, to a degree, enjoy. It's mates sitting there chatting about the game of cricket.
To be honest, it's just nice to be covering the cricket. If the first Test match was a dull game then the viewer might be a little bit peeved. But it was exciting cricket. I think it came across pretty well.
That said, it's like fielding at short-leg. You don't want to do it too well because you'll be in there for the rest of your career!
Are you missing the fun side of covering an overseas tour? The colour, the noise, the people, the camaraderie?
We all miss that side of things. We all get on very well on tour but we also have a laugh here. It's just a different kind of laugh really. Ordering our bacon butties and trying to get enough coffee in you so you stay awake and things like that. I have quite enjoyed it to be honest. And once you scrape the ice off the car, and you're there and working, it's good fun. It's a great job whether you're doing it in Galle or whether you're doing it in Isleworth. It's a privilege to be doing it.
The second Test between England and Sri Lanka is live on Sky Sports from Friday 22 January 2021.
---