Join SVG Europe Audio at the IP Audio Forum with Warner. Bros Discovery and Sky Sports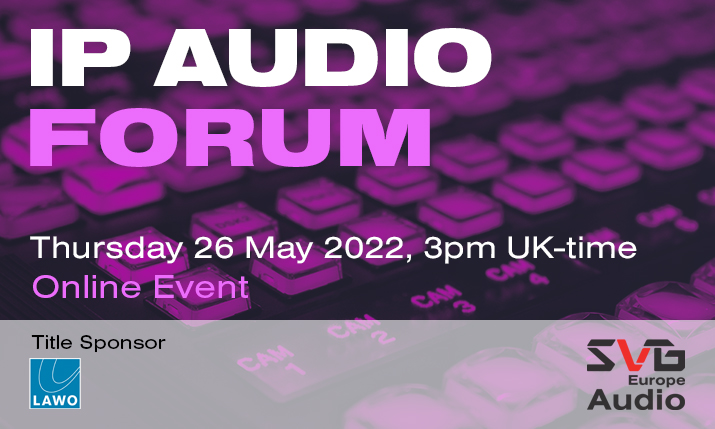 SVG Europe Audio is excited to announce speakers from Warner Bros. Discovery and Sky Sports for the IP Audio Forum, which is taking place on 26 May.
At 15:00 (UK time BST), this live online event will explore the hot topic of audio over IP (AoIP). AoIP peaked just in time to help the sports broadcasting industry over the challenges it faced in the last two years. Much like remote production, it had matured just enough to be relied on during lockdown as sports production suddenly spread out. With its ability to take as many channels of lossless audio over a single cable as needed, it is efficient and highly synchronised – but it does come with challenges.
We will be hearing from speakers at the forefront of AoIP, including Anthony Sachot, Warner Bros. Discovery, director for audio technology, Peter Mercer, Warner Bros. Discovery, A1 and senior sound manager, sports events, and Alex Judd, Sky Sports, technical specialist and A1, as well as Peter Walker, senior product manager at Calrec Audio, Berny Carpenter, audio product manager at TSL Products, and new announcement, Lawo's Lucas Zwicker, senior technical product manager for audio production.
Sachot and Mercer will be providing insight into Warner Bros. Discovery's pan-European IP network, part of its European Technology Transformation (ETT), which is in the final throes of being built. The network will enable Discovery to push and connect all of its productions over the ETT backbone, and the pair will be able to talk about the build and the challenges and benefits of running audio over it. Meanwhile, Judd will talk around the complexities of AoIP faced by broadcasters.
Register here now for SVG Europe Audio's IP Audio Forum