LFP Spain tests 4K during FC Barcelona, Real Madrid clash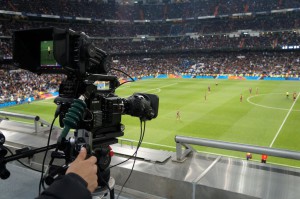 Spain's LFP (Liga de Fútbol Profesional) stepped up its preparations for becoming the first football league in the world to regularly broadcast in Ultra HD when 4K technology was tested during Sunday night's (23 March) El Classico clash between FC Barcelona and Real Madrid.
The needle match featuring two giants of Spanish football, which Barcelona won 4-3, was shot using two Sony PMW-F55 cameras, with footage monitored on two PVM-X300 displays. The equipment was supplied through AV company MediaPro, a Sony partner that produced and distributed the material internationally.
The Barcelona-Madrid trial follows Sony's tests of 4K during the Confederations Cup in Brazil last year and ahead of its returning to the country during the summer for the World Cup, where the Final will be shot in the higher resolution format.
Footage from Sunday's game will be loaded on to La Liga's YouTube channel for viewing, albeit in HD. This test production was a prelude to the start of full 4K broadcasts of matches for the 2014-15 season, making the LFP the first football league in the world to be covered in UHD.