Live from Qatar 2022: Capturing content on mobiles for a 'digital first' World Cup
For the first time ever at a World Cup, content for rights holders is being captured using mobile phones. It's part of a strategy that represents the biggest commitment to a 'digital first' approach of any football tournament or possibly even sport generally, says Tim Stott, executive producer, HBS Digital.
"What we're saying to broadcasters is this is not second-hand broadcast experience," says Stott while demonstrating the social media platform operated and populated by HBS that is available to media rights licensees who have taken a digital package.
'We want to create footage that looks as though your friend has snuck into the ground and is sending you their account of a match'
"What all of these shots have in common is that they don't replicate what you'd see on a world feed. We're not clipping the world feed and we don't do traditional football highlights. It would be pointless to replicate the highlights, which are ubiquitous."
In Doha, Stott is overseeing a team of 97, made up of teams based at the IBC at Doha National Convention Centre and crews based around the country capturing footage of teams. The latter includes operators capturing content on mobile phones within stadiums.
For each match, two people are positioned at each end of the stadium close to the goals to capture alternative angles of the action that can be quickly downloaded by rights holders and then shared through their social media channels.
"Their remit is to send through short clips as a near-live experience," says Stott. "My line to the staff, is that we want to create footage that looks as though your friend has snuck into the ground and is sending you their account of a match.
"We're not competing with 40-odd broadcast cameras, because that's pointless. But what we are doing, is providing a unique perspective. If we're providing an angle which people haven't seen before, that's adding value, because it's something they wouldn't find elsewhere."
Richarlison! What have you done?! 🤯#FIFAWorldCup | @richarlison97 pic.twitter.com/kCKFdlINXq

— FIFA World Cup (@FIFAWorldCup) November 24, 2022
A moment of action (such as Brazilian Richarlison's overhead kick against Serbia, above) is captured using mobile devices from tournament sponsor Vivo. The footage is then either trimmed on the device or back at the IBC. HBS has developed a bespoke app for the tournament, which is used to send the clip along with some essential metadata from the mobile phone back to the IBC. Another member of the HBS production team will then check the clip before it is published to the platform. It's a process which typically takes around two and a half minutes, Stott says.
Embedded ENG crews
ENG crews have also been assigned to each of the 32 teams competing in the tournament, with each crew comprised of a producer, a camera operator with a broadcast camera, a shooting assistant and someone capturing content using a mobile device.
The response from teams competing in Qatar 2022 has been mixed, says Stott. "The teams which are less likely to be lifting the trophy on the 18th of December are more likely to give you access," he says. "But also, it goes down to relationships. Some of these people in the ENG teams have worked with the football teams in other environments, and that helps a lot. Australia, for example, gave us incredibly good access."
Gaining behind-the-scenes access is highly prized by production teams and broadcasters, but they can find themselves competing against teams own videographers. One of the most widely-shared clips captured by a team was footage of Saudi Arabia coach Hervé Renard giving an impassioned halftime speech to his players who were 1-0 down against Argentina. They went on to win the tie.
22 نوفمبر 2022
يَـــــــــوم لا يُنسى 💚🇸🇦#كواليس_الأخضر ☕ 🎧 pic.twitter.com/qnLF2nxv48

— المنتخب السعودي (@SaudiNT) November 24, 2022
"This sort of access is in demand by the teams themselves," adds Stott. The dressing room footage was captured by the Saudi Arabia team's videographer, but because it was shot in an area overseen by FIFA the content was made available to HBS.
User interface
Although it is a B2B platform, the user interface of the social media platform (pictured, below) has been designed to be as simple and easy to use as possible, emulating Pintrest, says Stott. "We've got an extremely sophisticated broadcast server and we didn't want to try and compete with that, so this is a deliberately low-tech experience. In designing it, we had in mind a 22-year-old social media manager sitting in Culver City at 2am; it needs to be easy and intuitive to use."
The platform also provides Stott and his team with real-time data about which clips are being previewed and downloaded. "Because we are more set up like a 365-degree content operation and less like an agency we can be more reactive. So, I can tell you right now that there are content strands on the platform that we weren't doing a lot of at the start of the tournament, but we've increased the volume based upon the success of their performance."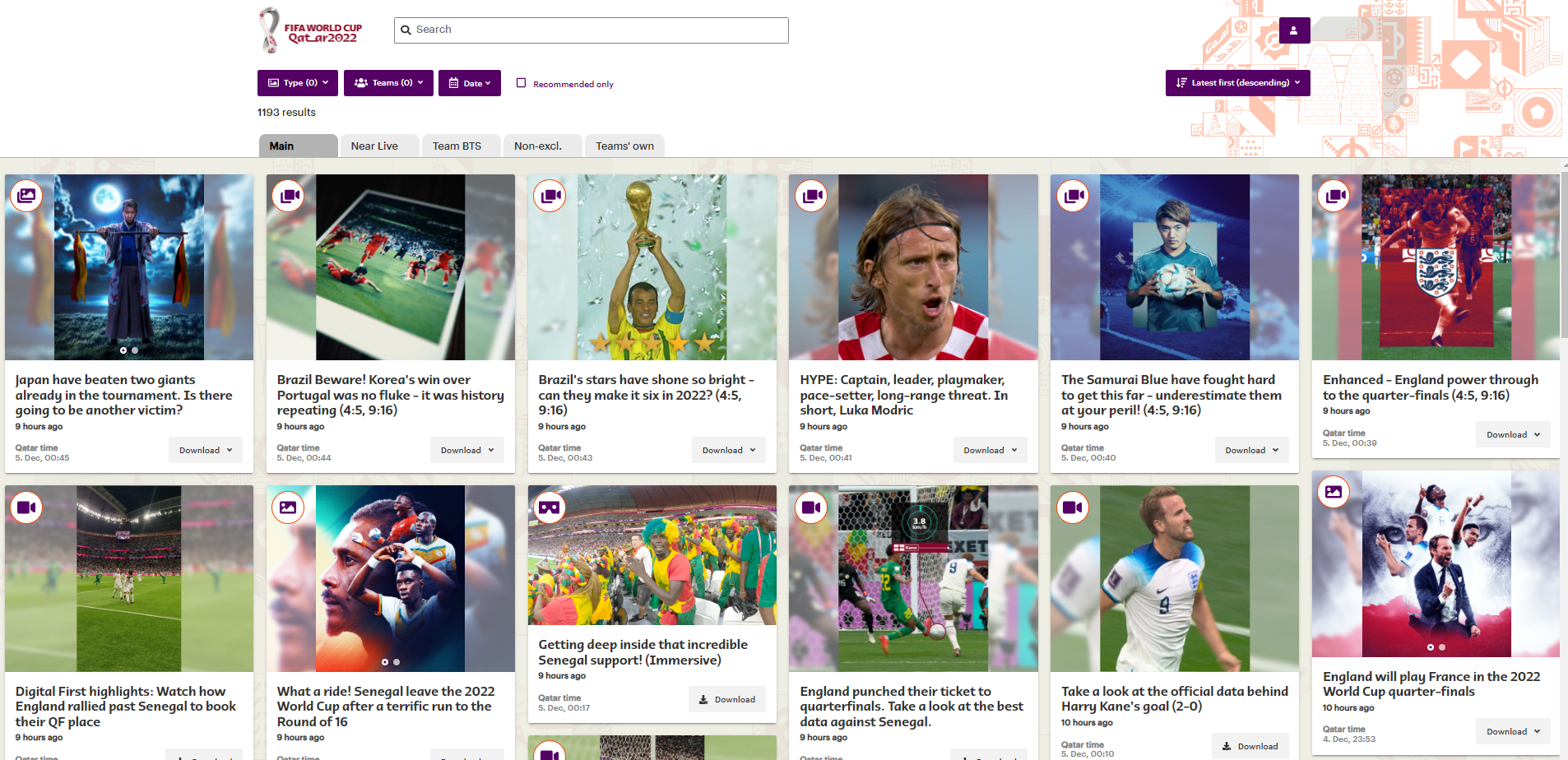 Some examples given by Stott are clips overlaid with data to provide insight into the speed and movement of players and split screen highlights that show more than one angle of a piece of action.
Content is also made available in both 4:5 and 9:16 aspect ratios. "If people want 16:9 content, there's a broadcast server that is better suited to provide that content. So, once again, we're deliberately not competing with our own offering."
Looking ahead to FIFA World Cup 2026, Stott says his team will explore different ways of curating and exporting live content. Another possible addition highlighted by Stott is the potential of capturing content from fans in the stands. He gives the example of multiple fans in the stadium all capturing a goal from different angles. "If you're suddenly able to see a goal from 55 angles, that would be great."