LiveScore to stream more live Serie A games in 2020-21 after securing deal with Premier Sports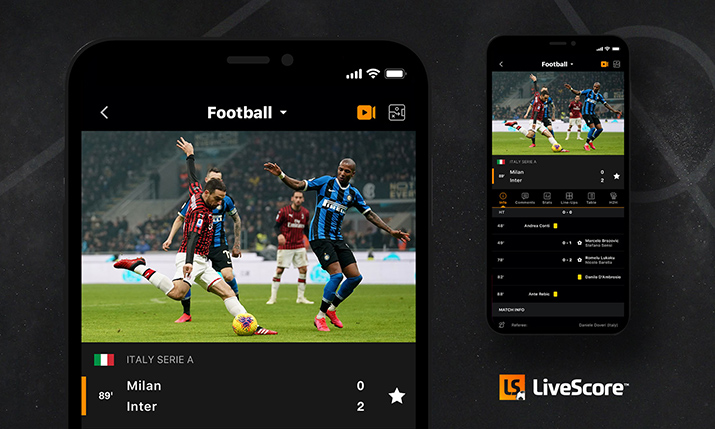 LiveScore will live stream Serie A football matches for free on its app in the UK and Ireland again next season after sealing a new rights deal with Premier Sports.
The real-time sports updates and OTT streaming service provider will show 306 games from Italy's top flight in 2020-21 with each feed integrated into its iOS and Android apps.
Premier Sports will continue to broadcast every game from Italy's popular top flight as part of its existing rights deal.
In addition to the Serie A arrangement, which was negotiated by Saran Media Group, LiveScore will also stream matches from Portugal's Primeira Liga and, for the first time, feature matches from the Eredivisie in Holland as well as the Chinese Super League.
LiveScore's free-to-air live streaming service launched in the UK and Ireland in June 2020.
The service is said to have attracted more than half a million unique viewers in its first two months, with a peak audience of 125,000 being reached during AC Milan vs Juventus on  7 July.
Ric Leask, the marketing director at LiveScore, said: "After a fantastic start for our new LiveScore free-to-air live streaming service, we're excited that our offering is set to get bigger and better for the new 2020-21 season. As well as returning to the hugely popular leagues in Italy and Portugal, by unveiling a number of new competitions we are continuing to innovate and offer our UK and Ireland audience the most immersive sports coverage possible.
"This is an important next step for LiveScore as we continue to expand our digital content offering. In addition to the live streaming options for our UK and Ireland audience, global LiveScore users can expect to enjoy a range of on-demand content from across the football world including through our partnership with LaLiga."
Other live football being made available on LiveScores includes the Coupe de France, a number of UEFA Champions League and Europa League qualifiers, CONCACAF FIFA World Cup 2022 regional qualifiers and the Copa Libertadores and Sudamericana.
LiveScore's streaming capability is provided by StreamAMG.
Premier Sports will remain as the exclusive UK and Ireland broadcast TV partner for both the Primeira Liga and Serie A.