Making YouTube broadcasting work: Inside the Setka Cup table tennis, tennis and beach volleyball channel growth
The Setka Cup, an international table tennis, tennis and beach volleyball tournaments sports platform, is an example of a sports organisation that has used live streaming as a key distribution channel. Since 2018, Setka Cup has organised open, non-commercial, and commercial tournaments. It offers more than 7,500 fast, dynamic and engaging events per month that are available in 150-plus countries.
Setka Cup was quick to bring daily commercial tournaments to YouTube, with unique table tennis content about athletes, their sports skills, as well as useful tips for beginners.
Valerii Ozarenko, head of tournaments development at Setka Cup, speaks here about Setka Cup's live streaming and the development of its social media channels.
"From the very beginning, we had just one Setka Cup YouTube live streaming channel and a couple of social media pages on Facebook and Instagram, where we published general information, eg, tournaments schedules and results.
"Well-established live streaming process resulted in a lot of high-quality video records of matches on YouTube. Eventually, we've noticed how athletes tried to cut these records to get the best moments of their serves or hits. We realised that our participants need an additional YouTube channel with entertaining sports content to share with the sports community. This is how the Setka Cup TV channel appeared.
"At first, we decided to capture the best game episodes from Setka Cup live streams (eg, best Setka Cup table tennis serves). It gave the start to a series of 'best shots' episodes. Both table tennis players and judges helped the team to select top highlights for the best shots on the Setka Cup TV.
"When we noticed that such videos started gaining popularity among our participants as well as the sports community, we decided to go one step further and choose a host for the channel. The choice fell on Yana Mykhailyk, an experienced table tennis player well versed in the nuances of the game. It was the first time Yana tried herself as the host for a YouTube channel. We intentionally decided not to look for a professional presenter but to find one among athletes who are passionate about both table tennis and the job of a presenter.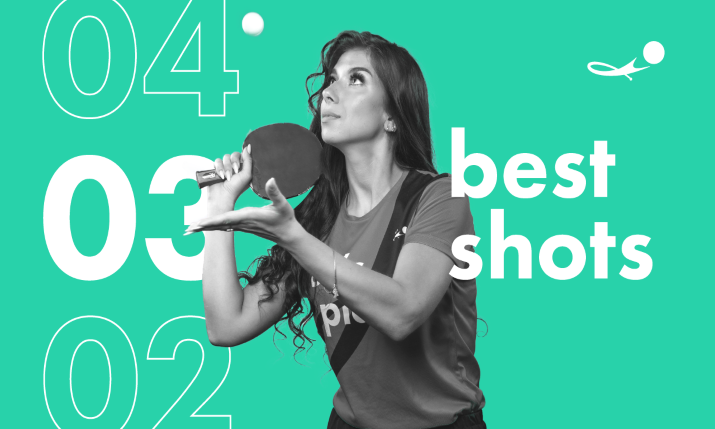 "Highlighting the most exciting moments in the best shots episodes was the right thing to do; table tennis social media groups and participants themselves started to share Setka Cup's videos. It boosted the Setka Cup TV channel's organic reach.
"After best shots episodes were released, we began to interact closely with the Setka Cup athletes. That's when we've launched 'How do you do it' episodes; interviews with participants, in which we analysed how they play. As we have a close-knit internal sports community, such episodes received a broad discussion among athletes who know each other very well. Oleksii Rybka and other participants of the tournaments give regular interviews for Setka Cup TV.
"We upload new videos to the Setka Cup TV channel twice a week; these are mostly best shots and best matches top highlights and 'how do you do it?' sports highlights. We also do regular interviews with our participants and representatives of the sports community. In the near future, we are planning to launch a new format called 'funny moments'.
"Today, we are focused on increasing social media engagement as well as the organic number of subscribers and views on the Setka Cup YouTube channel. Since Setka Cup TV provides content for a niche audience, we don't expect rapid subscriber growth. Nevertheless, at the moment we are seeing good performance indicators.
"Developing every episode, we pay a lot of attention to information about our viewers,eg, their needs and interests. Moreover, we are also focused on the quality of the final picture. Sounding, lighting, visual effects; everything plays a vital role when it comes to engaging the audience. The final picture is as important as the whole match itself.
"Our top priority for 2021 is to become a universal media provider of high-quality table tennis content for different types of audiences, including the beginner tennis players, coaches, fans, etc. We are planning to achieve this goal by expanding YouTube channel content formats and adding new episodes with amazing trick shots and equipment overviews.
"Setka Cup TV is especially popular among tournament participants and the sports community, including national team coaches. The average monthly follower growth rate on the Setka Cup YouTube channel is 10%. For such a young channel about table tennis, this is a very good indicator. Currently, we are focused on creating a cohesive sports community around its tournaments."