Mediakind launches Aquila Streaming As A Service on Google Cloud
On a Zoom call press briefing Mediakind product manager for Streaming & Delivery Richard Mansfield revealed the company has extended its partnership with Google Cloud to enable Aquila Streaming to be offered As A Service on the Google Cloud Platform. This would have been the company's leading new technology announcement for the NAB 2020 show in Las Vegas.
"What we're launching today is the next step in the Aquila Streaming evolution," said Mansfield, "where we take that same technology that we already have available in appliance and cloud-native solutions and offer that as an end-to-end service leveraging the Google Cloud environment – Aquila Streaming As A Service.
"The As A Service offer really leverages benefits around bandwidth saving versus video quality. We have a technology called CVQ (Constant Video Quality), and this allows us to optimise picture quality against bandwidth over time. This can see up to 30% savings on the bandwidth delivered on a typical video system. It uses complexity over time to vary the bitrate within the stream to allow us to save bandwidth and optimise the cost," he said.
"Another hot topic is low latency. Typically with OTT delivered by something like HLS onto Apple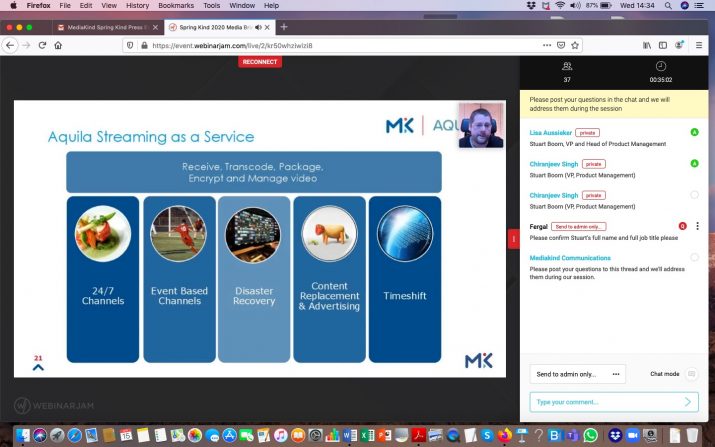 devices for example, we've seen delays where an event like a goal takes place and it can be up to 60 seconds for that to come through to being displayed on user screens. So for something socially sensitive like a sporting event, we see it as really important that we reduce that latency. You don't want to hear about a goal from a push notification on your phone before you see it happen on your screen.
"We've been optimising the end to end path, not just the packaging components but all the way through the chain of delivery to bring that down to single digit seconds from end to end, so that we're able to offer a broadcast-like experience on OTT," said Mansfield.
"There's also a lot of standardisation and other activities in the OTT space. One of the areas where we're very active has been within the CMAF domain, really bringing about a common chunk format to allow multiple different devices types to access the same video content. That means we can reach different types of devices using the most efficient method – without having to send multiple different types or variants to each device.
"That can really help with distribution costs, caching performance and also on storage. If we only need to store things once and it doesn't matter how many devices we have, of course there's a huge potential saving there as well.
"Moving into the As A Service only area, we can offer some unique and value-added solutions to customers," he continued. "We can receive, transcode, package, encrypt, manage and deliver that video, so we can offer different user-cases around everything from the high rate content coming in through to the delivery over a CDN to the end-users. A typical one is 24/7 channels; being able to offer an always-on channel with live content, with Mediakind as a service from public cloud.
"And increasingly we're seeing a demand for event-based or temporary use channels. Obviously due to the challenges we're seeing now with live sporting events being delayed due to the coronavirus: once we're through that time we expect there will be catch-up required in order to broadcast additional events and catch up on sporting leagues.
"That's a natural place for temporary use scenarios, where a sudden peak in demand that doesn't require a 24/7 infrastructure could leverage a public cloud environment in an As A Service way to allow us to answer the need for temporary use at the peak requirement that we will see from the market," he said.
"Another area we see in the Aquila Streaming As A Service offer is around disaster recovery. For customers who already have an on-premise head-end doing transcoding and delivery of OTT content, rather than building a second site and having that sat there running 24/7, public cloud gives us the ability to spin up in the event a disaster system in the event of a disaster recovery scenario in the cloud.
"Content replacement and advertising is another area where Aquila Streaming As A Service can be applied, within the live video processing and delivery domain or time-shift and start-over use-cases as well – being able to offer rolling buffer type scenarios or event potentially out to wider time-shift capabilities on top of the live content," said Mansfield.
MediaKind's cloud-native Aquila Streaming solution can be deployed on bare metal, private cloud, or in any cloud service provider. Through the integration into the Google Cloud ecosystem, it now also provides access to a broader range of media applications and workloads through the cloud, in areas such as containerisation, AI, machine learning and the growing network of Android TV and Google Ad Insertion solutions, whilst offering a fully managed solution.