Mobile operator EE's Matt Stagg on 5G opportunities and repercussions for sports broadcast industry
What does the upcoming 5G mobile technology standard mean for the broadcast, and specifically the sports broadcast, industry? Matt Stagg, head of mobile video and content at BT-owned mobile operator EE, says it means massive disruption in the way the broadcast industry will work in the future, from lower cost production of content, remote editing truly enabled, to more content being created.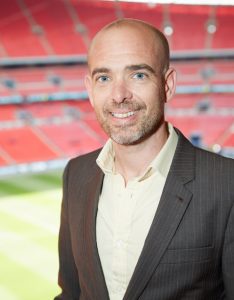 "5G is potentially a technology that can augment and maybe eventually replace digital terrestrial TV," claims Stagg. "5G will be the glass to glass technology, from camera to screen, full convergence. 5G has the potential to play in every area of glass to glass technology."
What makes 5G different from previous mobile standard iterations is the way it is being designed, taking the outline for its requirements from multiple industry sectors as opposed to being a consumer-driven standard. From connecting autonomous vehicles and the Internet of Things (IoT), to a guaranteed data rate that means users will no longer talk about speed (or a lack of it), this standard will have 99.999% reliability, will have ultra low latency and a guaranteed quality of service.
Serious repercussions
In the world of media and entertainment, 5G has both exciting and serious repercussions. Stagg comments: "If you've got a guaranteed, broadcast-grade 5G network, why would you use satellite for media and entertainment? If we get this standard right, rather than send a truck with two guys just to man it plus a production team to a sporting event, with 5G you could just send a guy on a motorbike with a 5G-enabled camera and then produce it remotely [at a centralised location].
"You don't need the infrastructure required today for breaking news or sports," continues Stagg. "You could see a lot more content being produced by a lot more companies, a lot more cheaply; an hour of footage can be sent back to the production studio easily. Why would you use a satellite truck when you could use 5G-enabled production? The world of OB will change dramatically in a 5G-enabled world. I don't necessarily see business models collapsing, but people need to take advantage of strategic planning."
Phenomenal speeds
The first edition of the 5G standard was ratified in December by the 3GPP, providing the set of features and functionality needed for deploying a commercially operational 5G system. There have been a number of pre-standardisation trials, but we will see more over 2018 now there is a solid standard to work to.
EE carried out a lab trial in November last year demonstrating "phenomenal" speeds, according to Stagg. The operator worked with Huawei to create 2.8Gbps download speeds across an end to end 5G test network in its UK mobile lab. It linked the fully virtualised 5G core to a 64×64 Massive MIMO active antenna unit broadcasting 5G New Radio, using 100MHz of 3.5GHz test spectrum via the proof-of-concept Huawei 5G baseband unit. The consistent 2.8Gbps speeds and sub 5ms latency were delivered end to end, rather than just across the air interface.
A key part of 5G is set to be network slicing. This is interesting because it allows mobile networks to chop the spectrum they own into smaller pieces to use as mini virtual networks, so it can be used for different purposes. Stagg comments: "With 4G, it doesn't matter what you're doing, everyone is using the same network, which means it's still a best-effort service. What happens with 5G is that you can segment the network so it enables you to create virtual networks tailored to the requirements of what is using it. For autonomous vehicles, we can use edge computing to get the low latency needed, whereas consumers don't need 99.9% service reliability to watch cat videos. However, if they're watching breaking news or critical communications, they do. We will probably network slice by different sectors," Stagg adds.
Eye opening usage
For EE, the launch of its 4G network was something of an eye opener. Stagg tells SVG Europe: "We didn't realise that within a year of us launching 4G we would have essentially launched a video distribution network. We didn't even have a mobile video department. We had a lot of catching up to do. The entire content industry had to learn about end user behaviour on 4G, from what people were watching to how the economics differed. On 3G, if you were lucky you could watch low resolution video; on 4G, you had a video distribution network that you could also use for comms.
"Live entertainment, particularly sports, took off astronomically on 4G, so we had to look at new technologies to do that, such as LTE-Broadcast," continues Stagg. "But 4G was still a best-effort service. If you were doing an outside broadcast and everyone was using their phones, we still couldn't provide quality of service. With all the lessons we've learned from 4G, we know that if we get 5G right we won't need another 'G'. What is important to remember is that this isn't just another technology; it's infrastructure for all the different areas of business."
Time to get involved
Stagg equates the creation of the 5G standard to something that, had a similar forward-thinking development been possible in the time of John Logie Baird, the first person to demonstrate a moving television image just over 90 years ago in 1926, we would not have many of the technologies we know and use today – because we would not need them.
"If we said to John Logie Baird we want to be able to send a moving image to another room and we want that to be available on a big screen in the home, and we want people to be able to walk around the home looking at a little screen, and to take that outside and sometimes pay and sometimes be able to view for free, we wouldn't have all these different technologies we have today that all have their own constraints, such as 2G, 3G and 4G, Wi-Fi and Bluetooth and the rest," states Stagg. "Fast forward 10 to 15 years from today and we will have a very different landscape thanks to 5G."
It is important that the sports broadcast industry gets involved with the development of the 5G standard, claims Stagg. "We're trying to think a long way ahead to get our requirements into the [5G] standard so it is not going to get to a point where it is no longer fit for purpose [for media and entertainment], or where it needs a huge amount of engineering to be done," notes Stagg.
Stagg states that despite the first edition of the standard being released, there is time for the industry to be heard. "The first edition of the standard has been lopped off, but we still have time, just not an infinite amount. One of the things I am very keen on is starting a media and entertainment forum to get everyone's opinion, from the distribution networks both fixed and mobile, to movie companies, camera manufacturers, everything, to get together and brainstorm. If we can bring down the cost of entertainment like movies and sport, and get convergence between fixed, mobile and video over 5G, it becomes cheaper and people can reinvest in technology. If we can start talking about the opportunities together, we'll see new ones arrive."
"All of us in media and entertainment have the same customer – the audience – so anything we can do to enhance their engagement of storytelling is something that we should all work together to achieve," concluded Stagg.