Model Citizens: Inside Manchester City's media production machine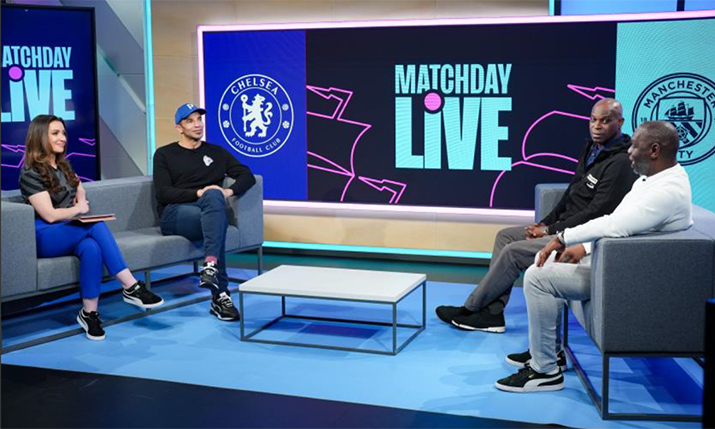 To find out just how wide-ranging media production is at the world's biggest football clubs, SVG Europe visited English Premier League champions Manchester City FC to see what they do and how they do it, and to get a better understanding of why audio-visual content is so important to the business side of the beautiful game.
Modern-day professional football clubs are no longer just competitive sporting organisations.
From top-flight to non-league, they are also media production machines, pumping out oodles of multimedia content for multiple platforms, and for multiple audiences, all in the name of entertainment, PR, marketing and, perhaps most importantly of all, fan engagement. Football is big business. And media content plays a huge part in it.
It's all a far cry from how things used to be. Readers of a certain vintage will recall that back in the day, as a fan, the closest you could get to your club was articles in the matchday programme or looped news and interviews on ClubCall, a premium rate phone line service.
Premier League champions Manchester City are a great example of how things have changed.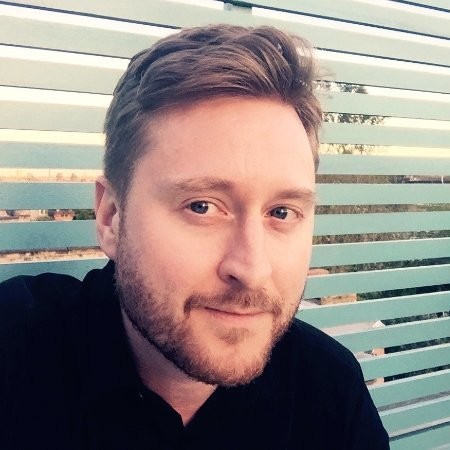 "We've got this amazing audience here," says James Wilkins (pictured, right), executive creative director at Manchester City, chatting to SVG Europe on the day of the home team's Premier League clash with Tottenham Hotspur.
"We have these passionate fans all around the world. [With our content we ask] what are we going to do to entertain them and bring them closer to the club and the players, and closer to what the Manchester City brand stands for? Everything we do is in service of the fans."
The content designed to fulfil that brief is created by City Studios, an in-house B2B department launched in 2022 that consists of creatives, production talent (including writers, photographers, designers, producers and editors), and facilities.
Between them, they are responsible for live production, 'behind the scenes', documentaries, and social content, as well as 'activations' for commercial partners and sponsors.
The output is made available on various platforms including the City+ subscription OTT platform, social media networks and YouTube. Some is shared with broadcasters too.
"There is a lot of top-secret stuff that is highly sensitive. The football department needs to know that they can trust us to capture the content in the right way and [keep it that way]."
From a live production perspective, while City Studios cannot show the club's Premier League games, those are sold as part of a multi-billion pound league-wide broadcast rights deal, of course, there are various other matches and activities that they do cover including Under 21 and Academy matches, pre- and mid-season friendlies, and press conferences. They also produce live City-centric wrap-around programming for all City's first-team matches.
The latter is called Matchday Live, a show that goes out on City+ pre-match, at half-time, and post-match.
A crucial cog in the club's output, Matchday Live is produced from two studios: Studio 2, which is inside the Etihad Stadium and affords space for a presenter and various ex-player pundits to provide analysis for home matches. And Studio 1 (pictured, top), a new state-of-the-art multi-use 98m2 studio inside the City Campus, adjacent to the club's training pitches. This is used for Matchday Live when City play away. The actual match coverage in both scenarios is limited to audio commentary only.
---
Studios 1 details
Studio design by Jago Design
Set build and install by Scena
Broadcast support by LDM.tv
Cameras: 4K Blackmagic cameras, with use of a Pedestal, slider and jib
Size: 98m2
Lighting rig with LED cold lighting
Video wall
Green screen area
Additional: Soundproofing, TV floor, gallery, drive-in doors, adjacent live gallery
---
Where City Studios really goes to town is on those games where they do have the chance to show full match coverage.
Gavin Johnson (pictured below, left), group media director at City Football Group, cites the example of a mid-season friendly versus Gerona that took place at the 7,000 seater Manchester City Academy Stadium (across the road from the club's 53,400-capacity Etihad Stadium) in December 2022 as being indicative of the kind of treatment City Studios can give to matches.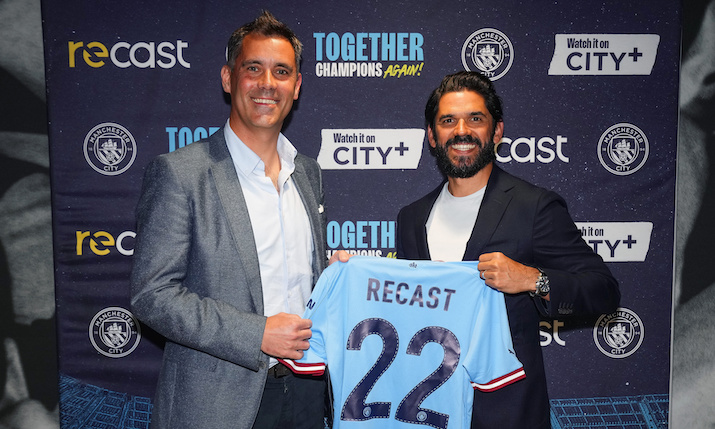 "Our production quality is very high," he says. "We are set up to do a live seven-camera shoot. We will do pitchside pre-game, presentation, an interview with [manager Pep Guardiola]. We've come a long way. But I have ambitions for us to get even better."
To that end, the City Studios team has doubled in size over the last two years. From approximately 45 staff up to around 90, including admin and content distribution too.
A tour to the US last year was similarly significant for the content team, as Wilkins explains.
"Our social team took care of our real-time social content. Our documentary-style films were being made at the same time. We had our live team out there too. Plus local crews that we were managing. In total, there were 150 non-football-related people on that trip. It's about closing that gap between players and fans."
"In Houston," adds Johnson, "we agreed with the local producer that [a camera operator] could go onto the pitch after a goal was scored to join in with the celebrations. We try to push the boundaries in that way too."
"Even the way we cover training," he continues. "We've got five Go Pros set up. We get closer to the players. And then we do this amazing edit which then brings fans closer to it."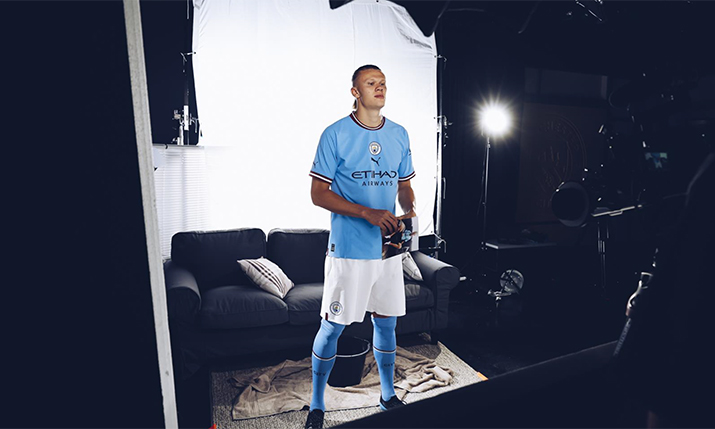 Loyalty card
At this point, Johnson is quick to reiterate the importance of trust and the close relationship that the media team has with the club's players and management.
"A lot of [training] stuff cannot go out [publicy]. We can't show who has got the bibs on in training [as that indicates who will be playing in the next match]. If we did, suddenly, the opposition knows our tactical plan. There has to be a real trust element."
The same applies to new player signings.
"Erling Haaland [signing from Borussia Dortmund] was a great example. Everyone knew it was happening. But it was still cloak and dagger that he was here on that particular day. There is a lot of top-secret stuff that is highly sensitive. The football department needs to know that they can trust us to capture the content in the right way and keep it that way."
"We also know what the different players respond to. The type of content that they enjoy doing or the personal interests they have. We don't want our players to do something they don't enjoy doing."
When a new player joins the club, there is an awful lot of media activity going on at the same time, especially when it comes to the big reveal. "Vertical video is massive now," says Johnson. "Tik Tok is huge and accelerating. Instagram reels are huge and accelerating. But also YouTube. We spin a lot of plates."
"We did have some time to prepare for Erling though," adds Wilkins. "Which we don't always get. We knew we would have some time in order to do a number of different activations. We had time to talk to his agent to find out what Erling would like to do. We did a number of different videos but the biggest video was the recreation of the 16-year-old Erling sitting on a sofa."
This saw the City Studios team replicate a photo from the player's youth (see video below). The original photo of Haaland showed him wearing a 2008-2009 Manchester City shirt while sitting on a dark sofa with a pillow on either side of him. His affiliation with the club came from his dad, Alfie, who had played for City in the early 2000s. This image was recreated in Studio 1 but with the now 21-year-old wearing the club's 2022-2023 kit.
"It was a fan feedback thing," says Wilkins. "They were saying: If City don't recreate that image, they are missing a tap in! So I went onto eBay and bought a sofa. Somebody's partner embroidered the cushions. We set up that scene in Studio 1."
"We probably took it too far," he jokes. "We didn't need the level of detail. There was a little bit of self-indulgence. But it wasn't just about the content. It was also to make a big statement to Erling as well. He walked into Studio 1 and found it really funny."
And it worked. On a number of levels.
"We look at what is interesting to the City fan and how we are going to tell it in a multitude of different ways," continues Wilkins. "That is the direction we come at it from. The Haaland sofa launch video was our most successful: it was humorous and it told the story of his connection to Man City. It got 185 million views. It could sit on TikTok. It could sit on Instagram. It could sit on Twitter. We did a behind-the-scenes video that went on YouTube. And then a minute after that shoot, he was sitting there watching the goals that his dad had scored for the club [and that was another piece of content]."
"We agreed with the local producer that [a camera operator] could go onto the pitch after a goal was scored to join in with the celebrations. We try to push the boundaries in that way too."
While Haaland was amenable to the photo recreation idea for his big reveal, not all footballers work the same way. So, whether it's branded content for sponsors, or social media content, knowing how to pitch an idea, and which players will be best for which ideas – and vice versa – is crucial.
"When you are inside the club you understand the logistical limitations," says Wilkins. "You also know what the different players respond to. The type of content that they enjoy doing or the personal interests they have. We don't want our players to do something they don't enjoy doing. We want the content to be as good as possible. That inside knowledge really helps."
"Footballers are not actors," interjects Johnson, which means that long scripted pieces with stage directions or choreographed camera moves are a bit of a no-no.
"That is difficult for anyone, let alone a busy player who has just finished training and has lots of other things to do that afternoon," continues Wilkins. "That is where my role is split. A lot of this content I am making myself with our in-house team. But sometimes it's consulting our partners. They will present an idea that they are going to do with their agency. We are there to support and advise them. The same applies to broadcasters. We will advise them too."
It's a service or function that might otherwise be handled by an external agency, says Johnson. "We are now set up with expertise, facilities and talent to create really cool stuff for [brands] as well. That is a really great part of our business."
Pep talk
Documentaries are also a part of the City Studios output.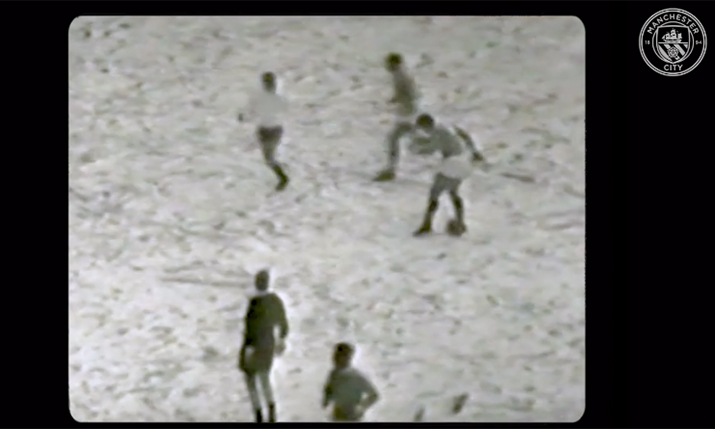 There is a City Studios team dedicated to making docs. These are primarily for City+, but they are also made available on Recast, the micro-transaction streaming platform. A film with Aymeric Laporte, called Laporte ABC, was released before Christmas. One with Riyad Mahrez is due out soon.
As well as player-centric films, the team also makes use of archive footage, as was the case with 'The Ballet on Ice', a film about the 1967 clash between City and Tottenham Hotspur that was played on a frozen pitch in the midst of a snowstorm.
Released at the end of 2022, it featured interviews with players and fans as well as action from the game itself.
"We do look back with pride at the legends of the club and we try to bring that through in the content too. We celebrate that as part of our identity," says Johnson.
It's an example City Studios' efforts to appeal to all.
"We never want to disenfranchise anyone on the content," he adds. "And that is why I hate it when people say younger generations don't have an attention span. That is nonsense. Young people love Netflix and they will binge-watch series. Equally, young people like TikTok as well. So, we make sure we are optimised for every single channel where we think our audience is."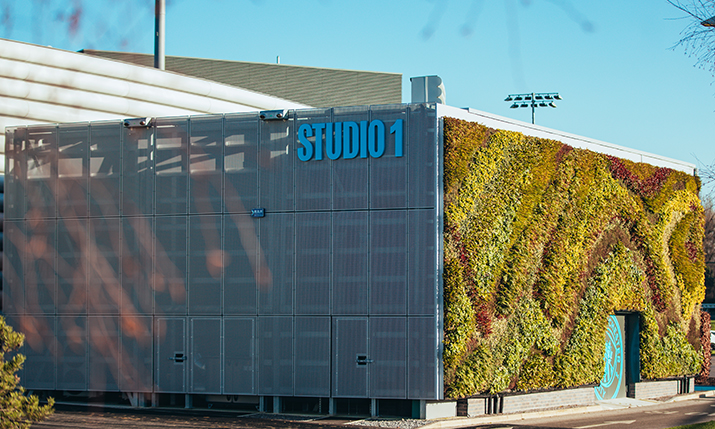 The club's phenomenal success over the last decade – they have won the Premier League title six times in the last 11 seasons – means that City's fan base does skew slightly younger than clubs who had major success in earlier eras. That being the nature of fandom which tends to follow success. This doesn't skew the media team's thinking though.
"All of our audience numbers are going through the roof including older age groups," reveals Johnson. "Are they going as far through the roof as the younger demographic? Maybe not. But you are not going to convert a 65-year-old to support City. But you might convert an eight or nine-year-old local kid or a 15-year-old girl in Canada to be a City fan. I like to think that the content we create goes across the whole age spectrum and wherever you are on that spectrum, there is something for you."
Pride in battle
While competition between football clubs is fierce on the pitch, inspiration for the media content at City doesn't necessarily come from the same source.
"I don't really compete with other clubs. Or look at other clubs and try to emulate them," says Wilkins. "I look more broadly at entertainment properties for inspiration. It's more about acting as a sports entertainment brand."
Johnson admits to being more aware of City's competition though (and that despite actually supporting West Bromwich Albion himself).
"We are all Man City fans here," he concludes. "And you get very protective about the club. We are constantly analysing ourselves versus other big clubs in Europe and across the world.
"Since the 1st of July, up to the 31st of December 2022, there are more unique active followers on our YouTube page than any other club in the world. You cannot just gain that. It is about producing phenomenal content that people want to watch. We put a lot of investment into it and there is a lot of skill involved.
"We're already creating a lot of content but I think we can do even more and do it even better."