More than a game: Whisper to showcase the social impact of Rugby League World Cup as part of host broadcast coverage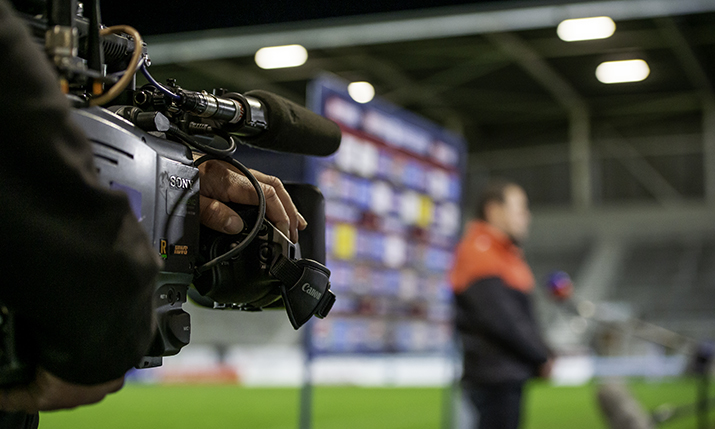 On the eve of the delayed Rugby League World Cup 2021, SVG Europe caught up with the two host broadcasters for the tournament, Whisper and BBC Sport, to find out how they will cover the matches for both a global and domestic audience. In the first of the two interviews, we speak to Whisper head of sport Pete Thomas and match director Matt Roberts.
The 2021 Rugby League World Cup (RLWC) kicks off this weekend (Saturday 15 October) with the best men's, women's and wheelchair nations going head to head for the biggest prize in the sport.
Delayed due to the pandemic, the 2021 edition, which is being hosted in England, will see all three competitions played out in parallel for the first time.
The first match sees hosts England face Samoa in the men's tournament, in a game that will be played at St James' Park stadium in Newcastle. And the hosts are far from a shoo-in to win this one. But more of that later.
Broadcasters from around the globe have picked up rights for the highly anticipated tournament, with live match action being broadcast or streamed to 22 territories and totalling more than 150 countries.
The BBC will broadcast all 61 games in the UK, some on TV, some streamed, but all free-to-air. While BeIN SPORTS has the rights in France and Spark Sport has exclusivity in New Zealand (with some matches free via Warner Bros. Discovery). In Australia, matches will be broadcast on Fox Sports via the Foxtel and Kayo Sports platforms.
"To feel like we've given a voice to everything that's going on as part of the World Cup, and show the social change that will take place, is up there with us showing the best angle of a try in the final."
The host broadcast duties for the RLWC are being shared by BBC Sport and Whisper, the independent production company.
Whisper is doing 45 of the games during the four-week tournament, across 21 stadiums, most of which are in the north of England, the part of the UK where the sport of rugby league is most popular. The BBC will do 16, including the men's and women's finals.
Telling the story of each match, and capturing the excitement of the crowds and the event, are, of course, top of the agenda for both parties but there is more to the host coverage than match-winning tries and hard-hitting tackles, as Whisper head of sport Pete Thomas (pictured, below) explains.
"It's a really interesting one, with this tournament. Obviously, we are looking at the core product of what's happening on the field and delivering the entertainment of, and the storytelling of the sporting event that's taking place in front of you. And the fact that this World Cup is unique, three World Cups in one World Cup, I don't think that's ever happened before. The way that the Rugby League World Cup has presented that is something that really appeals to us.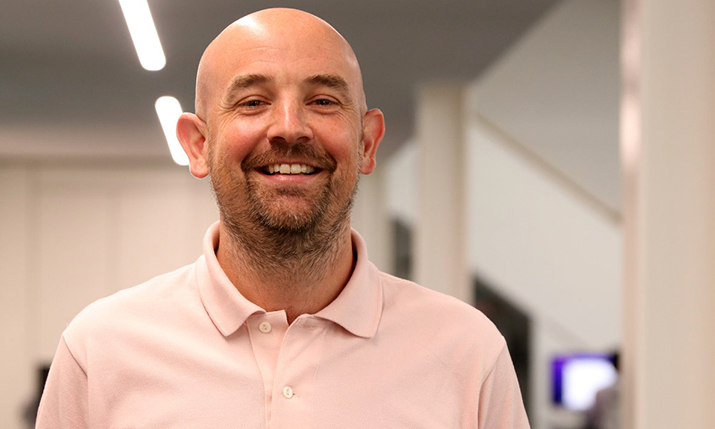 "So the challenge we set for us, is to represent those three competitions as part of one bigger tournament and for it to feel like one family and to encourage viewers to be across all three in one and to follow all those games. That's something that we are really desperate to get across as part of our World Feed."
But there is another angle too, he adds.
"I think also the efforts that the Rugby League World Cup are going to off the field, the programmes that they are putting in place to support local people, even the teams themselves, there are some fantastic things that are going on alongside the tournament."
Through investment, the event's Social Impact Programme has led to improvements in local facilities, economies and the physical and mental health of populations living in deprived areas where the tournament is being staged. That will be showcased on-screen.
"We are asking," continues Thomas, "how can we show what is going on alongside this tournament, the social impact change that's coming as part of this tournament, what the game is doing to help people, and how it helps people on a daily basis? That's a big target for us."
Optional kick
As with any major sporting tournament, there is also a pseudo-educational aspect to the coverage. This is crucial for attracting and retaining those occasional rugby league viewers – or those who are watching the sport for the first time. But not at the expense of the avid supporter.
"The wheelchair [tournament] offers us a route into that," says Thomas. "Most people won't have seen the wheelchair game. There are rarely, I think, [disability] versions of sports that tie in so much to the core game. The wheelchair game, when you're on-site, it just feels, smells and looks exactly like rugby league. But there'll be lots of people coming to it for the first time. So we are working on explainers, little accompanying VT packages that don't feel like they're being forced on you, but are there to educate and to give you a little bit of advice.
"The main gallery operation, graphics, digital clipping and video referees will all be housed in one building: creating the maximum amount of content from the feeds and allowing the most efficient workflows with multiple games a day through one gallery."
"I think a big part of this is also to ensure that we inform viewers all the way through as to what's going on in the wider picture of the World Cup and the tournament itself, so that you're not watching a game on its own.
"Whether that's creating heroes, or creating characters that people can relate to, that helps you to then become informed about the game. Or if it's just the context of the results of group tables. They might seem like really small things, but as long as we're continuing to inform people, bring them along with us, I think that helps them to think about tuning into the next game as well and becoming part of a wider fan base."
Balancing that with ensuring that rugby league purists are not put off is not easy though, as he acknowledges.
"It's up to us to get that balance right and to just allow people to be informed without feeling that we're forcing it down their throat I guess."
---
Going remote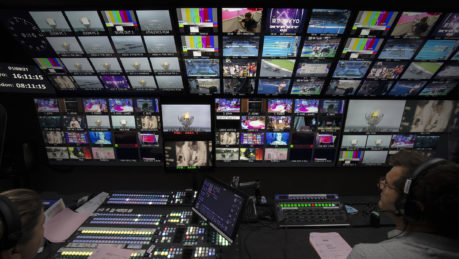 Whisper will be making use of remote production workflows to bring coverage of the 2021 RLWC to air. It will be supported by Timeline Television.
"Using the same Timeline remote facilities we used on the Women's Euros and The Tokyo Paralympics, [we] will produce games in a more sustainable way by reducing the numbers of staffing on-site," says Matt Roberts, match director and programme editor for RLWC 21
"The main gallery operation, graphics, digital clipping and video referees will all be housed in one building: creating the maximum amount of content from the feeds and allowing the most efficient workflows with multiple games a day through one gallery.
"By using just two dedicated galleries throughout the tournament, improved robustness can be achieved, with key personnel able to work on more games with the elimination of travel time for a logistically challenging tournament."
"The increased connectivity offered by Timeline's hub allows more content to be offered quickly, with a dedicated stream to Tellyo allowing both teams and host broadcasters around the world rapid access to match highlights, ISOs and additional digital content."
---
The budget isn't allowing for the addition of lots of production toys, admits Thomas, but some rugby league staples will be present.
"We're not throwing a huge amount [of toys] at the tournament. We obviously have to work within the resources that the World Cup itself can provide for. We have looked at things that we thought could potentially add value but largely we've come back to core coverage and how can we enhance it.
"That means adding one or two cameras in the right places rather than trying to do something completely different that we aren't convinced will work. Being able to be with the teams [in the changing rooms] when they're getting those last-minute team instructions or when they're getting changed or about to come out the tunnel. These are tried and tested areas but they're probably the ones that add the most value."
Within the sport of rugby league, changing room cameras are now a tried and tested part of the storytelling process, providing, in particular just before kickoff, or when they teams go in at halftime, a real insight into the mindset and process for the players and coaches.
"I'm always very intrigued by body language and reactions," reveals Thomas. "We are building it for the viewer, letting them in, making them part of it, helping them to attach to these heroes, to these people who are about to go and do their thing on the field. I think particularly in rugby, in both codes of rugby, actually it's a brilliant part of the match."
With the BBC taking on host duties for the other 16 matches, and both Whisper and the BBC using different broadcast services suppliers (Timeline for the former and EMG for the latter) the two hosts are being very careful to ensure that the world feed viewer does not notice any difference between matches.
"We're working really hard [on that] and I am pleased to say we've [dovetailed] really well with the BBC. We're talking to them every day about talent, about coverage, about coverage style. So that if you turn on to a BBC-produced game, for instance, a game that's being shown live on the BBC, you wouldn't know if the BBC is doing the host of that game or whether it's one of ours.
"The approach from both sides has been that we want to work together, share talent, share ideas, share resources. I think that's going to come over on screen."
Momentum rule
For broadcasters not doing their own presentation, Whisper will be providing some half-time and full-time analysis as part of the world feed.
"A World Feed is meant to be there for all. It's meant to be quite broad. So we are looking at how we can deliver the key moments, the key action, remind people of what's just happened in the best possible way, and also keep them informed as to the wider World Cup that's going on. But we probably aren't going into too much depth."
While historically, the big three rugby league nations of Australia, New Zealand and England (who played as Great Britain prior to format changes) have dominated, the tournament is more open this time around with smaller countries, Tonga and Samoa in particular, expected to do well. That means that the tournament will resonate wider, and the TV coverage will reflect that.
"What we are looking to do with some of our guests and co-commentators is to bring in voices that speak for the different markets and the different teams," says Thomas. "Rugby League hasn't always been a sport that has lots of different voices coming in from across the globe. So we are working on getting a talent pool that we feel does reflect the different teams that are taking part. We might call them 'smaller teams', but actually they have a very good chance [of doing well]."
While the success of the host nation teams in the tournament will ultimately decide how well-watched RLWC 21 is in the UK, for Whisper success looks very different.
"Obviously we want to deliver fantastic matches that the viewers at home feel like they were there and were part of it," concludes Thomas. "That is key. But I think, for us, it's telling the wider story of this tournament. Telling the story of these three world cups in one. Telling the story of a sport that has always been a game-for-all.
"I think of telling the story of this World Cup as something that extends beyond the matches themselves and into the towns that will host the matches. I want the coverage to give a voice to everything that's going on as part of this World Cup. To feel like we've given a voice to everything that's going on as part of this World Cup, and show the social change that will take place as part of it, is up there [in importance] with us showing the best angle of a try in the final.
"We really want people to go away from watching this World Cup and remember more than just what happened on the field. We want them to think what an incredible event and tournament that has had a huge effect on people.
"I'm really proud of the team working on it and pleased that they have embraced that. It's part of what we stand for. And I think that's why we're so thrilled to be working in this role on this World Cup, because it's an event that allows us to do that. We can't wait to be part of it."
The Rugby League World Cup 2021 takes place in England from 15 October to 19 November 2022.