NAB Reflections: Sebastien Verlaine opens up the EVS VIA gateway to the future
NAB saw some major additions to EVS' portfolio, including the next-generation of XT live production servers (XT-VIA) and the integration of artificial intelligence capability into Xeebra.
EVS also presented the X-One and demonstrated its IP flow routing system Score Master. The EVS booth also feature dedicated demonstrations of two of the fastest-growing areas of live production — esports and venue control rooms.
XT-VIA lets facilities providers and content creators benefit from enhanced UHD-4K and IP operation as well as integration with VIA — EVS' new technology platform of modular services and workflow engines.
At NAB SVG Europe sat down with Marketing & Communications Manager Sebastien Verlaine to learn more about the key step up in 4K and IP workflows for live and remote production.
Sebastien Verlaine: "There are three main highlights at this show – the server, our new VIA platform, and the addition of artificial intelligence to Xeebra.
"First is our new XT-VIA server, from the family of the XT. The main differences are enhanced capabilities in 4K and IP. With the XT server you had four channels of 4K; with this server you have up to six channels of 4K, and you can configure them pretty much any way you like. There's also 12 HD channels, that's full 1080p HD, and it supports HDR. You can pretty much decide to produce in any format you want," he said.
"In terms of IP enhancements, the server now natively supports the SMPTE 2110 standard, which means no more gateways – it's completely IP. We support the NMOS and Ember+ protocols, so if you choose to work in an end-to-end IP workflow it is possible," said Verlaine.
"If you want to work with specialty cameras over IP you can do it, and it supports Super Motion over IP – really increasing the capacity to work in that environment. It will be available in June."
EVS R&D team moves forward VIA the cloud
"The second thing – which is why we've added the name VIA – is the integration with our new platform. This gives the server a smooth upgrade path for the operating system with new features.
"On-board you have a new network: on previous models you had the X-Net network (this server still offers that) to access and share media, but this server also has X-Net VIA, a high performing IP-based network that basically connects the server to all new EVS products that are supported by this platform. It will be plug and play, to other components in the EVS ecosystem," he said.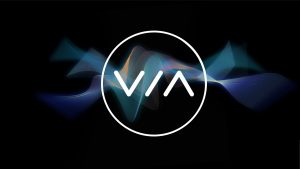 "That's a real advantage, opening up a lot of different possibilities. It also facilitates remote production, because with X-Net VIA you don't have to tie the remote control panels to the server – they don't have to be in the same location.
"The platform is really a new technology foundation supporting all new EVS products, and products we've already launched such as Divi, X-One, Xeebra and Score, which are all software-defined. It's offering software-enabled micro-services.
"There are three key components: VIA FLOW, facilitating the management and flow of media within the EVS ecosystem to be able to monitor and manage traffic of media, and to be able to customise workflows. VIA MIND is the second component, which is the use of machine learning incorporated into certain EVS products," he said.
"And VIA OPEN GATE is the third component: this is basically a centralised API that allows third parties to integrate their systems with the EVS ecosystem – and also, completely new, to develop apps that can tie into the EVS products which could mean enhancing certain EVS products.
"This is a major shift for EVS: we're known for replay boxes, which are big and heavy – and it could be that in future we will deliver products in a completely different way, without having to deliver something that's physical. With this platform you can start working in a cloud-based environment and scale up or down depending on resources and needs at that moment," said Verlaine.
"That's a big shift. It took two years to develop this platform: our R&D team have been working on it for two years. We have had to find a certain balance between protecting the investment of our customers but also giving them a path so if they want to grow in that direction (IP and networks to produce remotely), we can offer that as well. There are many benefits for our customers, but also for our partners in opening up the gateway and the centralised API," he said.
AI calibration to assist the referee
"The third highlight is the Xeebra refereeing system – not an entirely new product as it's been out for two years – but here we're releasing the 2.0 version incorporating artificial intelligence enabled by VIA MIND, the second component of the new platform. The AI is used to calibrate the field, so that we can add graphical layers on that field. Previously everything was done manually, so we had to set up the calibration before the game.
"Let's say it was quite sensitive: if during a match there was a movement of cameras, sometimes the calibration would be off and you'd have to start the whole process again. With the AI the algorithm used is constantly calibrating, so you don't run into that problem with the cameras.
"What that means is you can have much more precision, and the operators will be much more confident when they are adding graphics, such as the offside line, on the field," said Verlaine.