NBA courts remote production success with Bulls v Pistons Paris Game 2023
The Accor Arena in Paris tonight (19 January) plays host to a thrilling regular-season NBA game between six-time NBA champion Chicago Bulls and the three-time NBA champion Detroit Pistons, with the broadcast remotely produced from the US.
NBA games and programming have aired in France since the 1984-85 season, but according to Dave Barry, SVP and head of broadcast operations and engineering for the National Basketball Association, the Paris Game 2023 was the culmination of many months of planning.
"Compared to a normal NBA game, it's quite a bit more involved," says Barry, who is director of the international telecast of the Paris Game.
"We've got two main broadcasters on site: Canal+ taking care of a world feed, and beINin Sports France producing their domestic feed. The OB trucks on site are provided by AMP Visual; Canal+ is using Millennium Signature 12, while beIN is using Millennium Signature 6.
"We like working with broadcasters that really understand basketball, and we have great partners…Canal+ and beIN have great production teams that understand the game and know where to position cameras to get those great shots."
"Our broadcast operations and engineering groups are working with both [Chicago and Detroit] teams, who have their own broadcasts for both TV and radio, and also with the international broadcasters that we have on site," he continues.
"We create the world feed with Canal+, a very neutral base coverage of the game for all of our international partners to let them to create their own localised feeds. Canal+ has a great team; we get the greatest feed that we can ask for from them."
The NBA has brought its full arena show production to Paris, to make it as close to a normal NBA game as possible. "We have cameras involved with that show that can integrate with the various broadcasters as well," says Barry.
"Overall, we've got 34 cameras, of which 18 of those are focused on the game. The rest are for the studios, the red carpet, and all those back-of-house cameras. We also have a three-camera press conference with [NBA Commissioner] Adam Silver, and the players and coaches post-game."
Remote production
Barry spoke with SVG the day before the game from the NBA's facility in Secaucus, New Jersey, from which he would be managing the Paris fixture.
"[Secaucus] is a hub for our high-speed arena network for the NBA, so we're connected to every NBA facility," he explains. "For a [domestic] Chicago Bulls / Detroit Pistons game we would take the signals from the arena, and then run them through our production ecosystem at Secaucus, as well as our Replay Centre here, for various international distribution.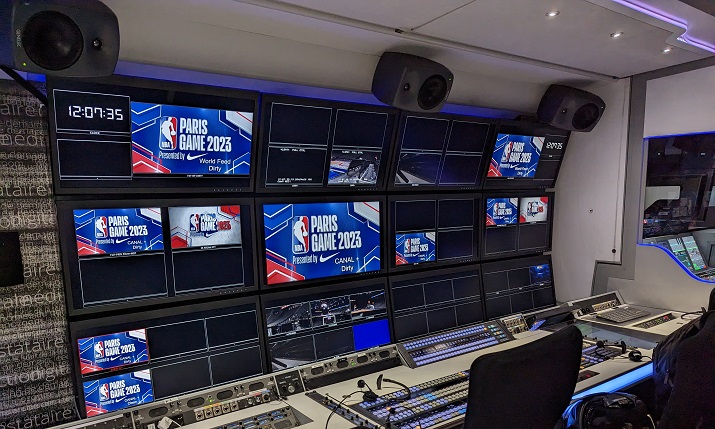 "This time we're bringing it back from the arena in Paris; we have 11 global transmission paths coming from the Accor Arena to Secaucus," he continues. "We're producing the world feed here: adding English commentary and mixing that with the video and audio signals and then redistributing that internationally."
Some of the transmission paths from Paris are encoded with SRT to bring content back over the open internet. The game is shot in HD, 1080i 50Hz for France.
"We're doing all the format conversion that we need in Secaucus via our partnership with Eurovision," says Barry. "Eurovision is our normal distribution provider, but in this case, they're acquiring the signals and doing the format conversion in Secaucus for US distribution."
On-site talent
Heading up the on-site operation in Paris is Mary Mak, senior director, broadcast operations at NBA Entertainment. "Mary is a veteran of the NBA, she's done several of these events, including the last Paris Games in 2020," says Barry. "She's supporting all that transmission and all the coordination that has to happen on site with a small team from NBA Broadcast Operations.  Taki Kohiyama is there from NBA Broadcast Engineering supporting the broadcast for the arena show and the press conference. Then we have a larger team here in the States, remotely supporting the production.
"We're also supporting the Chicago Bulls and the Detroit Pistons remote productions, and bringing their audio commentary positions back," adds Barry. "We've also got some ISO cameras [for the teams] so we're feeding those over the network to allow them to produce their feeds for their local telecasts in the United States."
Including those for each team, there is a total of ten commentary positions. Bally Sports Detroit (BSD) is providing the talent for the 'Pistons, while the 'Bulls are being served by NBC Sports Chicago with a commentary position in Paris.
"As part of the 18 cameras on the court, Chicago is deploying its own ISO camera," says Barry. "Both teams are communicating over Comrex, back to their talent on site, and also to their camera operators remotely.
"We also have international commentators from Arena sport, as well as commentators from Poland, Spain and Italy. There are commentary positions and studio locations for beIn and Canal+ on site," adds Barry.
"In our Secaucus Facility, we have English commentary provided by the Brooklyn Nets radio team of Tim Capstraw and Chris Carrino who will provide a voice-over for the world feed for distribution on NBA TV domestically in the US, and other places where we're distributing English commentary internationally."
Slash cams
Speciality cameras deployed for the world feed include two super slo-mo cameras, but the Paris game will also feature the NBA's traditional low 'slash' cameras.
"These have always been a signature of the NBA, but those positions are something that you don't always find at non-NBA arenas," says Barry. "That's always a struggle, to carve out where we like our low slashes to be to get those great hero shots of the players coming back up the court on the reverse side.
"We like working with broadcasters that really understand basketball, and we have great partners [in Paris] that do. Canal+ and beIN have great production teams that understand the game and know where to position cameras to get those great shots."
The audio setup also depends on experience. "Wiring up the stadium becomes routine for the crews in the US that do the NBA day-to-day, week-to-week," says Barry.
"We're very happy to have the folks there that know the game and understand how to capture that great audio and then bring it back. The broadcast operations team map all those transmission paths with the various audio isolated so we can bring them back and have them be useful to the remote production. So that's a puzzle that they put together, but they have done this many times, so they understand what they have to do there."
Despite the planning and the experience involved, there are still challenges. "It is very hard to duplicate an NBA arena in another country, really in any facility that is not a normal NBA arena, because of all the technology and infrastructure that's built up over the years. That includes everything that goes into [covering] an NBA game, regarding camera positions, broadcast cabling and infrastructure, lighting, and back-of-house. We have feeds that go to the team locker rooms. We have feeds that go to the courtside and for the benches."
This game also differs from the norm in that it doesn't use the NBA's custom-built Replay Centre in Secaucus.
For latency reasons, replay operations are based on-site from the world feed truck. "We have a member of NBA basketball operations sitting with an EVS operator in the truck," explains Barry. "So we have our own replay channels and devices to send the signal to the courtside replay monitor [used by referees], which has communication to the truck, so we can conduct official replay. That's part of the infrastructure that we as a league provide and implement for these 'one-off' games."
According to Barry, the NBA is exploring using the SRT-encoded paths to implement replay from Secaucus for foreign games in the future.
"We're just not quite there yet," he adds. "So for now, from a latency perspective, and from a video quality perspective, we're doing on-site replay for our global games."
Remote future
There's a lot of razzamatazz around the NBA Paris Game 2023. As well as lead sponsorship by Nike, there are 17 marketing partners, the most-ever for an NBA game in Europe, including American Express, Dapper Labs, Deezer, Foot Locker, Gatorade, Hotels.com, Intesa Sanpaolo, Niantic, Parions Sport, PlayStation, SAP, Sorare, Tissot, 2K, and Yop.
The match itself, showing live on beIN SPORTS, free-to-air Canal+ and NBA League Pass, can reach fans in more than 200 countries and territories on television, digital media, and social media. The presentation build-up around the game included a practice show streamed live over SRT to the NBA app. "Those events from a broadcast standpoint are great to build some excitement around the game and the build-up to it," says Barry.
From a size and scale perspective, the Paris Game 2023 is similar to the NBA's game in 2020, but Barry says the remote aspect this time makes all the difference.
"In 2020 we had the Pakedge router type of production, but since then, remote production has matured," he explains. "With that comes the challenge: 11 transmission paths bringing back not only video and audio but also clock data and GPI trigger for replay effects is not easy. Getting those signals back from another country, getting them through our network to where they need to be, to activate replays and graphics operations back in Chicago or Detroit on their local feeds, and keeping all those signals in time with each other so they're usable from a remote production standpoint; that's the challenge."
As it continues to explore remote production, the Paris Game gives the NBA "another one under the belt", says Barry.  "Working with Bally Sports in Detroit and NBC Sports in Chicago, the teams have become more comfortable with doing remotes domestically," he adds. "Now there's a chance for them to do their first remote international."