NEP group providing UK OB for NBA London game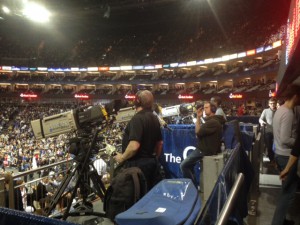 The NBA (National Basketball Association) show rolls into London Town tonight (16 January), with all the attendant razzmatazz and extensive television coverage. The game between the Atlanta Hawks and the Brooklyn Nets is part of the NBA Global Games series and counts as a regular season encounter, so interest is high with Fox Sports, the YES Network, NBA TV and BT Sport taking feeds from the O2 Arena.
Outside broadcast facilities are being provided by the NEP Broadcasting group in the UK. Visions has three trucks on site: Gemini 1 and 2, the double-expanding sides units that can be used together in place of three vehicles, which are working for Fox and NBA TV; and the 3G-capable Atlantic, handling feeds for the YES Network. NEP Cymru, the group's facility provider in Wales, has sent up its HD1 unit, which is being used by BT Sport.
In the region of 24 Grass Valley LDK 8000 cameras have been installed in the O2 for the game. Visions' commercial and technical projects director, Brian Clark, explains that some of the cameras are split between being mounted on the gantry for general play-by-play shots and personality shots. "The other seven are handheld cameras being used round the court with big lenses to get low-level coverage," he says.
In keeping with how NBA games are covered in the US, the commentary position has three cameras on it for the two experts and the game caller. "This is a match where the points count in the NBA season," Clark comments, "so the broadcast coverage has to be as the US audience would expect."
This includes the graphics, with special electronic treatments for various match statistics and points displays. Another American touch is the pre-game show, starting at 5pm London time, with interviews and entertainment leading up to the action proper beginning at 8pm.