NEP Switzerland and Broadcast Solutions partner to build new 4K/UHD facilities for UPC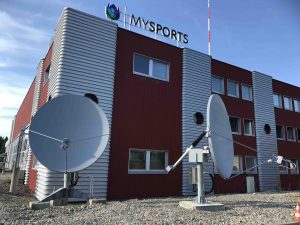 Marking the start of new TV station MySports from Swiss cable provider UPC, the company commissioned NEP Switzerland as technology and production partner to build and run the new 4K/UHD broadcast facilities. Together with general contracting partner Broadcast Solutions, the Swiss TV production company, part of the NEP global network, is currently integrating the latest broadcast technology in a studio plus playout centre and an additional remote studio at two locations.
With all facilities coupled through a dedicated 100 GigE fibre connection, the studio and playout centre is located in Zurich whereas the remote studio is based in Rosssens, in the French-speaking part of Switzerland.
German SI Broadcast Solutions is in charge for planning and installation of all broadcast- and IT-infrastructure as well as production furniture. TV-station MySports successfully started producing Swiss ice-hockey with a makeshift solution in Rossens, later shifted to the final location.
Reto Osterwalder, Managing Director at NEP Switzerland comments: "With these new facilities, which are very demanding, both technically and temporally, we will command the most modern broadcast infrastructure in Switzerland. In order to realise this project, we were looking for a partner that fulfils our high expectations – and Broadcast Solutions is the perfect choice."
Starting with the 2017/2018 season the facilities entered service working for Pay-TV channel MySports broadcasting the Premier Swiss ice-hockey league. The facilities are the first full 4K/UHD studios and playout centres ever to be built in Switzerland – a landmark in the Swiss broadcast industry. Together with two 4K/UHD OB vans, also conceived and delivered by Broadcast Solutions, NEP Switzerland can now offer the complete 4K production, studio and playout chain to its customers.
The studio in Zurich will cover the German and Italian signals whereas the remote studio in Rossens will produce the French programme. Both studios are built identically with the Rossens studio being remotely controlled from the Zurich studio. The playout centre in Zurich will work with 20 channels of live signals, four channels 24/7 and two 4K/UHD channels.