New ElClasico brand identity lands in over 50 cities along with enhanced audio visual broadcast plan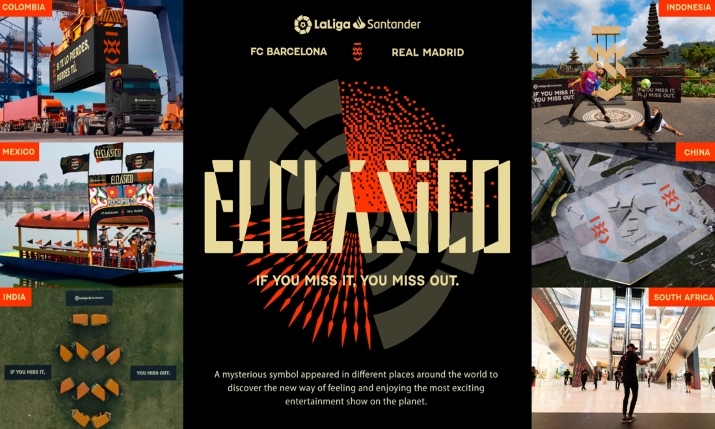 LaLiga is showcasing a new brand for ElClasico, the most watched club match in world football in which FC Barcelona and Real Madrid face off in an epic clash, as well as an enhanced audio visual broadcast plan with its technical partner, Mediapro.
The initiative is part of LaLiga's international development and promotion strategy around ElClasico, the most iconic match in its fixture list.
ElClasico represents one of the longest running club rivalries in the history of world football. Over 4,500 people are taking part in over 50 of the new brand activations unveiling ElClasico's fresh identity and logo.
This year, ElClasico will be lived with even more passion and excitement than ever. Fans tuning in to watch the match from their home, local bar or favourite restaurant will enjoy an audio visual experience featuring only the very broadcast technology.
LaLiga's audio visual production and matchday coverage, rolled out together with Mediapro, is unparalleled among football competitions, but is now being taken to an all-new level for ElClasico. Technical specifications of the ElClasico audio visual production include:
4K HDR production
32 cameras in total, including:
10 super slow cameras
four high speed
six super slow motion
two cinematic cams, creating a cinematic effect in place of the FanCam
two pole cams situated behind the goals
two key player tracking cameras (k-players)
one aerial camera at a height of 21m
one helicopter
one drone
Live 3D Graphics:
LaLiga is the only national football competition in the world to use innovative Live 3D Graphic technology to generate virtual graphics during broadcasts
360º Replay:
Technology that uses 38 UHD cameras placed around the stadium to create volumetric 360° videos for spectacular replays
Highlight events include a screening of the match in Turkey with over 300 participants, an activation in India featuring traditional Indian mopeds, and a special event in Mexico City featuring the decorative trajinera boats of Xochimilco. Other countries such as China will host special screenings, while musical shows and traditional dances will be staged in South Africa, and Columbia will celebrate an event in Medellin's famous Comuna 13.
"For LaLiga it is very important to be as close as we possibly can to the fans, so we have made a big effort to promote this iconic game on the international stage with over 130 activations rolling out across the globe. With each event we want to showcase the new visual identity of this encounter as well as sharing different experiences with LaLiga, Real Madrid and FC Barcelona fans around the world as we celebrate and revel in this legendary clash of clubs," said Oscar Mayo, executive director at LaLiga.
LaLiga, always at the forefront of innovation and entertainment, aims with the new ElClasico image to build an important asset that will help enhance the brand value of the competition and its clubs, and which can be used in all related international activations and events within the framework of the competition's internationalisation strategy initiated a few years ago.