New opportunities: Turning the old Granada Studios into a new space for creative broadcast development
The old Granada Studios, located on Quay Street in Manchester, were purpose-built in 1954 by founder Sidney Bernstein as part of Granada Television. Today, they are known as Manchester Studios, a space reborn and ready for a new creative community.
The studios have been refurbished with state-of-the-art facilities to support today's production requirements. fac365, which supplies equipment, crew and technical support to the broadcast and entertainment sectors, including 'mobile studios' for major sporting events, is part of the studio build at Manchester Studios, working on the refurbishment from planning to installation.
Now, the audio gallery in Studio One includes a range of high end equipment to ensure the studios are futureproof. This includes a Calrec Artemis 48 fader audio mixer and Hydra network at the core.
Here, we talk to Mike Hayes, director at fac365 and former freelance audio engineer, about the importance of the Manchester Studios and how they are opening up opportunities for young people in sports and entertainment broadcasting.
What are you doing at Manchester Studios and why is it important for today's broadcast audio industry?
We now have the opportunity to employ people again, bring them into the industry and give them some structure and direction. The industry has lost some of that direction since the demise of training schemes through the BBC and ITV. This demise was partly financial and the industry changing over the last 15 to 20 years from staff-based to a freelance-based. It is good to see the OB sector developing training and a more staff-based operation also.
We now have the chance to nurture some talent and give them some direction within the industry again, which will be good. Hopefully, the experience that I and some colleagues have gained can be put back. We still really enjoy working in this sector, are optimistic about the industry and we want to leave a legacy of excellence as well.
This Manchester Studios project is partly about the passion of being in the industry, partly about the history and partly about my heritage and how I was brought up in this sector.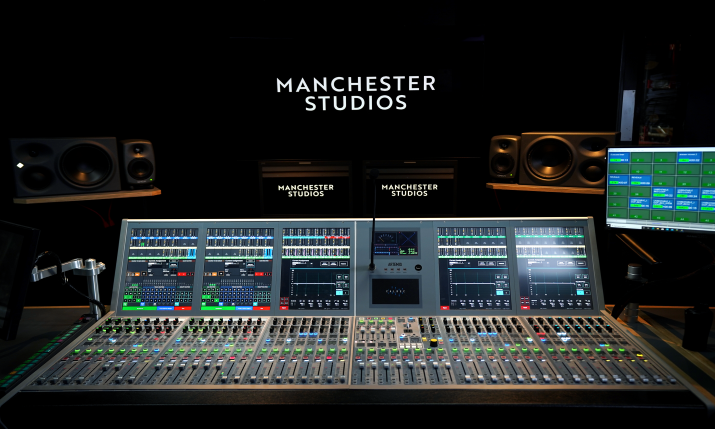 The companies that were originally here, like Granada TV and latterly 3SixtyMedia under the banner of ITV, have a deep and long history of high quality production and it's nice to think that this is carrying on; it has not been flattened to be a car park.
I think it's still an industry that is attractive to young people and we should try to keep it that way by giving them an incentive to follow a structured career path rather than be in a stagnant process of not going forward and just having a job. I think it's still a vocational industry; you want to be in it, it's not just a job; it's a passion to a lot of people.
This project is great for the region. The Manchester Studios will give a huge boost to businesses, production companies, freelancers and to young people entering into industry, I believe that it will work on all levels, so we hope to be involved for the foreseeable future.
What advice would you give to those starting out in the industry?
There are college courses that weren't available in the past. When I started, the choices were either a very technical university-based course, which didn't prepare you for a practical career as an operator in broadcasting, or music-based courses, which were aimed more at recording careers, not TV.
There are more college and university courses today which are far better structured and more attuned and affiliated with the broadcast industry. I would be looking at those courses, whether it be in our region at Manchester or Salford University or elsewhere, in broadcast engineering or broadcast production.
I would take advice as to how to structure your development within the industry. As a sound engineer, there's so much more available to you now as a career path, whether that be recording, radio, TV, games and post production; there are so many more aspects that weren't available even 10 years ago. It's good to have a college background, but make sure the course has an affiliation with the broadcast industry and can place you in the industry for experience, otherwise it's very difficult to break into the sector.
Generally, many do. Salford and Manchester have affiliations with the BBC, ITV and independents to try and place people in some job roles and give them the grounding they need. That gives the industry a chance to look at people as well and advise them as to what their next step is. As you gain experience, you understand there are an enormous amount of job roles available to you and it is not just a pyramid that you have to get to the top of.
Sometimes people's interests change over that period. You find people who start off thinking they want to be one thing and then, for example, see post-production and want to do that as it's creative. You get people start off wanting to be in the music industry and then decide that it's not for them. Talk to people. Talk to professionals and anyone within the industry who can guide you.
Look at college or university courses and what they offer, look at the curriculum, the affiliation with the broadcast industry, where they can place you and pick carefully. It's certainly the best way into the industry now, because it shows professionals that you are focused on gaining a grounding and qualification and it will give you that stepping-stone.
Coming into the industry completely dry is a very difficult thing to do. The college and university route is by far one of the easiest and most structured. It's very different to when I started when you had to learn on the job. When you do that, you miss out some of the basics or some of the nuances of a job, and some of the things that you wish you'd learned but you didn't have a chance to.
Having a structure is the best way to learn the basics. If you understand the fundamentals of any role, then you can adapt to detail changes. If you understand the fundamentals of being an Audio Engineer, you can then expand that into any job role that's available to you and that's key to getting a career path in the industry.
Where do you see the industry going? Even in the last couple of months we've had a huge amount of changes.
In TV production, I see a lot more centralisation. We are seeing workflows where there can be remote desks utilising Calrec's RP1 anywhere in the world, and you can be working on a console surface remotely, like hot desking in an office. Remote production is probably the biggest change and innovation of the last couple years. This certainly changes the concept of how producers look at their project and how to go forward.
Remote sports productions have been able to centralise and utilise systems very efficiently, not having equipment redundant for days while it travels from one place to another. This is not only more cost effective, but you can also have people working to produce content more efficiently. We have of course, seen a growth in remote production, and remote working generally through what has been a very tough time for so many during the pandemic.
With IP technology, faster networks give us the ability to have workflows that allow us to do things virtually in real time, anywhere in the world. Latency has been one of the biggest challenges to overcome in this industry to allow workflows to be seamless.