New Video Europe OB truck on track for May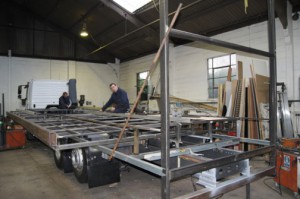 UK facilities rental company Video Europe has commissioned a new outside broadcast truck that it says will be available for booking from 1 May this year. The 12 metre long vehicle, being built on a 26-tonne Mercedes Benz Axor chassis by integration firm C2S Systems, will accommodate 16 HD cameras and is tailored with sports in mind.
Designated OB3, the unit will have a 3G infrastructure supporting Sony HDC-2500 camera channels, MVS-7000X 40 i/p 3ME vision switcher with 3 DME, 3 EVS HD XT3 workstations with XFile and XHub, up to six HD VTRs or disc recorders and OLED monitors. The audio section will house a 56-fader Calrec Audio Omega digital console with Bluefin processing. The intercom is to be a 64-port Telex matrix.
OB3 can be expanded to 4 metres wide, accommodating a production section as well as the technical areas. This houses a four position production desk, a three seat EVS position and one graphics effects chair. There will be a 12-monitor stack with 23-inch screens, each fed by a multiviewer, plus four dual 9-inch monitors.
Video Europe's business development director, Terry Millard, explains that the new truck is intended to be hired by other OB companies and so the equipment has been selected to be familiar to any operators using it. "Because it will be used for cross-hire we have designed it to suit different applications, including light entertainment and music, but it is being tailored with sports in mind," comments Millard. He adds that this includes the EVS and VT areas for recording replay.
C2S Systems is handling the complete build, including coachwork, furniture, interiors, system design, equipment supply and installation. "It is a prestigious project which is very much in tune with the current UK OB requirements," says Ben Murphy, sales director of C2S parent company the WTS group. C2S is also building a video tender for Video Europe. To be known as OB4 this will have space for video machines and editing workstations, with options for either Final Cut Pro or Avid.