Nordic Summit 2019: First sessions and speakers announced
TV2, NRK and SVT all confirmed for 8 March event in Bergen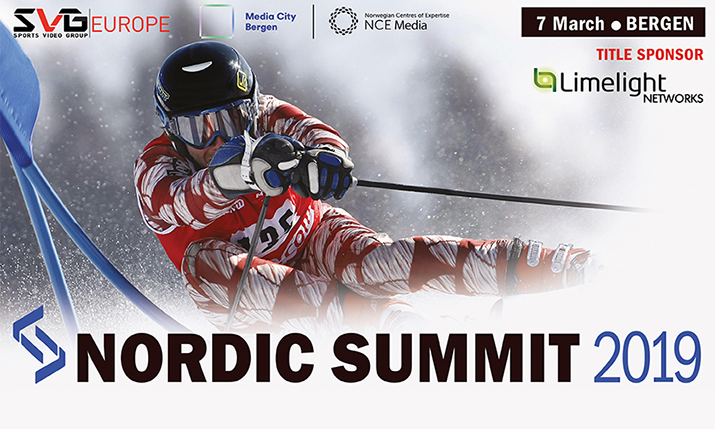 Alpine skiing, handball and biathlon will be among the sports being discussed in March when SVG Europe returns to Media City Bergen for the Nordic Summit 2019, sponsored by Limelight Networks.
Reflecting the wide variety of different sports played across the region, the event will place particular emphasis on providing real-world examples of how broadcasters and their technology partners are collaborating to improve efficiency, increase productivity and ensure that sports fans get the possible viewing experience.
Among the sessions is 'Going Off-Piste: How SVT uses remote production to cover ski sports'
In this session, technical producer Madelen Ottosson will discuss how Swedish Television (SVT) developed new workflows to ensure that it could capture the action from the FIS Alpine World Ski Championships, the Vasaloppet and the Biathlon World Championships all within the space of a few weeks.
In a special showcase session, NRK Beta's strategic advisor and the Media Cluster's chief nerd Eirik Solheim will highlight some of the experimental broadcast technology being developed by NRK, from man-carried studios to airborne cameras.
In 'Graphics Focus: Using AR to improve handball coverage', Adi Strichman, TV2 Denmark, Graphics Producer will outline how augmented reality is being used for analysis and to add some on-screen 'wow factor.'
The conference programme will also include sessions on video-over-IP, live streaming and 5G.
More speakers will be announced soon.
As with all SVG Europe events, there will be ample networking opportunities including one that is taking place on the night before the Summit, on the evening of Wednesday 6 March.
Nordic Summit 2019, produced in association with NCE Media and Media City Bergen, will take place on 7 March 2019.
For more information and to register please visit: https://www.svgeurope.org/nordic-summit-2019/