Live from Qatar: On-site in Doha with Eurovision Sport's Stefan-Eric Wildemann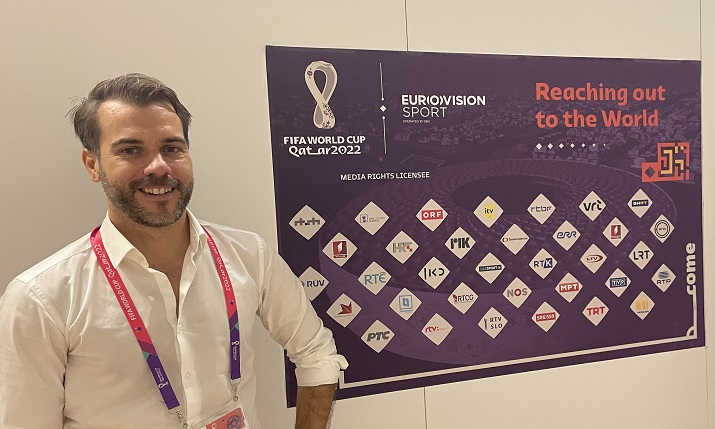 The EBU's Eurovision Sport division is in Doha for the World Cup, as part of its remit to ensure that major sporting events are available free-to-air across Europe.
While FIFA has direct deals with broadcasters in the UK, Germany, France, Italy and Spain and the Nordics, the EBU has a collective agreement with FIFA for some 35 of its members.
"They benefit from that contract for the individual territories," says Eurovision Sport head of football Stefan-Eric Wildemann, who looks after a portfolio of football rights including Qatar 2022.
"Examples are TVP in Poland, NOS in the Netherlands, RTP, in Portugal, BNT in Bulgaria. So we actually have a quite widespread footprint from Portugal to as far as Ukraine, which is also part of the agreement."
Read more Blog: Direct from the FIFA 2022 World Cup
Within the IBC at the Qatar National Convention Centre, Eurovision Sport is representing 14 of its members ,with Wildemann part of a team of three liaising between FIFA and EBU members on site.
"Members deal with FIFA individually for things such as bookings; for example, they want to book an announcement position on the pitch, they do that directly. But there are a lot of topics such as implementation of rights from the contract, the obligations that we have implementing social, promotional campaigns and so on.
"We help to clarify questions, we help also when members don't comply, as there are all kinds of rules in the contract. For example, social media; a member might upload too much match footage to YouTube, so that might be the kind of thing we have to take care of."
In October, the EBU acquired the rights to Women's World Cup in 28 territories. However, Qatar 2022 is the last tournament of the current contractual relationship between FIFA and the Eurovision Sport for the Men's World Cup.
"There is an appetite from FIFA to look into more market-by-market approach, generally speaking. What that means for the EBU, and for individual regions or territories, is up for discussion with FIFA. We need to see where we bring value to both."
Viewing figures
The EBU is also monitoring viewing figures for the tournament via data that it is receiving from 34 markets.
"We're largely seeing for now that it's comparable to Russia 2018," says Wildemann. "We're halfway through the tournament and still analysing the figures, but it seems that streaming is on the rise as audiences shift from linear to digital, but it can be difficult track audiences; you can measure one and you can measure the other, but it's very difficult to measure to crossover.
"We need to analyse a little bit further to work out what that means, and the potential causes. For example, there are different kick-off times here, with matches starting earlier than in Russia.
"What we've seen so far, is a few markets go down while a couple of markets are up. We would then have to look into those individual markets and do some further analysis."