Red Bee chosen as new technology partner for Ekstraklasa.TV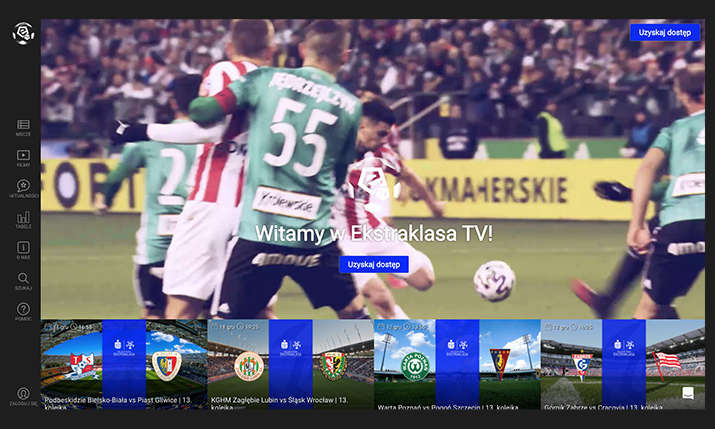 Ekstraklasa, the Polish top tier football league, has chosen global media services company Red Bee Media as its technology partner to jointly develop the Ekstraklasa.TV streaming platform.
The evolution of Ekstraklasa.TV will commence this season, with changes primarily related to greater interactivity and personalisation, further improvement of the user experience, and the implementation of an advertising model. Future updates will include the possibility of expanding the platform with additional sports content, not only football-related, and the integration of Ekstraklasa.TV with cable networks.
"Media consumption, particularly of video content, including sports, is rapidly changing," explained Marcin Animucki, president of the management board at Ekstraklasa. "The extent to which the pandemic affected social life also expedited this trend. So, we're observing the growing market share of streaming platforms, a deepening of the multi-screen phenomenon and a concurrent increase in the popularity of short but exciting videos, especially among the youth. We are monitoring these changes and plan to take our OTT platform to the next level, providing fans with Ekstraklasa.TV v.2.0 with new functionalities and more brief, attractive and information-rich video formats."
He continued: "The experience, especially from the last year, has shown that foreign fans are eager to watch our league. This is yet another reason for us to continue developing and providing viewers with ever-more interesting content, better tailored to their individual needs – content that is both football related, covering Ekstraklasa and in the future matches of Fortuna 1 Liga or the competition within the Polish top level women's football league, Ekstraliga, as well as other games or sports. We've already been after initial talks with the other leagues and this will be our focus over the next dozen or so months. Ekstraklasa.TV, developed in collaboration with Red Bee, will most certainly become a completely new visual and user experience."
Red Bee is one of approximately 30 foreign and domestic companies that submitted bids within a multi-stage tender for the development of Ekstraklasa.TV, organised by Ekstraklasa. The company has been involved in the launch of multiple streaming services in the past year, including SportsTribal in the UK and Wnited, the world's first streaming service dedicated to women's football.
"Red Bee is a proven brand. The company has numerous innovative projects in its portfolio, it is familiar with market trends and knows which directions to follow in terms of business and technology. It is characterised by thinking outside the box, innovation, good understanding of the sports business and expectations of content recipients. The strengths of our partner include vast experience and compatibility with the needs of Ekstraklasa and our producer company," said Marcin Serafin, COO at Ekstraklasa Live Park.
Fans will be able to experience the first results of the co-operation between Red Bee and Ekstraklasa before the 2021/22 season. The fine-tuned Ekstraklasa.TV will be available in Polish via web and mobile apps on iOS and Android. Furthermore, with the help of Red Bee, Ekstraklasa.TV will also be available on multiple smart TV platforms, starting with LG, Apple, Android and eventually Samsung.
"We are happy to be a part of the evolution of Ekstraklasa.TV and we look forward to contributing to its development, streaming top quality European football to international and Polish audiences through our OTT platform," said Steve Nylund, CEO, Red Bee Media. "We can see a clear growth in direct-to-consumer propositions like this, where brands such as Ekstraklasa are making the most of the opportunity to connect with their fans and monetise their content rights."
The Ekstraklasa.TV website was launched in the summer of 2019, and now has approximately 200,000 registered users worldwide. It enables – after purchasing a subscription or single-match pay-per-view access – overseas fans (except for countries covered by exclusive broadcasting licences) to watch all PKO Bank Polski Ekstraklasa games live. In addition, football enthusiasts gain access to extra video content, such as highlights or most interesting in-game events. Ekstraklasa fans in Poland have free access to the website with the highlights from all games and other video materials, except for live broadcast.