Remote production control for DELA European Beach Volleyball Championships
Matches in four cities, more than thirty different camera streams, but only one production control room — all managed on-site.
FabriQ Media Group, TIG Sports, United, Red Bee Media and Riedel Communications made it happen at the DELA European Beach Volleyball Championships. "Remote production control is the future. This innovative approach could very well be the standard in five years' time," said Gijs Vos, project manager at United.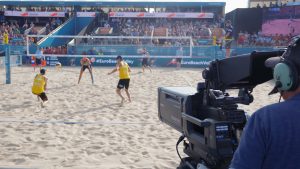 The 2018 DELA Beach European Volleyball Championships, July 15-22, was the first event organised in the Netherlands making use of remote production control on such a large scale. Individual camera streams from Apeldoorn, Utrecht and Rotterdam were transmitted via a lightning-fast optical fibre connection to a production vehicle in the beating heart of the tournament, The Hague.
All broadcasts and livestreams originated there. "This means big savings on production, equipment and manpower," said Vos. "You literally need less of everything at each location. We are running a number of projects with remote production control at United, but managing so many feeds at once really is quite a feat."
"We worked with all our partners on a way to combine the required event infrastructure with a high-quality multilateral feed," added Tim Verhulsdonck. He is a managing partner with FabriQ Media Group. He hired United, Riedel Communications and Red Bee Media to turn the remote production plans into reality and to create a single on-site content hub in The Hague. "Remote production was the answer."
The whole experience was about more than just broadcasting the tournament, explains Verhulsdonck. "The ticketing and payment system, public Wi-Fi at the stadiums, the walkie-talkie system and other IT-related matters for the entire event were also centrally managed. This gave us a completely different take on the entire situation. It was no longer a case of just 'televising a sporting event'. It was about creating synergy between the event itself and all media applications that went with it. It was a fascinating learning experience, and we continue to profit from it," he said.
The project resulted in a new, more cost-efficient way of working, all with an eye to the future. "It was really convenient for us to have the central control room in The Hague. We had total control of everything, but with fewer people than usual," said Willem Overdiep, who was in charge of the overall organisation of the tournament on behalf of sports marketing agency TIG Sports.
"As an example: we also organized the Beach Volleyball World Cup in 2015. There were venues in four cities then, too. On one of the tournament days there were 180 technicians working on the broadcast. Now? No more than about 60, all thanks to a walky-talky network and a lightning-fast connection."
Red Bee Media and Riedel Communications were responsible for the fibre-optic link. "In fact, we created a connection between all four cities," explained Bastiaan Brink, head of media management at Red Bee Media. "We piggy-backed on existing networks near the various venues, and plugged right in. That required some creative thinking. In Apeldoorn, for example, we had to remove a window from city hall to pull cables through. That gave us extremely fast video streaming and a flawless result."
The entire team is enthusiastic. "This production gave us the chance to try something new within budget constraints. We integrated high-tech media feeds and communication technology into the entire event, giving us a glimpse of the not-so-distant future," said Verhulsdonck of FabriQ. "Our technical partners implemented the concept to perfection. We learned a tremendous amount from this experience, and we will apply this new expertise in future projects."
Gijs Vos said, "The entire experience was well worth the effort, as far as we're concerned. Everyone at United is very enthusiastic about this production. This approach will become far more common in the future, I'm absolutely sure of it."