RFP launched to find technology partner for Ekstraklasa OTT service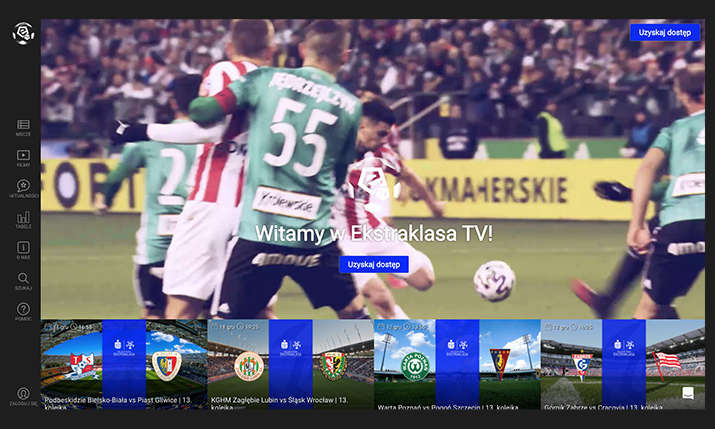 Poland's top-flight football league Ekstraklasa has launched a request for proposal (RFP) process as it looks to find a technology partner to manage its OTT service and make it more like NBA TV or LaLiga SportsTV.
Ekstraklasa.TV, launched in 2019, is already available on PC and mobile but the league is looking to develop it further by adding "the best possible tools, in terms of finance and technology" from the 2021-22 season onwards.
The ambition, according to Marcin Animucki, president of the management board of Ekstraklasa, is to emulate the OTT services provided by Spain's LaLiga and the National Basketball Association in the US.
He said: "The NBA TV platform, which is a strategically well-structured project, is an important benchmark for us. We would also like our platform to become, as the Spanish LaLiga SportsTV, a platform that shows content from various leagues and sports, including lower league classes and youth competitions."
He also cites the Match Centre service from the Scottish Premiership and the quality of Benfica Play, and the multi-sport streaming service DAZN, as good yardsticks.
"The solutions they have implemented show that we can reach a higher level with our Ekstraklasa.TV platform. This is a very important, future-oriented project for us and we want to develop it further, the more so as our experience with OTT is not only based on our league project, but also on video-streaming portals like Dailymotion, which has been showing our matches outside Poland since the 2015-16 season."
The Ekstraklasa.TV platform provides pay-per-view access to Ekstraklasa matches around the world, except for Poland and seven Balkan territories covered by exclusive licensing agreements. Monthly and annual subscriptions are also available.
In addition, all registered users, also in Poland and the Balkans, can watch free match highlights on the service.
Users of the Ekstraklasa.TV app can also watch match action during a game in the form of near-live clips.
Currently, the service is used by "several hundred thousand" people around the world. OZ Sports has been handling the technological preparation of the platform since the beginning of 2019.
The process of market research and the RFP process around Ekstraklasa.TV is being managed by Ekstraklasa Live Park, the 100%-owned production arm of Ekstraklasa.
Live Park is responsible for producing coverage of all Ekstraklasa league matches and distributing the signals to BT Tower and international licensees.
Leszek Miklas, president of the management board of Ekstraklasa Live Park, said the OTT platform is "one of the important elements of our strategy of selling media rights, starting from 2021".
"Online video, mobile applications or SmartTV are one of the most dynamically developing sectors," he added.
"Currently, there are numerous solutions based on machine learning and artificial intelligence, which is responsible, for example, for automatic, and above all, quick preparation of match highlights or their immediate publication in integrated social media.
"We will also want to offer our customers new attractive models of access to the video content – we are considering the implementation of the AVOD model in Poland, under which users will be able to watch a given material, preceded by short commercials, free of charge.
The selection of a partner for Ekstraklasa.TV league service is scheduled to take place in the first quarter of 2021.
---