RTV Noord upgrades Groningen studios with Carbonite and NK routing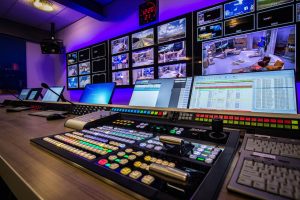 RTV Noord is the regional broadcaster for the North East of the Netherlands, and provides news and information programming daily from studios in the MediaCentrale, based in the city of Groningen. The station has recently upgraded its studio gallery for HD and has chosen Ross Video solutions for both production switchers and routing. Working with Ross' Dutch partners Sealander Visions, RTV Noord chose the Carbonite Black Plus switcher coupled with the NK series routing system.
Opting for the Carbonite Black model has allowed RTV Noord to deploy a powerful and yet highly cost-effective solution; key features include built in Multiviewers (5), four MiniME's, colour correction, XPression Graphics, and the flexibility of 36 inputs and 25 outputs, coupled with an NK 64×64 router. All products are easily configured and controlled by the Ross DashBoard control interface.
As an existing user of Ross Video's XPression 3D graphics platform, Jeroen Mennema, Head for Media facilities and IT, explains RTV Noord's thinking behind the choice of the Carbonite Black Plus and why it best suits their needs:
"In renewing our gallery for a new look and HD, we were impressed at the number of options the Ross Carbonite range offered us, and with assistance from Sealander we were able to find a suitable configuration that met our needs. Reliability is key in making any choice of new equipment, and the Ross reputation for solid evolving products was certainly a factor in our decision to install the Carbonite Black and NK router in our facility."
Having transitioned to a newly rebuilt studio gallery over the summer, RTV Noord has joined several other regional broadcasters in The Netherlands benefiting from the power and performance offered by the Carbonite product range. Tony Wood from Sealander comments, "Working closely with Tim De Vrij and his engineering team at RTV Noord, I am pleased we were able to use the many possibilities offered by Ross Video to present a solution in a cost-effective package that was suitable for Jeroen and his station's requirements. I am sure future clients will also benefit from the power of Carbonite, and the new addition to the range, Graphite, which was launched in Europe at IBC 2017."