Rugby World Cup: Mixed reality studio features for ITV Sport presentation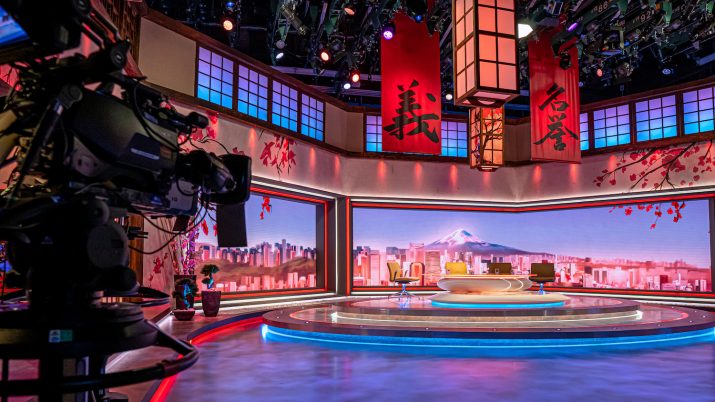 ITV's Rugby World Cup 2019 studio combines live action, augmented reality and mixed reality to provide a dynamic studio environment. The ITV Sport team enlisted a group of broadcast technology specialists, including Anna Valley, to collaborate on the technical design and delivery of the concept according to its specifications.
The mixed reality 'window on the world' element of the set created by Anna Valley uses high-resolution LED screens to show an artistic impression of a Japanese cityscape that responds to on-set camera movements in the same way that an actual panorama view through a physical window would. The AV specialist achieves this effect by feeding positional data from Red Spy trackers fixed to the live studio cameras into a disguise server running Notch software.
The software then renders the cityscape content from the perspective of the cameras and feeds this back to the LED display 'window' in real-time. Anna Valley is also providing in-set lighting, studio floor projection and static versions of the 'window on the world' concept at ITV's two satellite studios in Japan.
ITV Sport technical director Roger Pearce said, "the studio concept and design play a critical part in our RWC 2019 delivery and, as a trusted ITV technical partner, Anna Valley was a natural choice to help us deliver our mixed reality concept."
The ITV Sport team approached Anna Valley for the RWC 2019 project at the beginning of 2019 based on Anna Valley being a preferred ITV supplier, with a track record on the broadcaster's premier live shows including X-Factor, Dancing on Ice and Britain's Got Talent and texperience delivering studio solutions for sports shows across a variety of channels.
The software required to deliver the RWC 2019 solution has only just moved out of Beta testing and Anna Valley's technical innovation department ran full mock-ups at both the Maidstone studio and in Anna Valley's demo space to ensure that this solution was broadcast-ready.
"These ambitious projects that push the capabilities of AV technology are exactly what our technical innovation department was established to do," said Anna Valley director Shaun Wilton. "Being sought out by ITV to provide its studio AV solution for the Rugby World Cup studio is a real feather in Anna Valley's cap and a testament to our reputation in the industry as technical innovators."