Sky announces new innovation centre for Osterley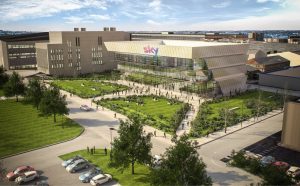 Sky has announced plans to build a dedicated innovation centre at its Osterley campus in west London as it continues its push into developing world-leading consumer technology.
The 70,000 square-foot space will be in addition to existing technology hubs in Leeds and Milan, and will house engineers and software developers working on innovations across Sky's broadcast and streaming platforms, consumer products and other innovations including VR.
The new building will also be the home of Sky's new Get into Tech for Young Women scheme. The new programme aims to provide girls of school leaving age the chance to train for free as a coder, with further opportunities at the Sky Software Academy when they have completed the course. This is one of a number of programmes Sky is running to encourage more woment to consider roles in technology and engineering.
The re-development of Sky's campus has included the construction of five new buildings designed to promote the free flow of people and ideas, enabling talent to collaborate and deliver the best outcomes for customers. It is a flexible and secure workplace, supported by an array of services, including restaurants, a cinema and a health and fitness centre.
These include Sky Central's open and flexible workspace, at its heart featuring its recognisable Sky News glass box live news studio; the Hub, NOW TV's agile tech environment; Sky's studios building, bringing news, sport and production all together in one place; and its Believe in Better building, a centre for learning and development. This next stage of Sky's campus development represents a further investment in people, and in their performance and wellbeing.
Jeremy Darroch, group chief executive of Sky, said: "Sky customers have always enjoyed cutting edge technology and the best products available – from satellite to streaming, Sky has led the way. The launch of this dedicated innovation centre will enable us to push the boundaries even further.
"The development of the west London campus reflects Sky's journey over the past 29 years. Just as we have moved from porta-cabins to a world-class working environment we have also grown from a satellite business to Europe's leading direct to consumer media company with content, consumer technology and innovation at its core," said Darroch.