Sky Golf uses tOG-Sports via iPad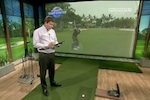 RT Software has added iPad support to tOG-Sports, allowing for the use of the tablet as a hand-held touchscreen device that delivers the full range of telestration, analysis and VT control. Sky Sports Golf has been one of the first shows to use it.
The iPad connects wirelessly to the main tOG Sports graphics system that combines delivery of live broadcast quality HD SDI output with HD clip control and content from remote video servers such as EVS. This is important, states the company, as it gives presenters a tool they are immediately familiar with both in the iPad itself and the tOG-Sports style of interface. It also frees them from the shackles of traditionally mounted touchscreens, making it easier to face camera and even share the telestrator with guests and co-presenters.
"What you need as much as possible is for the presenter to engage with the viewer, and if they're stuck behind a desk it's easy for that to turn into disengagement," says Jason Wessely, Exec Producer Sky Sports Golf.
The programme moved into a new purpose built set in the recently built BSkyB Studios facility in London, with its first TX on 6th January 2012. This meant an opportunity for a complete rethink of the studio content for the channel and the adoption of new technology. Already a user of tOG Sports, the production team were using a desktop mounted touchscreen for swing and play analysis, selecting clips on EVS video servers, jogging them backwards and forwards as required and using the interactive touchscreen to add graphics such as swing angles or distances from the pin.
"We wanted to move the telestration element of the show away from a desktop mounted touchscreen and literally put it in the presenters' hand, opening up the ability for presenters to combine live analysis on VT with actual examples of golfing techniques in the studio," says Wessely. "tOG Sports' new support for the iPad delivers this, and it's on screen integration with EVS clips makes it easy and fits into our workflow."
Sky Golf's new studio features the iPad based tOG Sports telestrator, a giant video projection back wall and a golf simulator for taking actual shots based on technology from Pinpoint. Everything is seamlessly integrated on air – the studio based analyst can select a VT clip of a swing from the iPad, play it on the giant screen, jog back and forth and draw on it to discuss aspects of the swing and then switch to a virtual view of a fairway or approach to demonstrate with an actual swing. RT Software's support for the iPad meant this could be achieved quickly and at almost zero cost, preserving the existing investment in tOG Sports and its proven telestration capability for golf.
The system has evolved with use too. "The presenters wanted the shuttle wheels to be slightly bigger and they wanted a jog button, a frame by frame button, as golf swings are high speed and if you push your finger on that three or four times it gets you to the point you want to be more precisely," says Wessely. "We get a good idea everytime we use it and we're learning what works and what doesn't work. Mainly it's the protocols of how we do it presentation-wise that are changing though rather than the actual technology of the tOG; it's where we come to the Pinpoint then to the tOG then back to VT, where we cut full frame, where we don't …it's the TV grammar rather than the technology that needs fine tuning."