Spain's Teleonuba broadcasts Andalusian second division football team Recretivo de Huelva matches
Andalusian second division football team Recretivo de Huelva is using an end-to-end live production workflow from Blackmagic Design to broadcast league fixtures via Spanish regional broadcaster Teleonuba.
The football club has an exclusive agreement with the broadcaster, that produces and broadcasts live content including pre and post-match access, as well as the game itself.
Teleonuba employs an outside broadcast (OB) van on match days that relies on Ursa Broadcast, Ursa Studio Viewfinder and Canon B4 lenses for acquisition.
With four SMPTE fibre cameras in total, Teleonuba provides fans at home with comprehensive matchday coverage. Two cameras are operated from a gantry position in the stadium's third tier, and two more are located pitch side. One of those is on the touchline and the other behind one of the goals.
All live video feeds are patched back to the OB while tally, comms and talkback between the vision mixer and camera technicians relies on an Atem Talkback Converter 4K.
"The Ursa Broadcast represents excellent value for money, ensuring that we meet the standards demanded by broadcast," begins Teleonuba's technical director, Félix Romero Pineda. "Our operators have been impressed with how intuitive and easy to operate the camera is."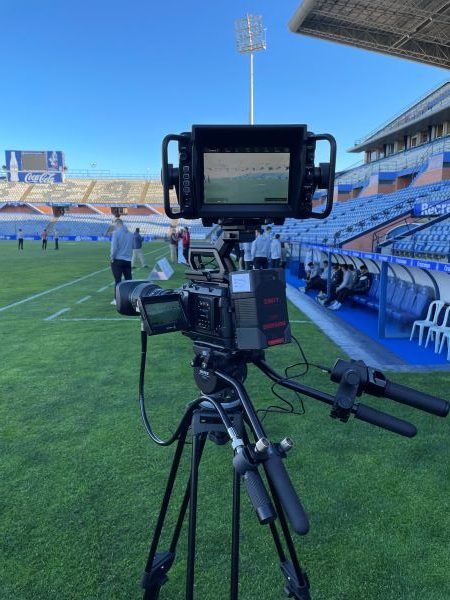 Located just ten metres from the pitch, the OB is parked inside the stadium. "It's a convenient solution that reduces the amount of optical fibre we have to run out and feeds live images back to the production desk," says Romero Pineda. "I love the simplicity and flexibility of the whole solution. We can be set up and ready to air in less than 30 minutes."
Camera signals are monitored remotely using the Atem Camera Control Panel, with a shader previewing the incoming ISO feeds on a series of SmartView 4K monitors. For vision mixing, the OB uses an Atem Constellation 8K with Atem 2 M/E Advanced Panel.
"We chose the Atem Constellation 8K because of the number of inputs and outputs available and for being able to distribute the signal to the different broadcast companies when requested, such as other TV stations outside our province that want to broadcast visiting teams' match," Romero Pineda says. "Apart from that, we have been using it for years and it is a very reliable piece of equipment."
The workflow also features a graphics playout server developed in house by Teleonuba, based upon CasparCG's broadcast graphics software, as well as a vMix live action replay system.
The 1.5 RU server features Nvidia's 1050Ti GPU, with the rendered graphics and an alpha channel output over SDI via a DeckLink Duo 2 capture and playback card to the production switcher.
All content is then produced in 1080p50 to match broadcast requirements and encodes to h.265 at 10 Mb/s quality. The live program is then transmitted to Teleonuba using the onboard 1000 Mb/s fibre optic uplink. At the same time, a duplicate recording of the match is made on two HyperDeck broadcast decks using SSD disks.
"Soccer has always been a universal topic of conversation, but smaller clubs don't always have the resources or technical know-how to broadcast games themselves," concludes Romero Pineda. "That is where we step in, offering the club access to our production capabilities and know-how."