Sports fans are watching more games on their mobile phones than last year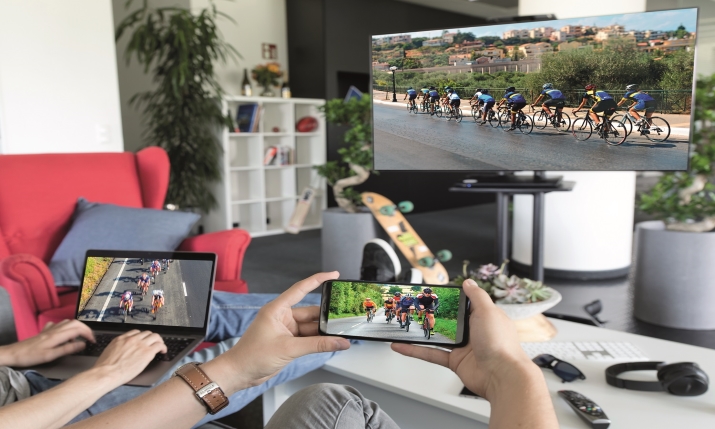 As a sport devoted nation, 37% of fans in the UK are now watching more sport via their phone than a year ago, with more than two in five of these keeping on top of the latest action by watching on their mobile on the go (43%), according to a new study from Sky Mobile.
Looking into the cities, London is the most virtually sport-mad, with 39% turning to their phones to watch sporting events, closely followed by sport fans from Yorkshire (31%) and the East Midlands (30%).
When it comes to tuning into the live action, for almost half (45%) of the UK's sporting fans, the main TV at home is not always available, so sport enthusiasts will turn to the small screen to make sure they never miss a moment.
Someone who is familiar with the need to catch must-watch events on the go is former England player, Arsenal Captain and pundit Faye White, who says: "2022 is going to be a golden year for British sporting stars and I'll be supporting the Women's football team every step of the way, to hopefully bring it home! No matter where I am or what I'm up to, I like to be part of the action so I'm with the many Brits who'll be keeping an eye on the matches and games when out and about.''
Also, two of the biggest events that UK sports fans are most excited for this year include the European Women's football (36%) and the upcoming games in Birmingham (29%) over the coming months.
With sensational and promising British talent hitting the sporting stage, the study of 2,000 sport fans found that two thirds (66%) are expecting a victory from our home teams and sporting stars.
Among those predicting a first-place victory, the favourite to bring it home is the Women's Euros team (26%) who started the latest football championship with record-breaking results, alongside a predicted gold medal for Adam Peaty in swimming and the England netball team within the upcoming aquatics and team sport events in Birmingham (13% and 12%).
With popular matches and fixtures lined up, sports fans are prepared to cancel going to an event (19%) or even use annual leave to watch a game (18%).
When it comes to the more extreme lengths the UK is willing to go to cheer on their teams, 40% admit to tuning into their favourite events on their phone at work, and 22% of 18 to 24 year olds will call in sick to work, college or university so they can watch their favourite sporting event, reducing to 10% of 55 to 65 year olds.
A country of loyal supporters, almost half of sports fans plan to watch the action live every day (47%), share the latest updates with friends and family via messaging whilst watching (29%), and show their support for their team by interacting with their social media posts (28%).
Backing all the UK's amazing sporting talent is Paul Sweeney, managing director, Sky Mobile who commented: "With over two fifth's of the nation's sporting fans now using their phone to watch sport on the go, we want to make it easy for those on Sky Mobile to keep watching. So, to help, you can stream the Sky Sports app on the go and catch all the action as it happens – without eating into your data."