Sports TV Awards showcase: Outstanding Production Achievement (Innovation)
Ahead of tonight's Sports TV Awards ceremony, SVG Europe is continuing to profile all of the projects that have been nominated for an award. Here, the spotlight turns to the Outstanding Production Achievement (Innovation) award.
In this category, SVG Europe recognises a creative, technical or operational innovation included within a production that has pushed the boundaries of sports broadcasting.
The shortlist (in alphabetical order) is:
BBC Sport, AE Graphics and dock10 – Virtual reality studio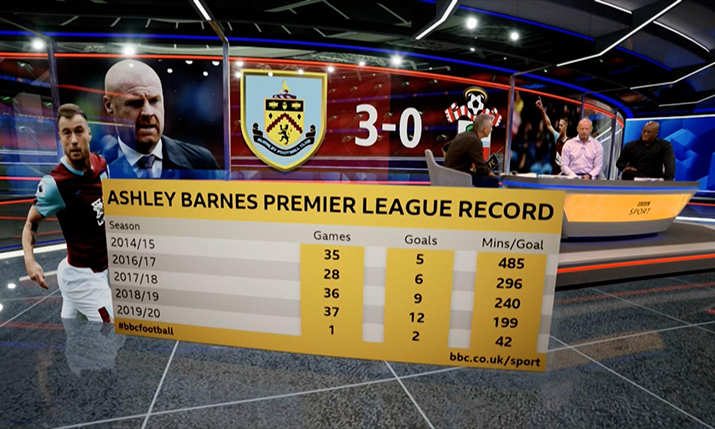 For over fifty-five years, BBC Sport has brought the highs and lows of football into homes across the country, reaching seven million viewers every weekend, with Match of the Day (MOTD) being the most popular football programme on television.
To help maintain MOTD's premier position, BBC Sport decided to incorporate the industry leading technology and deliver the next generation of sports broadcasting by hosting MOTD in a 4k UHD-ready, fully 360-degree virtual studio, for the 2019/2020 football
season.
Four virtual studios (MOTD, MOTD2, Final Score and Football Focus), designed by AE Graphics (AE), are now able to be shown in
the same studio space at dock10 with their own distinct look and feel.
The designs, translated and delivered by dock10, are using the latest in rendering technology to combine both physical and virtual elements in such a way that they are indistinguishable from each other in real-time. Resulting in not only a larger studio space, but endless creative possibilities.
AE are also delivering a full suite of augmented reality (AR) graphics within the virtual environment, including data-rich foreground
graphics and AR content produced on the 'Smart-Glass' that looks into the heart of the stadium.
---
Pixellot and Sporttotal – Revolutionising the German sports market with AI automation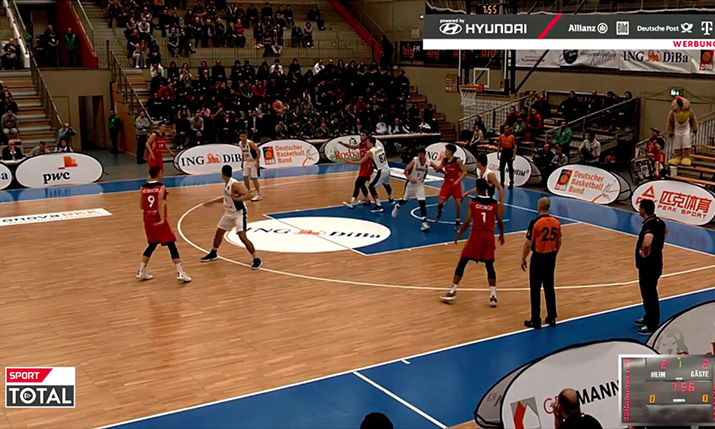 Pixellot pioneered the concept of automated video production and is the market-leading AI-based end-to-end sport content creation
and distribution solution.
With Pixellot's AI-Automated solution, professional and amateur sports organizations can now affordably produce, broadcast and monetise any event, providing fans with a professional, quality production with added features for fan engagement.
Soccer (or fussball) is a hugely popular sport in Germany. However, Germany's vibrant regional leagues, with their passionate fan base, were not covered until now, due to the costs involved with producing and broadcasting matches.
Sportottal implemented Pixellot's AI-Automation installing over 560 cameras at fields across Germany, Austria, France and Belgium. As a result, Sporttotal is now able to stream hundreds of events at a nominal cost with no on-site staff via an online portal that gives live and on-demand access to games from 23 leagues and associations that previously were not broadcast.
These include; German Football Association amateur football, German first division volleyball league, Women's indoor hockey and ice hockey games, German first division women's basketball league, 42 French regional leagues (LGEF) teams, 16 Belgian Amateur League clubs, etc.
Another revolutionary aspect of the technology is the seamless interaction with social media which drives fan engagement activities
such as game and player highlight clips that are shared on Sporttotal's website and across social media platforms, such as Facebook, Instagram, and YouTube.
---
Sky Sports, Sky Creative Agency, MRMC and Dimension Studio – Sky Scope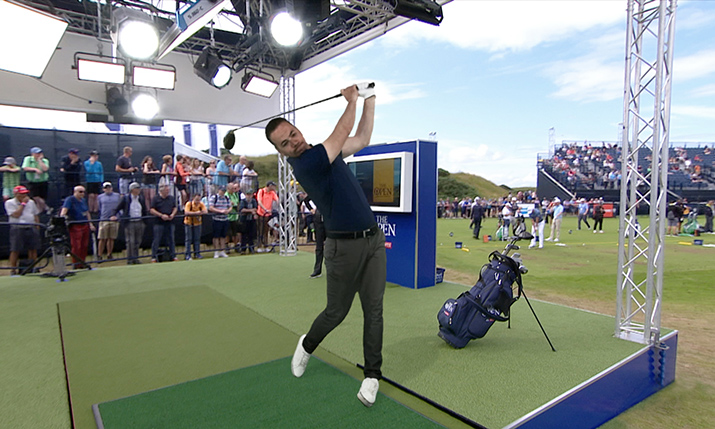 A collaboration between Sky Creative Agency, MRMC and Dimension Studio led to Sky Sports commissioning the world's first use
of Polymotion Stage, the mobile solution for the capture of volumetric content, which debuted at the 148th Open.
Digital replicas of talent including Rory Mcllroy and Dustin Johnson were created using 'Sky scope' in the live coverage. 'Sky Scope' gave the Sky
Sports team the ability to track, pause and analyse every aspect of the Golfer's swing, something that has transformed broadcast analysis.
The assets had to be created in under 48 hours for live broadcast. Each club was modelled, and as the swing of each club was so quick, a new technical feat in motion capture within volumetric recording captured the club's detail, movement and flex. The result was a ground-breaking view of the game's superstars which allowed the experts to pinpoint exactly what it is that gives each golfer their competitive advantage!
Sky Sports commented: "We're always looking at how we can use innovative technology to enhance our storytelling and bring golf fans closer to the action. The technology that MRMC has provided allowed us to analyse the golf swings of the world's best players like never before".
---
DFL, netventure and TVN Mobile Production – Bundesliga Augmented Reality broadcast drone
For the first time in a live football production, Sportcast successfully integrated augmented reality (AR) graphics into aerial footage
captured by drones during Bundesliga matches.
By feeding the graphics directly into the live signal, it was possible to make the graphic elements appear as if they were actually floating above the stadium. The AR elements were inserted into the basic drone
footage during various matchdays of the 2019-20 Bundesliga season, for example pre-match or result graphics.
The floating effect was achieved using tracking data provided by additional software, without the need for additional technology to
be flown alongside the drone. When creating augmented reality graphic elements, it is essential to know the exact position of the graphic elements and the camera. Only in this way graphic elements can be inserted into the image and follow the camera movement. For this to work, the camera's positional data is generated and transmitted to the graphic engine as metadata.
A year-long development phase saw the DFL subsidiary Sportcast work with service provider netventure and TVN Mobile Production to integrate AR graphics into drone footage which can be made accessible to numerous national and international licensees via the world feed. This achievement unlocks plenty of opportunities for production teams to enhance the viewing experience for Bundesliga fans.
TV2 Danmark, Promotheus – 3D Real-Time graphic system for analysing sports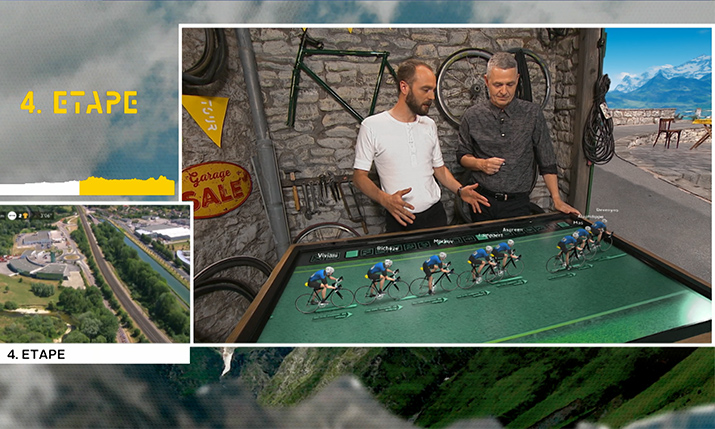 Raising the bar in the Tour de France 2019 coverage, Danish TV2 Danmark had combined virtual graphic, interactive control and data
integration to provide a unique storytelling tool to its TV hosts, and an unprecedented broadcasting experience for its viewers. The network had teamed up with Promotheus ltd. to build an in-studio AR analysis table, called the Sandbox, enabling commentators to easily demonstrate tactics, simulate complicated scenarios and present data and statistics.
Using a touchscreen interactive interface, the commentators could draw their ideas fast and easily, relate to actual real-time events with almost no technical preparation, and have fun while doing that. Synched, compelling AR graphics help to achieve a rich, easy-to-understand viewing experience.
Meeting TV2's high design and content requirements, Promotheus used its own creative and technical skills to design, program and integrate real-time graphics (Based on Vizrt graphic engines), interactive technology and cloud-based data management, into an innovative live broadcasting solution.
Succeeding previous co-operations, including 2018 Soccer World cup, IHF world cup and previous Tour De France, both parties were
able to turn their experience into a rich feature, intuitive and innovative production tool, and leverage viewers engagement during the
Tour.
---
The winners of the SVG Europe Sports TV Awards, sponsored by Canon, will be announced during an 'as live' online awards ceremony at 5pm on Wednesday 27 May 2020. Hosted by sports broadcaster and presenter Abi Stephens, the ceremony will premiere on the SVG Europe Youtube channel, SVG Europe Facebook page, and the SVG Europe Sports TV Awards website