Sports TV Awards Winner: Sky Sports uncovers its outstanding remote football production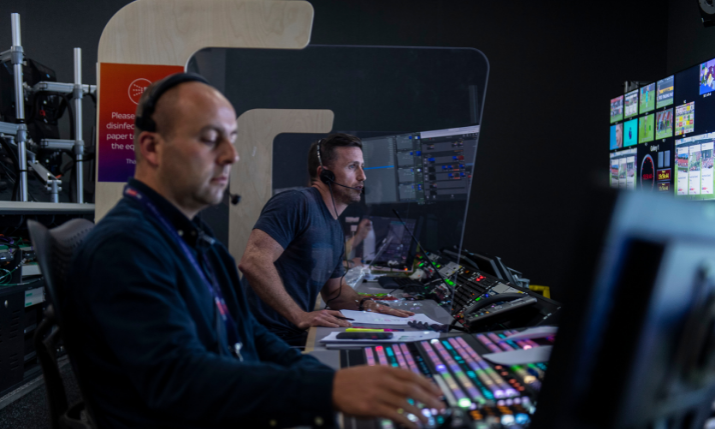 Remote production became the live production buzzword of the year in 2020, advanced ahead of time due to the impact of the pandemic. Notably, it provided a way to bring coverage of the English Premier League (EPL) and English Football League (EFL) back to TV screens after a 100-day pause in June 2020.
Working with OB expert NEP and sister infrastructure company NEP Connect, Sky Sports teams delivered 100 games over 40 days under COVID-safe conditions, something which won them the coveted SVG Europe Sports TV Award for 'Outstanding Production Achievement – Event'.
All stand still
"When the [first UK lockdown] hit in March 2020, a lot of the sport that we show on Sky stopped," says Phil Marshall, director of production at Sky Sports. "We knew that football was going to be coming back and we eventually got the date of 17 June 2020 as the day that the Premier League would restart."
The short time leading up to that kick-off involved an exploration of how to evolve many of the production solutions that Sky had already been working on over the previous few years. "We'd done remote production on presentation add-ons and Formula One starting in 2018, and gone live with match production with the EFL in November 2019," Marshall explains. "We had been working very closely with all of our studios' teams, all of our NEP trucks and the NEP Connect team so it was an evolution of that, but on the Premier League.
"For those months before 17 June, it was all about how we would adapt, how we could learn from our previous work and how we could bring all of that together to go live with the amount of football that was about to start."
To cover the remote games Sky worked with NEP Connect to bring all the feeds back over the Anylive Fibre Network – remotely facilitated by onsite NEP OB trucks – to Sky's Osterley base, where the match was cut. "To reduce travel and reduce people on site we also made a lot of our studio presentation back at Osterley, and used our galleries at Sky to cut that," says Marshall. "With the EFL, it was part of the strategy already on track. We used those facilities as well as additional match cut facilities that we built temporarily in our biggest studio space for this period."
"We came up with a slightly different way from how it previously worked, in that a lot of the stadiums would be rigged without the trucks," says Alison Durrant, client manager for NEP. "We used predominantly six trucks to cover the bulk of it. It was roughly three or four matches every day. We worked out the rough requirements of what each match required."
"Getting those trucks around the country was an enormous feat, which NEP nailed," says Marshall.
Durrant meanwhile likens the task to working on a 10,000-piece snow-scene jigsaw. "With social distancing, you just couldn't have every crew member on-site, you had to space it out with as few people as possible," she says. "So the field kit would go in the day before with a different tender, and then the scanner would come in on the match day – because the scanners were pretty much used every day. Once we had configured that first few days, they just leapfrogged each other around the country."
"We had some of the Football League games which didn't have the same level of connectivity, so they remained as traditional OBs and on those we added in two extra trucks depending on where they were needed," she adds. "We had lots of phone calls with Phil and his team, just to make sure that what we had worked for everybody."
"We couldn't have done it without the collaboration of a huge volume of teams based within Sky, within NEP and externally," says Marshall. "We did quadruple headers on a few Premier League match days, which was a pretty remarkable effort at a time when we were up against it. We were sending as few people as we possibly could to these matches yet still delivering a product that was a great experience for our customers."
Hands, face, space
The challenges were not just technical; the safety requirements and restrictions imposed to combat the pandemic had a big impact.
"We were doing more complicated [productions] and accelerating the volume, at the same time as having to work around really restrictive control measures," says Kevin Ramsey, director of studios at Sky. "We'd had some experience of what remote could be in a quite controlled way. Then to have to ramp that up several-fold really quickly presented obvious challenges in terms of volume of a particular skill set."
"We were sending as few people as we possibly could to these matches yet still delivering a product that was a great experience for our customers"
"We could never have delivered all that [content] in that timescale if people hadn't approached the challenge positively and proactively. People get used to working [on normal OB productions] and with that comes the camaraderie you might build, working across two or three days on a production and working in that particular team. That's very different to delivering all this in a remote way back at Osterley," he continues.
"We had to be quite innovative with how we scheduled people. When defining and delivering remote working, we had to learn from other remote projects we were doing which weren't necessarily sport, and work closely with technical and other teams to make sure we could deliver the volume and capacity of operators that we needed. It would never have happened without the engagement of the people involved, or the collaboration with the other sites."
Play it again
Part of the replay operation, also normally on-site in the OB truck at the stadium, was moved to a new, integrated remote production centre in NEP's MediaCityUK facility.
"We have a lot of EVS ops that live across the country," says Durrant. "We didn't want to have them all going to Osterley, travelling during a pandemic. So having a replay hub in Salford suddenly allowed us to have a whole team of people who were local to Manchester, or only travelling within an hour's distance. That's worked really well."
It's worked so well that NEP has continued running the operation from Salford for subsequent seasons.
"It's really important to us that we've got a talent base of replay operators in the north of England," comments Marshall. "These were temporary solutions to get us to a position where we could deliver this much football. Since then, things have moved on and we've been able to create more purpose-built spaces. Our building [at Osterley] is now the equivalent of a set of OB trucks. We don't have to move, which is beneficial from a sustainability perspective."
"We always thought that football would be going remote as we'd already started the Championship and that had gone very successfully," says Durrant. "So we always knew that the Premier League would be the next thing to do, and the pandemic made that happen. But when you consider what we would produce for the Premier League before the pandemic, it was a huge undertaking to think that you can do it [all] remotely. This just made us wake up to a different way of doing it and realising we could do it a lot sooner."
"I think this season we're now almost getting back to the same level of output as we did pre-pandemic but it's now fully remote," she adds. "Outside, and for the rest of NEP, there's still an appetite for traditional OBs for different circumstances, but for this, it works very well."
"It was always part of the plan, and the pandemic accelerated that plan significantly," says Marshall.
"I think this season we're now almost getting back to the same level of output as we did pre-pandemic but it's now fully remote"
"We've continued on the same track with all of our football for the Premier League and Football League. We do Formula One with NEP. Cricket has gone to a completely remote production base for the whole 2021 season and beyond. Sky Studios is becoming very much a huge remote production hub for Sky and Sky Sports. We'll continue to assess our various rights and the viability around remote production around those various rights as we move forward."
"Due to the reduced travel involved, remote productions do significantly reduce our carbon footprint," he continues. "Obviously, that aligns very closely with Sky's overarching ambitions around being a force for good and sustainability, so it's really important to us in that regard as well."
Just rewards
In giving the award, the SVG Europe judges described the remote production as "an outstanding achievement, in an incredibly short period of time. The ability to break down long-standing production and technical barriers put in place over many years, and taking these Tier 1 events remote in very trying conditions, was a real credit to all involved."
"When we came off the air for the final match. I think we were all very proud of what we've done among ourselves," says Durrant. "To be recognised by people outside of that group of football, just makes it that much sweeter."
Ramsey agrees: "To have the opportunity to take a step back, get your head up from the trenches and then see that others around the industry have recognised what you're doing as well, I think that's a really rewarding thing for everybody."