Sunset+Vine and Telegenic team-up for Amazon Prime Video's coverage of the Autumn Nations Cup from Llanelli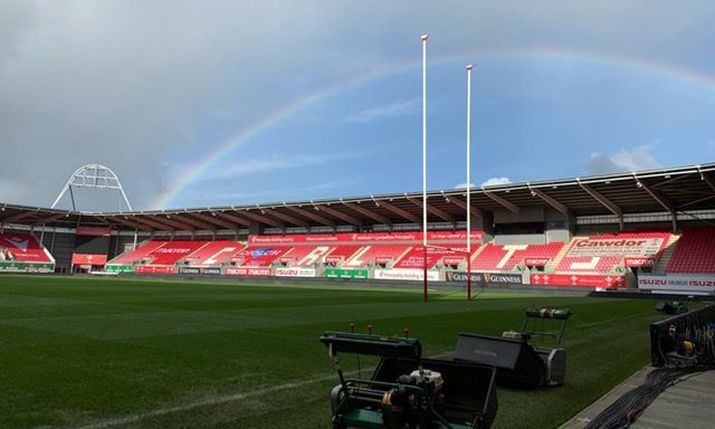 Live international rugby union was shown on a streaming platform in the UK for the first time last month when coverage of a brand new tournament, the Autumn Nations Cup, started on Amazon Prime Video.
And it wasn't the only thing that was new. Telegenic, part of Euro Media Group (EMG) UK, is facilitating the Wales matches for host broadcaster Sunset+Vine and some innovative cameras are being deployed to capture the action.
The first full international rugby tournament after a six-month break, the Autumn Nations Cup – which is running from 13 November to 6 December – is currently being played across four weekends of games featuring the Six Nations, namely Scotland, England, Wales, Ireland, France and Italy and two guest teams: Georgia and Fiji. Every game, apart from Ireland's three pool matches which will be shown live on Channel 4, will be available exclusively on Prime Video in the UK.
Prime Video's main coverage of Autumn Nations Cup matches will offer a full afternoon of action every matchday, with games taking place consecutively on a single stream, allowing fans to keep watching without having to switch channels to view the next fixture. Another broadcast innovation is PostCAM, two 1080p 3G POV minicams installed at the in-goal side of each goal post just below the crossbar, with eight cameras in total.
Sunset+Vine is looking after the production element for Amazon, and has hired Telegenic to deliver all of the Welsh home games.
The facilities company has a legacy in covering the Six Nations for BBC and ITV. "We currently hold the contract with BT Sport for all of the rugby union for BT Sport," explains Eamonn Curtin, deputy CEO at Telegenic.
"So we have a long-standing relationship with Sunset+Vine's rugby department. When we looked to put a bid together for this, obviously our rugby pedigree stood out and we were fortunate to be given all the Welsh internationals."
Telegenic has set-up base at Parc y Scarlets in Llanelli for three weeks. "It's a standard rugby international, you're looking at probably in excess of 120 people on site," says Curtin. "We've got two scanners on-site and two large portacabins, so we can outboard the EVS operation into those and everyone can be socially distanced. Because we're there for three weeks it's easier to set all of that up."
The transmission path is over fibre using NEP Connect, and 50p HD is the delivery format that Amazon has requested for all its rugby coverage. "Obviously we'll need 3G trucks," says Curtin. "So the trucks that are in Llanelli are T18 and T21, both triple-expanding, extra-large OB scanners."
Among other hardware, both the trucks feature Kahuna Maverik mixers from Grass Valley, while Telegenic will be deploying Sony HDC-2500 and 4300 as the main cameras of choice, because of the 50P requirement.
Remote and close
This is the first international rugby game for which Telegenic has based its EVS operations in a portacabin, adapting a remote surface production method first developed for its remote operations centre (ROC) in High Wycombe
"We recently did Six Nations for the BBC from the same venue but we remoted the presentation elements," says Curtin. "Even though the presenters were here, the presentation and production team weren't. This is the first time where we've got everything on site, so we've had to overflow into the portacabins.
"You're looking at an angle that traditionally no-one's ever witnessed, just being among [the action], and due to the fact that we've got microphones on the cameras, you'll be able to get the feed of what they're saying as well"
"We've actually got a system now where we're just using tablets and surfaces which are linked back into the truck," he reveals. "It's much easier for us to use it that way, than to take out the router panels and put them into the cabins.  It's similar to the system that we use in our remote gallery in High Wycombe. So we've taken the technologies we've developed there on-site and effectively everything can still stay in the truck."
Curtin says it is easy to derig EVS operators into a cabin. "A CAT5 cable gets connected from the truck into the operator station where we have an EVS controller, and also the router panel on a tablet for the operator to be able to route their feeds, which will then obviously appear on their monitor. Being in Llanelli,  the connectivity is limited, so it was felt that it was more robust to do it on site and outboard the EVS operators and any other position, like the executive producers that just need monitoring and talkback."
If the connectivity between it and the truck was present, says Curtin, the portacabin could be anywhere, within reason.
Tech enhancements
EagleCam from Alan Wells will be at Llanelli. "It's a point to point RF cable camera on a wire and the camera comes back by an RF link," explains Curtin. "It goes from one end of the pitch to the other. It's a bit like a FIFA angle when you're just going across left to right, rather than all over, like a traditional Spidercam. What's missing from traditional international rugby is there are no ref cameras on this one, because of COVID."
EMG UK is also drawing on fellow group members, Aerial Camera Systems (ACS) and Broadcast RF for some innovative camera kit. "We've got Broadcast RF supplying RF cameras, the steadicams and the handheld cameras," says Curtin.
Telegenic is rigging remote robotic tunnel cameras as there are certain areas crew cannot go within the stadiums because of COVID. "So we can get the teams coming out without putting the operator in amongst that area," says Curtin.
"We've got five super slo cameras and one hi-mo camera [Sony's HDC-4300 6 Speed]," he goes on. "There are robotic mini cameras in the away and home coach boxes. The ground has also got the very successful flag cameras, which we've been using for a few seasons now on the big internationals."
Supplied by Broadcast RF via NEP, these are four corner flag cameras right on the try line. "It's built into the padding of the flag and it gets an 180-degree angle, so you can get the try line and the touchline," explains Curtin. "It's another angle for the production to look at TMO decisions. Not only that but it gets some fantastic replays, tries and lineouts near the try line, and obviously shots of the players coming down towards that corner flag and scoring in the corner. They've been a good bit of kit to use."
PostCAM is even more exciting, says Curtin. PostCAM operators will remotely pan and tilt the cameras for maximum coverage, offering dynamic match footage that is in-sync with the action. "It's getting [the viewer] in the middle of the pitch," says Curtin. "You're looking at an angle that traditionally no-one's ever witnessed, just being among [the action], and due to the fact that we've got microphones on the cameras, you'll be able to get the feed of what they're saying as well. If it was a football game I probably wouldn't do it, but rugby players tend be more 'eloquent' with their language."
PostCAM will be installed at both Twickenham (pictured, above) and the Parc y Scarlets. PostCAM footage will be used on Prime Video in both live and replay coverage throughout the test matches, allowing the fans at home and the pundits in the studio to analyse the sport.
The Amazon presenters are on-site, on a specially built platform. "The platform has three cameras and afloat cam," says Curtin. "The presentation truck will take a lot of the match cameras into top-and-tail the Amazon on-air presentation, because obviously, they've still got a lot of world feed obligations."
Telegenic is deploying 21 camera operators on site. "In total, there are 28 cameras being used, but some of those are things like the PostCAM, the FlagCAM and the robotic mini cameras," says Curtin. "It's good coverage for a stadium. Unfortunately, there's no crowd to film, but it means that you'll be able to get a lot more angles for the players on the pitch, which will be great."
There will be some augmented sound, but viewers will have the option to disable this added crowd atmosphere on all supported devices if they prefer to listen to the players' on-pitch instructions.
Safety comes first
As you would expect, COVID rules are being strictly observed in Llanelli. "What we do regularly after every OB is used, is clean the trucks with ozone generators, and we've also got ionisers in the scanners for the air conditioning," says Curtin.
"We've limited the number of positions in the scanner, so everyone's two metres apart. We've got screening between each of those positions and each section has an entrance and exit. We're doing the same in the cabins as well. So we've spaced everybody out appropriately with additional screening," he notes.
"Within the trucks and cabins, each person has to wipe down the area before they work there and wipe down the area when they leave," he adds. "And the same goes for all of the cameras; they have to wipe down the cameras when they take them out, wipe them down when they put them in. So, all of these measures have been put in place, obviously just for everybody's safety."
All this planning comes at a cost. "Historically you could have probably done this with one rig day. But we've got two rig days on this," Curtin says. "There, then we can properly manage each of the different disciplines to be able to rig everything appropriately and so people aren't clambering over each other."
The extended rig time is, "also because of the sheer size of the OB," he adds. "And the fact that Llanelli is not the closest place in the world to drive to when you're based near London."
The Autumn Nations Cup concludes this weekend (Sunday 6 December) with England vs France at Twickenham 
---
Amazon gets into the rugby scrum
David Sidebottom, a principal analyst at FutureSource, says Amazon's move into rugby union and its increased investment in sports programming in recent years further differentiates itself from fellow streaming giant Netflix.
"Although live sports rights are typically at a local market level, this has not held back Amazon in investing in this highly competitive rights market," he says.
"Ultimately, such strong programming, although often seasonal, helps drive growth in its overall Amazon Prime user base whilst driving customer loyalty and increased engagement and sales. The strategy is not too dissimilar to a loss leader strategy; get customers in through the door, encourage them to stay longer, and they will spend more across the whole store.
"Amazon's recent deals highlight its intention to be a key contender for streaming rights to many key sports franchises moving forwards, at a time when sport remains crucial for the future health of the pay-TV industry, particularly in a post-COVID world. Although most sports deals are localised, Amazon Prime members are approaching 200 million worldwide – an impressive global audience – meaning it is now at a similar level to Netflix, after receiving a major boost from stay at home measures."
---