Super Bowl XLVIII recap: New tools, new workflows make a difference for fans around the world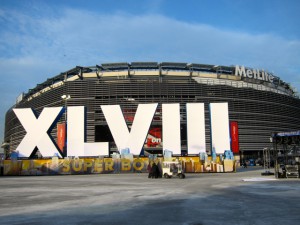 Few, if any, television events offer the cavalcade of new production technologies and massive camera complements that the Super Bowl does. Fox Sports has continued the tradition this year at MetLife Stadium. In addition to an army of 55 cameras for game coverage alone, Fox's convoy of tech toys included 4K Super Zoom systems; several new graphics elements for player, wind, and kick tracking; infrared cameras; and virtual-effects insertion.
"We have always wanted to challenge ourselves with new technology," says Steve Grigely, manager, technical operations, at Fox Sports. "We are hoping to be able to showcase a lot of this new technology, but it's always tough because you need the right moment in the game in order to use these new tools. If it doesn't help tell the story, then it won't get used. So we're hoping for some exciting moments in the game so we can showcase all the hard work these people put into those technologies."
Game Creek Video's FX OB unit, which consists of four trailers, was at the centre of the Fox Sports domestic feed (and, in turn, the international feed). The accomplishment at this year's game extended beyond Metlife Stadium but also across the Hudson River to Manhattan where Fox Sports had a massive studio in Times Square as well as editing suites in a nearby hotel.
Managing the massive scale of the project has been one of the challenges, but the Game Creek support team is across the units in dedicated teams to ensure operations go smoothly. Game Creek VP of Design/New Technology Jason Taubman was focused on the Fox operations at MetLife Stadium but also involved heavily with the connectivity project.
"From a system point of view, we made a real effort to make the Fox operations at Times Square and at MetLife joined together," he explains. "With comms and 10-GB pipes, we are virtually together, and there was a big effort to make that possible, beginning with six 10-GB paths that send content back and forth."
There have been a couple of technical advances that have allowed for that to take place: 10-GB connectivity is now feasible (Level 3 provided the redundant pipes), and products like the EVS XT3 replay servers have matured so they can take full advantage of those pipes.
Another big factor has been the big-event debut of the RTS intercom system that makes use of the OMNEO media-networking architecture. The system allows RTS Adam intercom systems to be deployed over any standard IP-base network. It also has full-bandwidth audio of ±1 db from 50 Hz to 19 kHz with a typical latency of less than 2 ms.
"RTS has really risen to the challenge for this event," says Taubman. The system allows  the Fox facilities in Times Square, at MetLife, and at the broadcast centre in Los Angeles to communicate with low latency.
Also helping? Kevin Callahan, director of technical operations, Fox Sports, was previously senior engineer at Game Creek Video, giving Game Creek and Fox an even tighter understanding of each other's operations.
"Kevin has done an amazing job of moving the Fox technical initiative forward, and he understands what we are capable of," says Taubman. "And we have also filled the vacuum of Kevin leaving with some really smart guys."
As for the actual game production itself it too saw some innovations. A record 55 cameras were scattered throughout MetLife Stadium, not to mention another 20-plus for pregame and shoulder programming around the Meadowlands complex. Among the highlights were six Sony 4K cameras (five F55s and one F65), a Flir infrared camera, 14 robotics, eight high-speed cameras, the Flycam aerial camera system, a blimp cam, and an ultra-high and -wide shot from atop the WWOR-TV building down the road in Secaucus, NJ.
"That WWOR position was the big, wide shot, and it's not a robo; it's a manned hard camera," says Taubman. "We extended the Game Creek VPN [virtual private network] over there so we can get control of the camera remotely here. That bit of connectivity sprung from an experiment we did when Fox did its Thanksgiving show in Korea. We built them a box to send out there, and we still have it so we are going to send it over to WWOR."
4K Super Zoom Now a Six-Camera Circus
Although Fox has deployed a 4K camera to capture up-close, super-zoom replays of close plays on its NFL game for the past two seasons, the Super Bowl marks its largest deployment to date with six Sony 4K cameras feeding into three EVS 4K XT3 servers with Epsio Zoom. Two 4K cameras were positioned down each sideline, two robotic cameras at the goal line, and two end-line cameras in a lock-off configuration.
Two cameras feed into each of the three EVS XT3 servers with Epsio Zoom (outfitted with AJA's Corvid Ultra and TruZoom technology), with a single operator at each XT3 able to extract ultra-clear close-ups from either camera feed.
"You put them there because that is where we have been getting the most opportunities for [4K-relevant shots]," says Fox Sports VP of Field Operations Mike Davies. "Sony, EVS, and Fuji have been integral not only in the provision of some of the equipment but in the overall development of this technology."
Predator Vision: Flir Rolls Out Infrared Cameras
Although the bitter cold that has plagued New York in recent weeks was not a factor as game time temps were well above freezing, Fox remained committed to covering how the cold affects players on the field by using FLIR HD infrared cameras. Already deployed as part of Fox's NASCAR coverage, FLIR cameras use heat instead of light, allowing temperature differences on the field to be shown as a rainbow of colors. The cameras are extremely sensitive and detect temperature differences as small as 0.05 degrees F, providing fans with a window into the temperature of players on the field.
Ncam Takes Fox Deeper Into Virtual Realm
Among the most intriguing new tools on hand at the Meadowlands were two Ncam virtual-graphics camera systems on the field. Ncam enables virtual production through real-time camera tracking, providing live virtual-effects graphics during live action. Ncam consists of a multisensor camera bar and a tethered server system. The automatic "take" system captures the camera position, rotation, metadata, and timecode in real time, allowing Fox to insert virtual graphics live.
"Ncam is how we have been doing our virtual immersive graphics in Times Square," says Davies. "It's a system that no one in this country is using right now for sports. We can put 3D graphics into the shot on the field, and it looks pretty amazing. We may use it during lineups and for other editorial content we can put within the stadium."
Kick Trax Takes Viewers Inside the Kick
Fox has also enlisted Sportvision for a tool the network is calling Kick Trax. The graphics tool extends the goalposts upward on field goals, so that, if a kick goes over the posts, it will be easier for viewers to discern whether it was good or not. In addition, the technology calculates the distance of the kick almost instantly.
"It's a very cool technology that we think is going to make a big difference on kicks," says Davies. "We're very excited about it."
Autodesk Tests the Winds With Weather Trax
To highlight the potential impact the wind may have at MetLife Stadium, Autodesk and Fox have teamed up to create Weather Trax, which will illustrate, for the first time ever on live television, dynamic in-stadium airflow patterns at the stadium. Using Autodesk simulation technology to calculate the specific weather conditions, Fox plans to superimpose visual representations of wind direction directly over game play.
The process consists of three steps. A digital model of the stadium is constructed with 3D-modeling software. Simulation software interacts with the model so that the user alters wind speed and direction to suit the game-day conditions and sees how the air-flow patterns inside the stadium are affected. And the simulation graphics are played out over a live camera to show the viewer the wind paths in relation to the field.
ChyronHego Paint
Fox continued its use of ChyronHego's TRACAB player-tracking and Paint Sports telestrator systems as it has throughout the 2013 season. TRACAB tracking technology, which works in conjunction with Sportvision's tagging software, identifies and graphically labels players to track their movement, speed, and distance covered live and during replays. Paint provides graphics-animation tools that enable the network to quickly highlight such video content as player match-ups, zooms, offensive plays, routes, rushing yardage, tackles, and more.