Supponor AR technology enables virtual advertising 'first' for German Supercup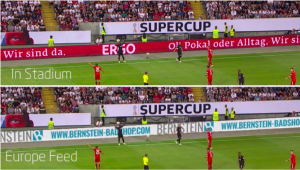 Virtual replacement advertising technology was commercially deployed in the German Supercup for the first time on Sunday 12 August. A Virtual Hybrid LED system was installed especially for the match, which was hosted at the Commerzbank-Arena.
The LED system, developed by ADI, integrates Supponor's Augmented Reality (AR) technology, which makes it possible to change the perimeter content seen by different viewing audiences around the world without affecting the content seen by fans in the stadium. It means brands can tailor their message for specific territories.
The Supercup is the curtain raiser to the German football season and saw Bundesliga champions, Bayern Munich, take on DFB-Pokal winners, Eintracht Frankfurt. It attracted an international audience and was broadcast in approximately 120 countries.
Capitalising on that global reach, four modified feeds were created, featuring different virtual perimeter content targeting audiences watching in North Asia, South Asia, Americas, Europe and MENA broadcast regions. Audiences watching in Germany, Austria and Switzerland received an unmodified feed featuring traditional 'visible' LED content.
Lagardère Sports commercialised the virtual advertising platform by selling 'virtual' media inventory in each broadcast region.
The deployment of virtual advertising in the Supercup precedes the wider roll out of Virtual Hybrid technology in the Bundesliga, which kicks off at the end of August. Following extensive trials last season the DFL approved ADI's and Supponor's Virtual Hybrid system for use by Bundesliga clubs.
Borussia Dortmund, together with Lagardère Sports, will be the first football club anywhere in the world to deploy the technology at all 17 home matches of the upcoming 2018/19 Bundesliga season.
ADI's CEO, Geraint Williams, said: "The Supercup provided a fantastic stage at which to officially launch the commercial use of virtual advertising in German football. 2018 feels like a breakthrough year for Virtual Hybrid, thanks largely to the DFL, who have really championed the technology.
"As brands demand more, the market is changing and virtual advertising plays a key role in helping clubs to deliver much greater value for their partners. Now those sponsors can choose the markets they want to target, or localise their global message for individual audiences.
"Whereas once virtual advertising was a concept, now it's a full end to end solution that really works. In the UK and Europe, we've now installed 12 digiBOARD systems that are either fully functioning Virtual Hybrid displays, or have the ability to be easily upgraded."
James B. Gambrell, CEO at Supponor, commented: "The Supercup was more than a pre- season warm-up for our virtual ad replacement technology. It had real world commercial value. We're very much looking forward to working closely with ADI, Lagardère Sports, Sportcast, Borussia Dortmund and the broader DFL club community to scale-up our solution to deliver modified broadcast feeds every week.
"We're providing the platform and integration with the broadcasters, but it's really down to the clubs and their rights marketing agencies to fully exploit this powerful commercial model for virtual advertising. We're excited to continue to grow and expand the reach of our German clients and partners as the market develops."