SVG Europe Women: Tech skills shortage presents major challenge for broadcasters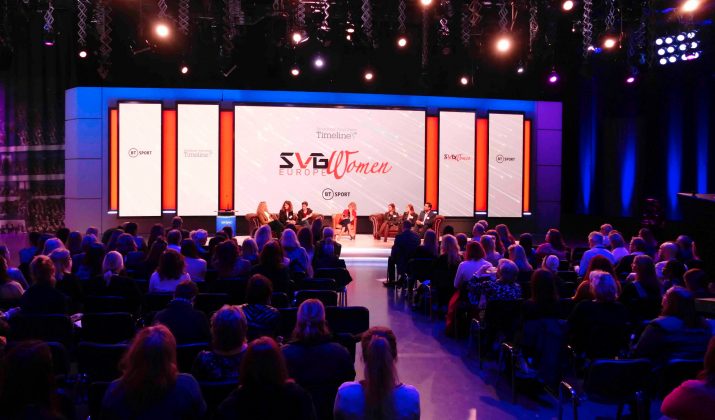 Maybe broadcast engineering was never that fashionable as a career option, but it definitely isn't sexy these days. In an age of blogging and selfies, the technical crew behind every TV production appear to school leavers to be firmly out of sight and out of mind.
School leavers are not interested – especially girls. It's an enormously challenging situation for everyone inside the broadcast industry and those educators seeking to train young people for technology-based careers in this business.
At the SVG Europe Women Winter Networking Event, in partnership with BT Sport and Timeline Television, on 30 January 2020, host Sarra Elgan and a panel of engineers and educators debated what needs to be done to bring more women into both engineering careers within sports broadcasting and to develop the educational tracks to get them there. The discussion looked at how to get more women into STEM roles, the disparity between that desire and the educational prerequisites that deter or prevent women from going in that direction, and the value of learning on the job.
The speakers on the engineering side were Roisin McKeniry, Timeline TV, head of production technology; Sandy Isnard, Telstra Broadcast Services, solutions architect; and Carys Hughes, Sky, design engineer, emerging technologies.
The educator speakers to the right of Sarra Elgan on the BT Sport sofa were Polly Hickling, Solent/University of Southampton, Media Technology Programme course leader; Susan Pratt, University of Surrey, Department of Music and Media, Film and Video Production Technology, course leader; and Dr Ajaz Ali, Ravensbourne, Digital Television Technology and Degree Apprenticeships, course director. Elgan began by asking the educators to tell the audience what is the current situation with regard to intake of female students to media technology courses.
Susan Pratt: "The question is, how can we actually get more young people interested in the technical side of television? They all know about people in front of the screen and they all know about social media presentation. So they've got some idea of what that is; it's something tangible they can see.
"But they don't see what's going on behind the scenes – it's not real to them, it's not a profession. So when they're looking through a prospectus and they see media studies they think 'oh that's the person in front of the screen, so that's about communication'.
"This is where there's a mismatch. If we can get people to understand what a great, exciting career there is behind the scenes, then we can inspire more people to do the maths, physics, other sciences and IT to actually become part of this industry. An engineering degree has to have those elements to it, in order to be accredited by the IET."
Ajaz Ali: "Yes I fully agree that you have to reach certain benchmarks. But for broadcast engineering specifically, I don't think there is a shortage of women – there is a complete shortage.
"That is because students normally go for the more glamorous side, which is what they see in front of the screen. Behind the screen is never shown to them; they don't even know there is a career there. So education is key, in reaching out to people – not just women — and telling them 'Yes there is a career in broadcast engineering'.
"We really struggle to recruit students overall. The ultimate route then I think is through apprenticeships, where the employer actually chooses who they want to recruit, rather than leaving it to the universities to decide. The employer takes them on board and sends them to university to meet those benchmark criteria. And then we train them on those elements.
"It has worked really well. We've worked with BT and a few of the apprenticeship providers. In one class we've got a 50:50 ratio. So the broadcasters are going out and supporting them, rather than leaving it to the educational institutions. But our responsibility is to benchmark and reach certain criteria – that is very important."
Roisin McKeniry: "We have a massive skills shortage. We need people to come out of university – or not to go to university – and we need them to have a certain skillset. Nobody comes out of university able to do a job. They think they can but they can't!
"My question to the educators is, do we need to have different courses? Do we need to change the titles of those courses? I need people. You guys are giving me people, but you're giving me just this small section of society.
"What we do is problem solve. And one life experience is not going to give us a diverse approach to problem-solving. Whatever you decide to call it, I don't care. I just need people."
Polly Hicking: "The amount of people we have is really low. Even though we don't set [tough] prerequisites, we can't get people in. I just don't think people know what we do. I don't think anybody at 18, applying to university, understands what a vision engineer is.
"We want people who can become engineers, who can understand IT and build systems like the one here at BT Sport. We've just redesigned and retitled our courses to try to get more people in. We need people to understand what people [in technical roles] are doing. That will make a difference."
Carys Hughes: "It's true. Nobody understands what we do. They don't like the sound of it, or they just have no idea we exist. And I agree, that's why apprenticeships are so important. If we don't talk about what we do – which we hate doing! – people won't know we exist and we won't have any shiny new engineers."
"If we don't talk about what we do – which we hate doing! – people won't know we exist and we won't have any shiny new engineers" – Carys Hughes
Roisin McKeniry: "Going to university is great. We really need very clever people to do clever things in television. But not everyone is academic. A lot of people ask me 'should I go to university or should I just start off as a runner on a production making tea?' And I really struggle with that.
"It does depend on what you want to do. There are loads of apprenticeships there now, which is brilliant. But it is hard, especially on a job where nobody knows you exist! I always say nobody wants to see an engineer coming – they just don't. They really don't. Especially during a live production.
"But we have to start somewhere. We need to do something now. So I say to a lot of young people 'sod it, go and get yourself a job as a runner. Get in there. Don't get yourself into a massive amount of debt – get in and get working. And if you decide later on that you want to get that degree, then do it through a company or do it through Open University'.
"Not everyone is academic. But the people we need now are the people who know how to build a little app on their iPhone – and they probably know how to do that by age 14. And also there's so much new technology in the industry that there's now something of a level playing field: if you're a 50-year old bald man you know pretty much the same thing as a 20 year old who has been doing computing courses at secondary school level."
Ajaz Ali: "I agree. Twenty years ago you just had to look up an encoder and transmitter and it would work. That's not the case now. Everything is IP-based and cloud-based; and imagine in a live stream situation if you configure one IP address incorrectly because you calculated it wrong, nothing will work.
"That's why there must be some benchmarks and certain criteria – not for entry level necessarily, but over the period you have to develop their competence in order to be able to stream live and in order to send things to the cloud and then bring them back for ingest.
"To develop that competency it is very important to have those standards. It is not just about being an academic or being an engineer, it is a combination of the two."
Roisin McKeniry: "It is a male-dominated industry, and until we change it that's the way it's going to be. When you walk into that room full of aged gentlemen, it can be intimidating.
"I don't want women to have to be sixty times better than anyone else to come into this industry. I don't want her to have to fight all of those stupid battles where people assume that she's stupid. I don't want her to think for a second that in a certain instance she's not good enough. We need to help the educators as much as you need to help us – but we all need to definitely, definitely, change our attitudes. Because it's not working."
"We need to help the educators as much as you need to help us – but we all need to definitely, definitely, change our attitudes. Because it's not working" — Roisin McKeniry
Susan Pratt: "We don't want to see situations where people are afraid to go into that room. We don't want to see situations where people are afraid to try things out.
"Hopefully, you will get that chance at university — if you choose the right course, where you're involved in operations and you have a chance to try things and make mistakes and learn from the experts around you.
"So that when you do get into the industry, you won't be quite so nervous about getting things wrong. You'll think 'I've been through this before; I want to do it'. Hopefully that's what we can inspire in young people, and give them that safe environment in which to actually learn the operational skills and put them to good use."
The SVG Europe Winter Networking Event took place at BT Sport on 30 January 2020.