Swedish empire: SVT's Åsa Edlund Jönsson talks ambition, adrenaline and live sports addiction
International Women's Day 2021 focus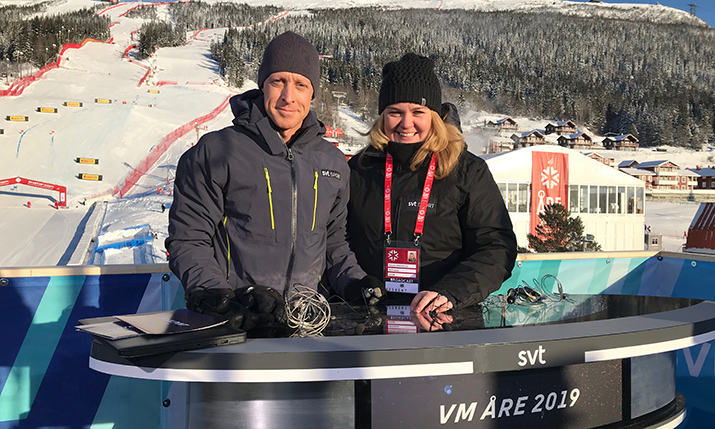 Hugely driven, ambitious and successful are terms well-suited to SVT's head of sports, Åsa Edlund Jönsson. She has worked at the Swedish public broadcaster for over 20 years in a huge variety of roles, from reporter, anchor and commentator – being the first woman in the world to be a commentator on men's ice hockey on national TV – to project manager for news and the Olympics, head of online sports, head of sports development and project manager for the Swedish and European elections for the news department.
"I seldom stay on the same spot for very long," Edlund Jönsson says, explaining her career path at SVT. "I look for challenges and I always wanted to oversee a whole organisation or department. In my eyes my role is the best job in the sports and media business in Sweden, with a huge variety of tasks on my desk every day."
"Learn as much as you can about sports, production and broadcasting. Be the most curious person in the room, be brave and trust your instincts. And always be kind, that is an underestimated qualification"
She adds that, "the variety" is the most exciting thing about her role as SVT's head of sports. "We do everything from news to the biggest sports events for both linear TV and digital. One minute I deal with a complicated news story as publisher, the next minute I negotiate big sports rights together with my head of sports rights Jan Olsson, the best wingman there is."
Ultimately, the daily risks and challenges involved in dealing with live sports broadcasting give Edlund Jönsson the adrenalin buzz she needs to stay motivated and keep pushing forward in her career.
She says: "Sports and live television are without comparison the most exciting combination you can work with. You can plan all you want, but in the end, something might happen that turns all plans upside down.
"A great story from last year was my team was about to broadcast [live] ice hockey when our commentator lost his voice right before face-off. I happened to be close by, so my commentator asked me to drive to the arena and take over. I thought it was a joke but went there, and minutes later I was on the air commentating on ice hockey, which I hadn't done in 15 years. Can it be more exciting?"
Driving spirit
As head of sports, Edlund Jönsson gets to compete in a fast-changing market and the competition for sports rights. "I want to make sure that our big audience gets the best possible value for the public service fee," she says.
A significant example of this endeavour was the work she put into bringing the London Olympics to a Swedish audience. "I was project manager and executive producer for the London Olympics for SVT,  where I teamed up with (then head of production) Adde Granberg for the project," says Edlund Jönsson. "I wanted to bring every second of the Olympics to the Swedish audience, on all devices, both linear and digital. Today, that goes without saying, but ten years ago, no TV company did that. Adde (today CTO at SVT) is one of the smartest and most creative production people in the world and promised to help me on that vision if I trusted him on new production methods and new technology."
With a turnaround of less than one and half years this trust led to a big win at the Olympics. "We at SVT did the first full-scale remote production in the world, using a fibre network," Edlund Jönsson says. "I remember our CEO constantly asking me about the non-existing OB vans and the non-existing master control in London. Our programming from the London Olympics is still the best-rated, by the audience, in the history of SVT [broadcast]."
Kindness and competition
What advice would she give to other women looking to move into a role in sports broadcasting? "Learn as much as you can about sports, production and broadcasting," she states. "Be the most curious person in the room, be brave and trust your instincts. And always be kind, that is an underestimated qualification."
She also has a guiding philosophy: "The Golden Rule is important to me, treat others as you want to be treated. I have tried to be friendly and inclusive during my career and I have felt I have been treated the same way," she says. "At the same time, live sports and television are competitive fields, but if you are out there working, it means that you are part of the competition with a chance to 'win', meaning making your dream come true. It will take hard work, perhaps some sacrifices along the way, but only you can tell if it is worth it."
Playing to win
That love of competition and Edlund Jönsson's passion for sport and journalism both began at home, playing a lot of sports while growing up in an, "ice hockey-crazy town". Enthralled as a kid by TV coverage of international sports stars Björn Borg and Ingemar Stenmark, she also recalls her ten year old self being impressed by the dangerous work of foreign correspondents reporting from the Beirut barracks bombings in 1983.
"I knew from an early age that I wanted to be a journalist, preferable a sports journalist on TV," she says.
Edlund Jönsson followed this up at secondary school with stints at the local newspaper, writing about sports, then studied journalism and television for three years. An internship at SVT followed, which though not leading to a permanent position, did give Edlund Jönsson a chance to be an assistant producer for a motorsport show and served to bolster her impressive CV.
Her first permanent job in television came in 1995 as a junior commentator on the launch of the SuperSport channel (later Canal+) in Sweden. The nascent sports department had little structure, so Edlund Jönsson got a chance to multitask across both production and editorial. "I worked as a reporter, anchor, producer and commentator. It was a fantastic opportunity for me, some of the best working years," she says.
Then, after four years with Canal+, she applied for a temporary position at SVT. She comments: "People thought I was crazy, giving up a great, permanent position as a profiled anchor and reporter for a temporary job. But I like to try new things and challenge myself and looking back that was the best possible move."
In 2016 she applied for and got the job as head of sports. "They were looking for someone who knew sports production as well as editorial, and not only for television but also with great knowledge of digital; that was a perfect fit for my profile," she continues. "We changed the scope of the role when I took on the job and added the position as commissioner.
"Today, head of sports means you are publisher, commissioner, you work with sports rights and oversee the whole department with all staff. So, there is a big variety in my job, and I like that a lot."
During 2020, with no sports to broadcast, the sports department took on other things such as regular news, new programming and new storytelling.
"It was widely appreciated by both the audience and the colleagues from other departments," says Edlund Jönsson. "I'm so proud of my staff doing that and we have continued to help in new areas even in 2021. But to be honest, I'm super happy that sports are back again, even though it will take some time before it gets back to where we were a year ago."