Taking IP on the road with Grass Valley's Jan-Pieter van Welsem
Grass Valley has taken IP on the road in the latest of its tours to inform customers about exactly what this technology can offer for broadcast production. Over the past 24 months there have been a number of high profile IP deployments in the European region, with broadcasters installing all-IP broadcast networks in their new facilities in a number of markets, as well as all-IP OB trucks being used for live production. The advent of IP has also bought challenges alongside it, as well as opportunities, including the option to adopt different business models and to deploy new use cases.
The Demystifying IP Roadshow is building on the educational roadshows that Grass Valley organised previously, giving CTOs, broadcast engineers and consultants insights and key lessons learnt from customers that have installed IP in the past 12 to 18 months. SVG Europe spoke to Jan-Pieter van Welsem, vice president for sales in the EMEA region at Grass Valley, about where he sees IP today.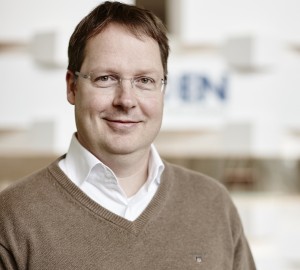 IP has been moving along in terms of deployments, but where exactly are we with it today, in your opinion?
"We are making good progress with IP as a market. It's still a technology that's coming up, but we've gone past the very early adopter, experimental stage. There is acceptance of the technology and it's a conversation topic for our customers. While there are tradeoffs to be made and considerations to be had with IP, the technology is robust and standardised enough to be an alternative for many projects."
What opportunities does IP provide to broadcasters?
"We think the two main opportunities are future-proofing and flexibility, plus efficiencies in the way we work. If you put IP in now you know the installation will be there for the long term. While installation costs need to be considered, you have long term flexibility as in the future, you know you can keep the same pipes and run different formats and protocols over it.
"Secondly, IP itself will help the way we run businesses. The utilisation rate of studios can be increased, and the way we work and produce shows will change; IP offers opportunities for efficiency."
What sort of deployments has Grass Valley been involved with over the last 18 months that exemplify where we should be going with IP?
"The new Grass Valley, including our acquisitions, has a wide array of IP installations. We did Bloomberg's studios two years ago and Canal +'s in France. In remote production we helped NEP in Switzerland, reducing operational costs and bringing it all back to one location, and in OB's we have worked with Arena TV and getting NEP's trucks using the latest IP technology."
The introduction of IP has also led to the creation of some major issues, like the need to up-skill staff and get the security right. How can broadcasters solve these problems, and is there a quick fix available?
"Our advice is you have to recognise from the beginning [that these issues are there] and not shy away from these things to think about and address. There are a lot more IT people coming into the traditional broadcaster domain [because of IP] and that will only continue. It's happening and all our customers need to be aware of [the issues] and work with partners to solve things [if they can't themselves].
On security, there isn't a quick fix. There are always new things happening in security. I'd be lying if I said there was a golden pill to solve these problems. This isn't about, "this is what you need and it will all be solved". If you can't [manage your IP-based security issues] internally, you need to find partners to work with to help."
How are you merging your portfolio with that of SAM's, and what does this mean for customers of the two business lines?
"I think what's important to realise, when we look at SAM, is that people on the outside may say there's overlap in the portfolios, but we see it as a lot of complementary products. We are keeping all the product lines, other than a couple of strange products. We want to continue to satisfy our existing customers. The next generation [of products] will no doubt be the best of both of our product sets, but in the meantime we are running them in parallel to give our customers a path forward."
Finally, what has your roadshow been focusing on?
"Before, our roadshow on IP was a bit pre-conceptual, warning people what was ahead of them, but now we're 18 months down the line and we're telling our customers about the new standards, what the technology is and what it means for them, and going through three types of use cases – studio facilities, OBs and remote production — with examples of what we've done, the lessons we've learnt, and how to plan for [a rollout of IP]. The Demystifying IP Roadshow is taking the conceptual and bringing it into the real world."