Test of endurance: Navigating the trials and tribulations of the Australian Open
Quarantine, socially distanced set up and snap lockdowns
The Australian Open has just closed its doors at Melbourne Park on what was an unusual event for both the players and the crews that made it happen. From broadcast staff having to ship into Australia in early December for an event that did not start until 26 January, to heavy quarantines and strict COVID-19 protocols, the event was more complex than usual.
Even fans were ousted from the Rod Laver Arena during the Novak Djokovic versus Taylor Fritz match on 12 February in order to meet a midnight curfew being enforced for a snap state-wide lockdown, making this Open a test of endurance for all involved.
A traditional version of this event would have involved crews arriving en masse in late December for a fast set up, and a two week tournament starting in mid January. This year, however, things were rather different. For starters, this has been the biggest ever lead-in to the Australian Open, comprising the Melbourne Summer Series (three WTA 500 events and two ATP 250s) and the ATP Cup.
"The technology is what it is. You know, we do these jobs every year and while they're big jobs, we're pretty used to the technology challenges and whatnot. It's just such a long time; my cat's forgotten what I look like"
Speaking to SVG Europe from Melbourne, Kevin Moorhouse, project manger at Gravity Media, which is the technical partner to host broadcaster for the Australian Open, Tennis Australia, explains: "Normally we would come out just after Christmas and we'd have 12 days to set up and then go on air in the middle of January, go off air at the end of January, derig for a few days then we'd be gone by the fourth or fifth of February. Obviously this year, the whole event was pushed back for three weeks, and then we had a pre-event as well. So instead of having people here for five weeks, maximum maybe six weeks, some of them have been here for 60 to 80 days; the whole event has just been dragged out a lot longer."
International crew was severely limited on site, says Hamish Harris, engineer in charge of the Australian Open project management at Gravity Media, from his socially distanced desk alongside Moorhouse. "We weren't allowed to bring in all the crew that we wanted to bring in from the UK; we were limited to about 24 international crew – that would usually be up around 60. The government said, no, basically."
Gravity was able to make up the team using Australian locals, however not all of these had the level of experience that Gravity would have preferred to ship in.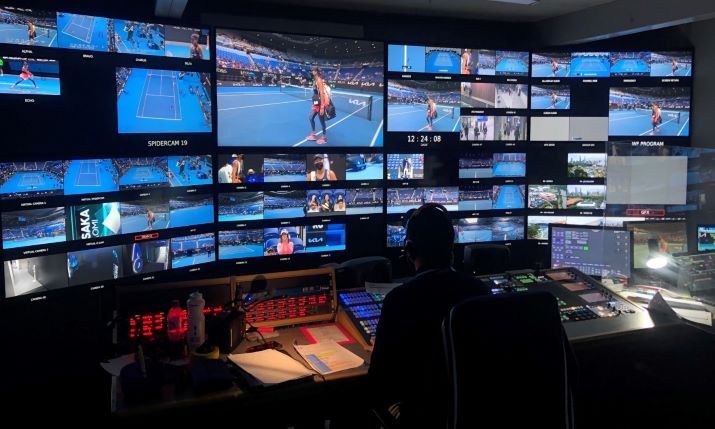 Enduring quarantine
International crew began arriving in Australia from early December in order to complete a tough 14-day quarantine, which was a challenge in itself. Moorhouse says on his confinement: "I was doing a couple of hours a day with Tennis Australia because that was when [the tournament] was on, off, on, off, delayed. So there was a lot to do there. But I also built a model Lancaster 172. I was also locked up with my wife, so she deserves a medal for that!
"The worst part about the quarantine I thought was not having fresh air; we didn't have an opening window. Other than that, you sort of go in, get your mindset, right. If you're going to be there for 14 days, you've just got to suck it up."
Harris adds that he was in a group of seven that flew out together and quarantined in the same hotel in Adelaide. "Out of the seven of us, five had a balcony. It helped a lot having seven of you, on WhatsApp groups and having drinks every night, on Teams and playing Cards Against Humanity. You had a support network around; some of the other guys who had to come out on their own didn't necessarily have that."
Moorhouse, who's role included liaising with Australian Tennis to make sure plans were perfect, says: "I flew in November and started work on 7 December. Hamish flew in on 8 December and got out of quarantine on 24 December. Then we started on site on 27 December. We had another bunch of crew that left home on 31 December and started on site on the 14 or 15 January, ready to handover to host broadcaster Tennis Australia on 26 January."
Moorhouse states: "The toughest part as well was all the social distance regulations [on site]. Because they had players coming on to site practising, and we were also in quarantine during our build phase, we weren't allowed to build outside until midnight and we had to be gone by five in the morning. So what normally would be a 10-hour workday was cut down to a five-hour workday at night, and the doors were locked. I took my hat off to all the camera guys; those people really pulled it out the bag for us.
"It was extremely difficult for them to work in those conditions; they got locked in areas, the venue switched the lights off while they were in gantries, it's just crazy things that they were doing."
Gravity's staff worked split shifts on the Open throughout the tournament, and beforehand. The tennis started daily around 10:00 with the first shift of workers coming in at around 08:00 to prepare. However, for those on the late shift, while work officially ended at 01:00 to 02:00, the fact that highlights packages needed to be created often meant that work actually ended around 04:00.
By the time the event is derigged, Gravity's crew will have completed 3,300 total days working on site for the Australian Open
Harris commented on the emotional difficulty of being away from home for such an extended period of time: "Once we get out of quarantine, then you've got to start work. So you've already been away from home for three weeks and then you have to start building everything, which took us about a month. We're away for three months. I missed my birthday, my wedding anniversary, Christmas and New Year, and that was all before the end of the year as well."
Harris adds: "It's just a long job. The technology is what it is. You know, we do these jobs every year and while they're big jobs, we're pretty used to the technology challenges and whatnot. It's just such a long time; my cat's forgotten what I look like."
Rights holders go remote
To ensure crews could work safely, Tennis Australia made adjustments on site to allow staff to keep the show on the road. Harris explains: "Tennis Australia modified the building [on site] so that they can keep the production standards that they have, and have the same number of people that [they need for the production] by not putting in as many modules for rights holders that didn't come. In the host building they expanded the room so we could put more furniture in it, and put social distancing measures in place.
"In terms of servicing rights holders that aren't on site, we've essentially built an IP web system so that international rights holders can get across content that they would usually get from being onsite."
"It's like a big brotherhood; everyone got together and helped each other through it. It's been fun. It's been interesting"
On site rights holders with various set ups from Gravity to create small technical set ups at the Rod Laver Arena included NHK, Wowwow, ESPN, Eurosport and Fox Asia. Most were remotely linking to the site to take feeds to their home countries.
Meanwhile, as Australia's Channel 9 was the local broadcaster, it had slightly larger technical facilities on site. It did however do a large amount of its production remotely.
Gravity designed ESPN's facility for the Open, which Harris describes in an admiring manner as, "insane". Because of travel restrictions and safety precautions, ESPN had a minimal presence onsite in Melbourne, with only analysts Darren Cahill and Rennae Stubbs reporting live from the grounds (both are Australian natives and are also serving as coaches at the tournament).
In terms of match coverage, ESPN was relying more heavily than usual on the world feed provided by Tennis Australia and Gravity. In addition, ESPN was sending 40 paths from Melbourne to Bristol, US, via a 1.5Gbps fibre link provided by The Switch (with access to nearly 100 video sources in total); in comparison during a normal year it would send just three lines back.
ESPN was also receiving clean and dirty feeds of the linear programme produced by Tennis Australia. ESPN-owned encoders were deployed in Melbourne, managed onsite by Gravity, and were also controlled from Bristol. The complex transcontinental remote operations were overseen by ESPN associate director of operations Larry Wilson in Connecticut, senior operations producer Joa O'Connor based in Wisconsin, and technical manager Sam Olsen in London, UK, all from their respective homes.
To manage the 40-plus paths running between Melbourne and Bristol, they used a mix of Unity comms software, Gravity kits that allow them to view the routers in Melbourne, plus email, mobile phones, Zoom and WhatsApp.
Adds Harris: "They've got something like a two-second transit time from Australia to Connecticut through all the various frame synchronisations and stuff, which is insane how they've done it. And we're getting sub-second latency between Melbourne and London, which is pretty cool."
Adapting to new times
This year is also different financially for all concerned. Tennis Australia has seen a significant reduction in ticket sales as crowds were permitted to attend just nine of the 14 days of the tournament with just 130,000 people in attendance versus over 812,000 in 2020.
For Gravity, it is obviously supplying a lot less equipment and services to broadcasters than usual. Moorhouse says: "Compared to what we normally supply to ESPN, we've probably got 10% to 15% of what we would normally have for them, so we're obviously doing only 10% to 15% of what we would normally earn for the technology. That's not ideal for us, but that unfortunately it is the way things go and we have to adapt."
However the Gravity team is not concerned about the lower kit requirements on unilateral facilities for this event, as its technology is able to be used instead on other events around the world.
Meanwhile, the host facility requirements for Gravity have remained the same. Says Moorhouse: "That would always still be the same because [Tennis Australia] have to have cameras on 16 courts. We've got 160 cameras here, 40-odd EVS machines. That's still happening. It's just the unilateral facilities on site are less."
On what the Australian Open might look like next year, Moorhouse states: "I'd say there's a strong possibility that a lot of these guys won't come back in the same way they used to because it's been proven now they can actually do this remotely. I think their production staff would love to come back because they like to have a touch and feel of the players and be in the action. But I think it's not going to be totally their decision anymore.
"I think everyone's under financial pressure so where they can save money, they will. Using IP, [a lot of people] can be sitting at home in New York or anywhere now; they don't have to fly them all the way to Melbourne to do it anymore. So I think that's where they'll cut back. I think that's what will happen, for sure."
Concluding, Moorhouse sums up how this tournament has gone for Gravity: "The crew have all stood together. When Hamish came on Christmas Eve we went out and ordered food, bought them a barbecue, put food in their rooms.
"It's like a big brotherhood; everyone got together and helped each other through it. It's been fun. It's been interesting."
————————————————————————————————————————————————–Rising airfreight costs hitting budgets hard
One issue Gravity has run into is the cost per kilogram for airfreight. Moorhouse notes: "The rate we're paying now is probably seven times more per kilogram for airfreight. And normally a sea container from London to Melbourne is seven to eight weeks maximum. It's now taking three months to get here because everything's just slower. Even clearing customs in Melbourne would normally take 48 hours. It's now taking up to a week because obviously the custom guys have got all sorts of social distancing regulations and stuff. So everything just takes longer and that costs more money because we have to get the kit out earlier. That's our biggest problem. Our freight budget has taken a bit of a pounding, but we've been speaking to the clients about it. Some of them have been pretty accommodating. That's been tough, but I think everyone's in the same boat at the moment and it is what it is."