French Tennis Federation experiments with 'stitched' remote production techniques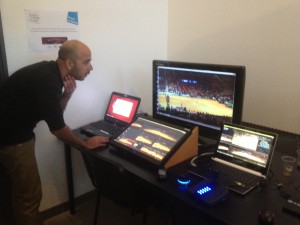 The FFT (French Tennis Federation) is part of an inner circle of federations that keep abreast with the latest technological innovations. Every major tennis tournament such as Roland Garros, Bercy Paris Masters and the Davis Cup provides an opportunity to test new applications or production techniques.
In the recent past, trials have been carried out primarily to test new 3D technology and, more recently, 4K. Today there are also important trials of remote video production involving images being stitched together to make up a panoramic view. At the same time traditional production workflow continues in-venue for France Télévisions.
Pixellot involvement
So for the Davis Cup Final that took place from 21-23 November and during which the French tennis players took quite a beating from the Swiss, a team from the Israeli company Pixellot travelled to the new Euro Media premises in La Plaine Saint-Denis to conduct the first production trials of this new technology.
"A technician was sent to the stadium in Lille where the tournament took place. He single-handedly installed the 10 IP-based robotic camera systems and then proceeded to combine the multiple feeds from these cameras, using a computer to produce a single panoramic image," explains Christophe Chatain, who heads up broadcast projects for the FFT.
This panoramic video is therefore made up of feeds from the 10 different cameras positioned around the stadium. Meanwhile, tucked away in a corner somewhere on the Euro Media premises, more than 200 m from the Lille Stadium, a touchscreen tablet was set-up and used to select different camera angles or simply for zooming-in on the action. Next to it could be found two dedicated workstations from where operators controlled the remote cameras.
A first for tennis
Chatain added: "For this test we used proxy video production, with 5Mbit/s streaming. Of course, in the case of a live production, we would use a HD-SDI fibre optic cable connection. All of the 10 sources are recorded continuously: we can therefore broadcast any angle covered with slow-motion replay at any given time."
The Pixellot team had already demoed the remote production suite for a football match in Mexico. As far as graphics were concerned, they were also added via the remote production workstation. The trial seems to have been a success. The FFT is said to be very interested in using this technology to capture and broadcast footage of second-tier events, such as side-court action during major tournaments.