The French Première: SVG Europe launches SVG France and announces first in-person meet-up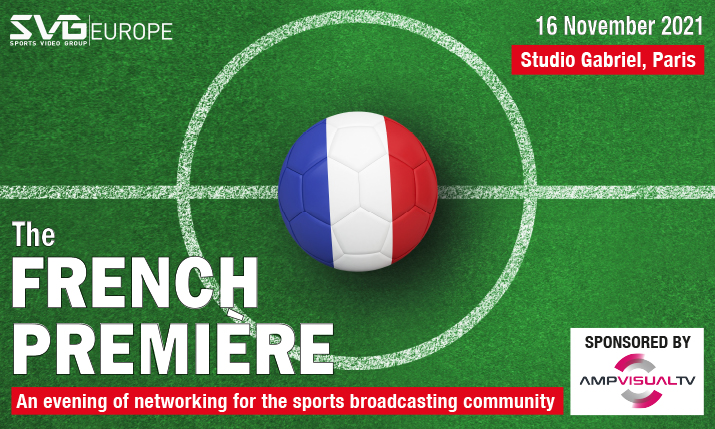 SVG Europe is extending its network of activities across Europe with the launch of SVG France to support and unite the sports broadcasting and multimedia community in the country.
SVG France's first event, The French Première, sponsored by AMP Visual TV, will take place from 18:30 on 16 November at the iconic Studio Gabriel in Paris. It will be an evening of networking and fireside chats, providing an opportunity to debate, share ideas and meet the SVG team.
The French Première is being spearheaded by SVG Europe advisory board member Lise Cosimi, the former chief of external relations and client servicing at HBS who has covered numerous major global multi-sport events, including the FIFA World Cup, Asian Games, SEA Games and the Athletics World Championships.
Discussing why now is the right time to launch an event in France, Cosimi says: "France is the land of international sporting events, from the 2019 FIFA Women's World Cup to the 2023 Rugby World Cup and the Olympic Games in 2024. We're also seeing a number of changes in the market, including the complete redistribution of sports rights and changes to the production sector. We haven't been able to gather since COVID so this is the ideal time for us all to come together."
Developing a strong community is top of the agenda for Cosimi. "There is no sports video broadcasting community as such in the French market and SVG Europe would like to create one as a place to exchange, brainstorm, stay informed, network and get together.
"We want to help the community grow, introduce new players, help the younger generation to join our industry, support women who wish to advance their careers, understand new trends, and so much more."
Joe Hosken, general manager at SVG Europe, says: "We are proud of the communities we've built in the UK, Germany and Italy, and we're pleased to add France to this growing list. We're excited to host this new event and provide a space for the sports broadcast community to come together, share ideas, solve problems and help the industry to thrive. We look forward to seeing as many of you as possible at The French Première on 16 November."
Registration for The French Première is open now. Please visit: https://www.svgeurope.org/france-2021/registration/
All sessions will be conducted in French.